A List of Favorite Things to Do on a Pictured Rocks Road Trip
The untouched natural beauty of Michigan's Upper Peninsula is unlike anywhere else in the world, especially near Pictured Rocks National Lakeshore. This stretch of coast from Munising to Paradise offers some of the most beautiful adventures in the state. Come along as Jennifer from The Awesome Mitten shares her favorite things to do in Pictured Rocks.

The beauty of the Pictured Rocks can only truly be experienced in person. These were the most unforgettable places I experienced along my last road trip in the Upper Peninsula, places that I have recommended over and over again. It's incredible to live in such a diverse state that offers unlimited adventures. And Pictured Rocks National Lakeshore's unique experiences make this region unlike any other part of Michigan.
The Food

Brown Fisheries Fish House
With fresh fish caught within hours of hitting your plate, Brown Fisheries Fish House boasts the tastiest fish near Paradise. Served with either two or three pieces of fish, their ultimate meal is the Lake Superior Whitefish Baskets. It is the most delicious, flaky, perfectly flavorful fish you could imagine and all for an affordable price. This family owned and run business is very low key, so we're letting you in on the secret of this amazing hidden gem.

Bear Trap Inn
When in the Upper Peninsula you must get a pasty. If you're looking for a pasty near Pictured Rocks National Lakeshore, look no further than Bear Trap Inn. Served by some of the friendliest folks, their food is hot, tasty and filling. The unique interior is unforgettable as well, with rooms filled with taxidermy animals exclusive to the area and a bar with hundreds of numbered mugs for all of the locals.

The Lighthouses

Whitefish Point Lighthouse
Jutting out into Lake Superior, Whitefish Point Lighthouse is the oldest operating light on this Great Lake. All vessels entering and leaving this treacherous stretch of Lake Superior must pass Whitefish Point lighthouse. Here, overlooking the "Graveyard of the Great Lakes," more ships have been lost than in any other area of Lake Superior.

Au Sable Light Station
This active lighthouse along Pictured Rocks National Lakeshore sits surrounded by astonishingly beautiful shoreline. Just west of Grand Marais, the light's a short distance from Log Slide Overlook in one direction and from Twelve Mile Beach in the other. A 1-1/2 mile walk along the historic U.S. Coast Guard road nearby is worth the trek, with scenic overlooks of Lake Superior and paths out onto Twelve Mile Beach, the beauty only increases the closer you get to Au Sable

The Small Towns

Munising
The name Munising comes from the Ojibwe word for "island at." This is the gateway to Pictured Rocks National Lakeshore since it is the largest and closest city to the area. This city boasts small town charm and great local businesses that are exclusive to the city. You can even see the stars from this city, whether it's on billboards advertising Kid Rock's "Born Free" music video that was filmed in the area of the Northern Lights.

Log Slide Overlook
Located about seven miles west of Grand Marais, Log Slide Overlook offers breathtaking views from the very site where loggers once slid logs down a steep slope into Lake Superior From here, the logs were hauled away and turned into lumber. Log Slide Overlook provides a beautiful glimpse of the Au Sable Light Station to the northwest. Due to heavy snow, ice and sand deposits this past winter, Log Slide Overlook is currently closed. Park Engineers have plans to evaluate the site for a new place to build the platform and are hoping to have the area reopened by next year. In the meantime, visitors can view the dunes from the base of Grand Sable Falls.

Oswald's Bear Ranch
With 29 bears, Oswald's Bear Ranch is the largest bear ranch in the United States. Located just north of Newberry, the preserve was created by one man, Dean Oswald, to care for abandoned and orphaned bear cubs from Michigan and other states. The unique experience allows visitors to see these incredible animals up close. And as a proud associate member of the Zoological Association of America, Oswald's Bear Ranch provides the bears a sanctuary for a better life.
The Waterfalls

Munising Falls
The majority of waterfalls in this area are the result of water running over a shelf or cliffs of hard limey sandstone called the Munising Formation. This formation extends from Tahquamenon Falls to Laughing Whitefish Falls. There are quite literally waterfalls all around you when you enter this area, especially near Munising which even has its own waterfall named after the city. Located within the city limits of Munising, a short paved trail leads you up the cool sandstone canyon along Munising Creek to two viewing platforms at the base of the falls.

Miners Falls
Just a short hike off of Miners Castle Road is the impressively powerful Miners Falls. A gravel path leads through the northwoods wilderness, ending with two incredible overlooks of the falls. Bring along your bug spray so you'll be able to linger at this astounding waterfall.

Tahquamenon Falls
Well-known for its sheer size, Tahquamenon Falls State Park ranks as one of the Upper Peninsula's most popular attractions, and at 46,179 acres, Tahquamenon is the second largest state park in Michigan. Tahquamenon's Upper Falls drop a magnificent 50 feet, while the Lower Falls spill into a series of cascades and rapids. Adjacent to Lake Superior, the majority of this state park is located in Whitefish Township.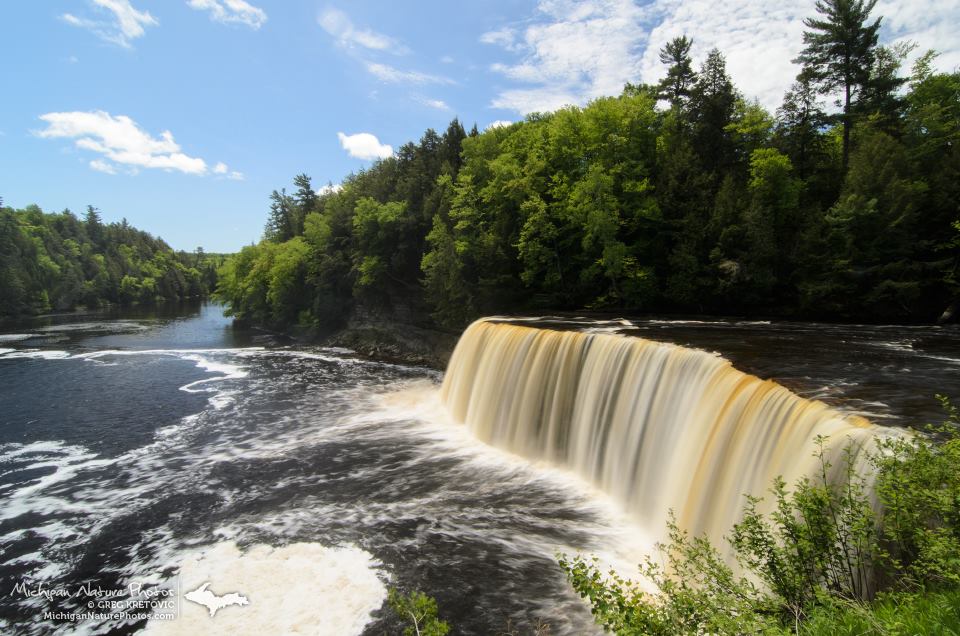 The Views of Pictured Rocks National Lakeshore by Water

Miners Castle
Stretching for about 15 miles along Lake Superior, these incredibly bold and colorful cliffs range from 50 to 200 feet and jut out directly from the lake. There are numerous ways to see these beautiful cliffs including Miners Castle which provides a wonderful vista of Pictured Rocks. However, the best way to experience these cliffs is by water.

Pictured Rocks Boat Tour
Ranked Michigan's #1 boat tour by AAA's Michigan Living, the Pictured Rocks Cruises allow visitors of all ages and abilities to glimpse the beauty of this national lakeshore from the water. Miner's Castle and other stunning rock formations tower over Lake Superior's whitecaps. The cool breezes off the Big Lake refresh mind and body. And the russet and yellow hues of the Pictured Rocks' 200-foot cliff faces glow red and gold in the slanting rays of a setting sun. Experience this Pure Michigan gem on 2-3-hour cruises that depart Munising all summer long.

Paddler's Village
The best way to get up close to the Pictured Rocks'massive cliffs is by kayak. And one of the most popular kayaking outfitters in the area is Paddler's Village. They feature a variety of unique experiences, but the most incredible Pictured Rocks tour is probably their six hour Sunset Paddle. With the sun at a lower angle, the cliff walls are illuminated in beautiful hues of orange and reddish copper. Gliding along the crystal clear waters and feeling the waves crash into the astonishing cliffs that rise up to 200 feet above you is a humbling experience that is breathtaking and mind boggling full of natural beauty. The journey features many landmarks including Miners Castle, Bridalveil Falls, Caves of the Bloody Chiefs, Mosquito River, and circling beneath the iconic Lovers Leap Arch. Whether you're a novice or expert kayaker this adventure is built for every skillset.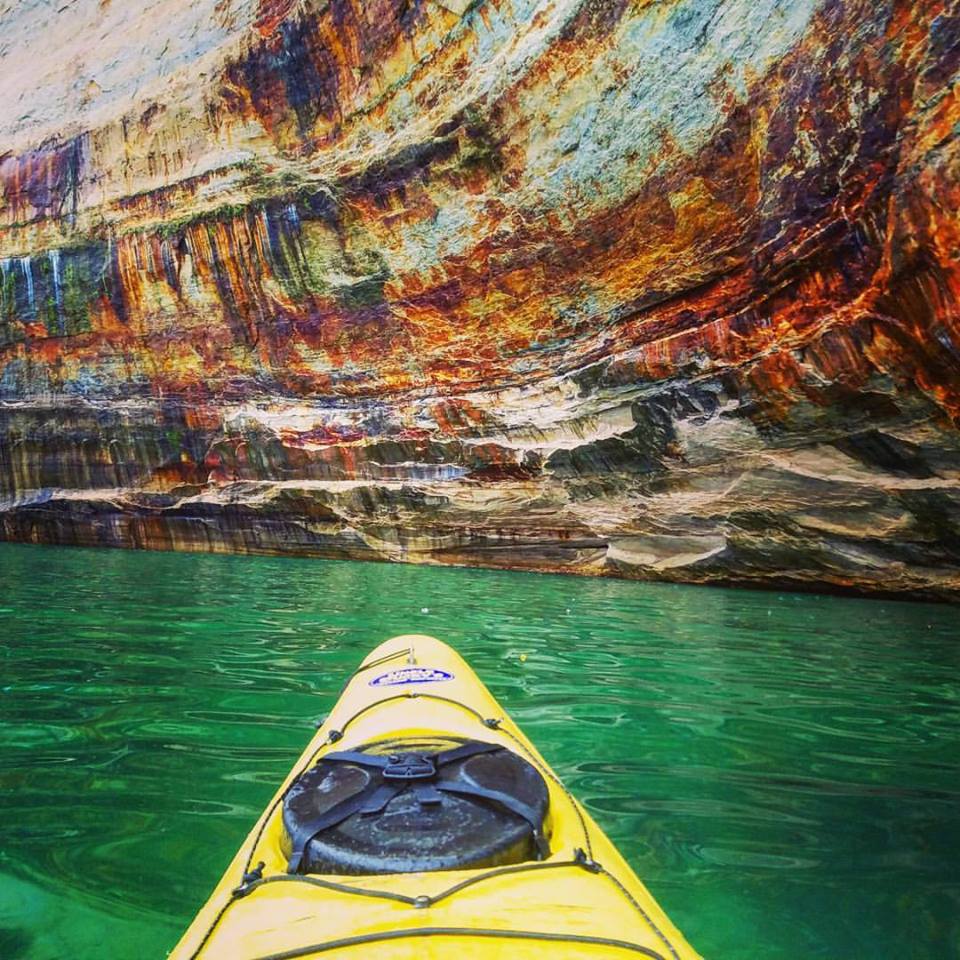 The Off-Season Beauty

When summer reaches its end, northern Michigan's heat subsides and the winds off Lake Superior grow crisp. But that's no reason to pass on a visit to Pictured Rocks National Lakeshore, which only grows lovelier in autumn. The beauty of Great Lakes whitecaps and the multi-colored cliff faces are enhanced by the brilliant reds, oranges and yellows of the Upper Peninsula's hardwood trees. Hiking along the shoreline promises spectacular vistas for visiting shutterbugs. And Pictured Rocks Cruises carry visitors past this brilliant coast well into mid-October, allowing opportunities to view the vibrant foliage from the water.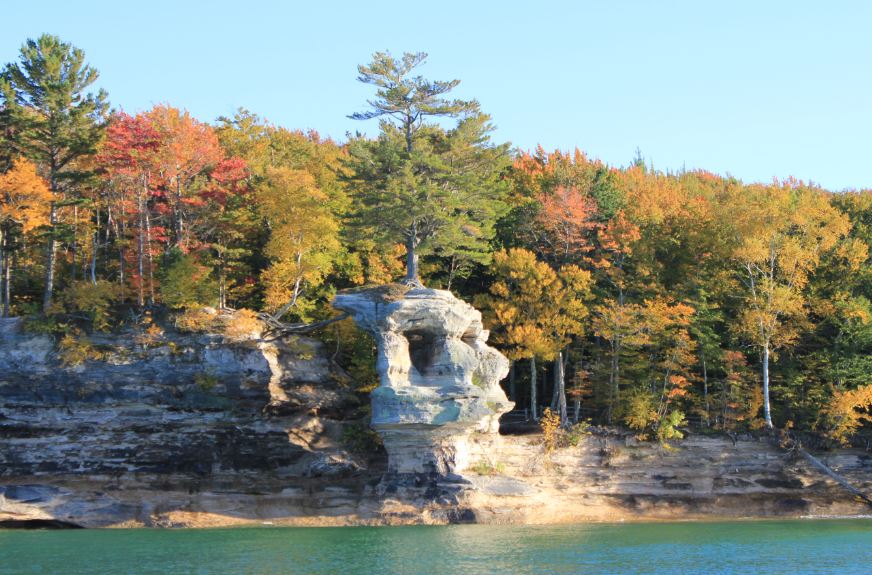 The beauty of this region is almost indescribable; you just have to go live the adventure for yourself. These were the most unforgettable places I experienced along my last road trip in the Upper Peninsula that I'd recommend over and over again. It's incredible to live in such a diverse state that offers unlimited adventures. And Pictured Rocks National Lakeshore is unlike any other part of Michigan because of the unique experiences that await around every curve.

Jennifer Polasek is an avid adventurer and loves exploring the hidden gems within Michigan! She currently resides in Grand Rapids, but loves escaping to Northern Michigan and the Upper Peninsula during the summertime. Follow her Mitten adventures on Twitter and Instagram!