10 Things To Do in the Great Lakes Bay Region
If you're planning a trip this summer, see what the Great Lakes Bay Region has to offer. Lindsay Gilbert of the Great Lakes Bay Regional Convention & Visitors Bureau fills us in on her top 10 must-sees in the area.

There is so much to see and experience in Great Lakes Bay. Below are just some of the highlights that the region has to offer. More can be found at visitgreatlakesbay.org.


1. Saginaw Valley Naval Ship Museum USS Edson DD-946, Bay City

Welcome Aboard! Learn about life on the destroyer named after Major General Merritt "Red Mike" Edson USMC as you walk through the 418-foot historic memorial to those who have protected our nation's freedom and independence. Tours are conducted daily from 9:00 am to 6:00 pm.

2. Delta College Planetarium, Bay City

Delta College's planetarium is your passport to the stars in downtown Bay City! Travel on a spectacular journey through space and time. On the 360°, 50' diameter dome shaped projection screen, you will see stars, planets and other celestial bodies as they appear from your backyard or from the window of a spaceship. Experience 3-D starfield projection with audience interaction. Call (989) 667-2260 or go to delta.edu/planet to begin your trip.

3. Dow Gardens, Midland

Open all year, Midland's Dow Gardens is truly a garden for all seasons developed by Herbert H. Dow, founder of The Dow Chemical Company. Discover a 110-acre botanical garden, a system of ponds, a maze, Children's Garden and Conservatory. Enjoy outdoor movies and a tour of the estate home. Times and events can be found at dowgardens.org or call (800) 362-4874.

4. Great Lakes Loons, Midland

Dow Diamond, in downtown Midland, is the home of the Great Lakes Loons, a Single-A Minor League Baseball affiliate of the Los Angeles Dodgers and member of the Midwest League. Scheduled home games can be found at their website: loons.com. Call 1-888-678-2255 for tickets.

5. Bronner's CHRISTmas Wonderland, Frankenmuth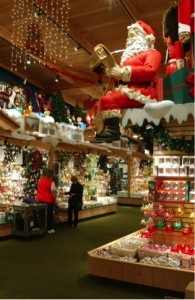 The world's largest Christmas store the size of 1 ½ football fields, Bronner's in Frankenmuth is a shopper's dream with over 50,000 trims and gifts. Open 361 days a year. Visit their website at bronners.com for directions.

6. Chesaning Showboat Music Festival

The annual variety show occurs the second full week in July. The Showboat serves as a backdrop to the stage for an audience of 6,000. Join in the fun with the Charlie Daniels Band and Bret Michaels. You won't want to miss this unique experience. The complete schedule can be found at www.chesaningshowboat.org. Call (989) 845-3056 for tickets.

7. Birch Run Premium Outlets

Stroll through this outdoor center and discover savings every day at 145 designer and name brand outlet stores. Located in Section F, the Information Center offers a VIP Coupon Book worth hundreds of dollars in additional savings. Directions and a list of stores can be found at premiumoutlets.com.

8. Celebration Square, Saginaw

There is something for all ages when you visit The Children's Zoo, Mid-Michigan Children's Museum, Celebration Skate Park, Hoyt Park, The Dow Event Center, Saginaw Art Museum, Castle Museum, Anderson Enrichment Center, Old Town Saginaw and Japanese Cultural Center and Tea House, all part of Saginaw's Celebration Square.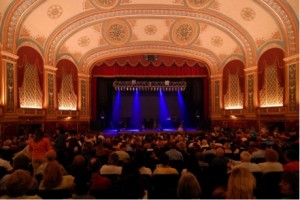 The Temple Theatre stage. Photo courtesy of Ryan Collier.

9. Temple Theatre, Saginaw

Celebration Square in downtown Saginaw is the home of the beautiful restored Temple Theatre known as "The Showplace of Northeastern Michigan". It has seating for 1,750 and houses the only Barton Butterfield Special organ in original condition. Events are found on their webpage, as well as tour information, at templetheatre.com or call (877) 754-SHOW (7469).

10. Wilderness Trails Zoo, Birch Run

This unique zoo experience with a mile long trail that winds past trees, ponds and over 50 species of exotic and native animals will be one that you won't soon forget. Open daily from May through October, the hours and admission prices can be found at www.wildernesstrailszoo.org.

Lindsay Gilbert is the Digital & Print Marketing Manager for the Great Lakes Bay Regional Convention & Visitors Bureau. As a graduate of Western Michigan University with degrees in both Graphic Design and Business marketing, she utilizes her education and experience to promote the region through digital, print, and social media platforms. With her hometown also being located in the Great Lakes Bay Region, there's no better place to live, work, and play!

For more things to do in Bay City and the Great Lakes Bay Region, visit michigan.org.