2012 World Ice and Snow Sailing Championships in Pure Michigan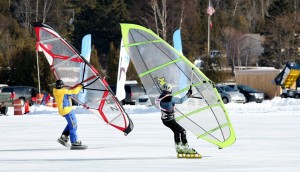 Last week, the 2012 World Ice and Snow Sailing Championships were held in St. Ignace. For those of you that are not familiar with ice sailing or would just like to know more, check out this blog post from earlier in the month that explains the championships and
how ice sailing works
. More than 40 athletes from 12 countries were represented at the championships (including participants from Bulgaria and Cuba, the first time those countries participated). We caught up with Dan Hill, president of Action Sports Enterprises and the coordinator of the 2012 World Ice and Snow Sailing Championships to get a recap.
Opening Ceremonies
The opening ceremonies were a festive affair, with many leaders of the St. Ignace community, including Mayor Paul Grondin, in attendance. Members of the Ojibwa Indian tribe were on hand and played a big role in the festivities. They cooked a big meal and did a friendship dance with all the athletes and Indian drummers and hoop dancers from Arizona also performed. The event also revealed a Traditional Finnish wood sauna that was placed on the ice for free use for anybody looking to keep warm. The opening ceremonies also honored Heath Robinson, a Navy Seal who was killed in action in Afghanistan in 2011.
School Support
There was a great surprise during the week, as a class of schoolchildren stopped by to meet the athletes, who entertained the students by pulling them on sleds and talking about their countries and culture. The event was such a success that later in the week, all classes in grades 1-8 stopped by to meet the athletes. The students also made posters for the athletes to take home. For many of the athletes, it was the highlight of the week.
Closing Ceremonies
The wing used in ice sailing looks very similar to an eagle's wing. For the closing ceremonies, a member of the Ojibwa tribe took a block of ice and carved a wing with the logo of the championships right onto the ice. A chef also made Bananas Foster and other desserts that incorporated fire to give the closing ceremonies a fun "fire and ice" theme.

The support from the St. Ignace community was fantastic and the North American championships will be held in St. Ignace next year. For more information about the championships and to see results from the races, check out the
World Ice and Snow Sailing Championships Web site
.