8 Reasons To Start Your Summer with the Chevrolet Detroit Belle Isle Grand Prix! (CLOSED - Plus a Giveaway!)
The Chevrolet Detroit Belle Isle Grand Prix is a weekend full of excitement between the four major racing series that are covered in this short time. Of course, some people might not know that the event is actually a complete international festival held on Detroit's
own Belle Isle Park with a range of enticing activities for the family! Let's start it off with number eight…
8. The Meijer Fan Zone
Meijer returns as a partner in 2015 to deliver one of the greatest recreational areas in all of Motorsports! The premises will have a plethora of fun activities, cool displays and enticing entertainment for fans of all ages throughout the weekend. If you're a huge car enthusiast, (which you should be, given the event!) displays from Chevy Racing and Autopalooza will have a range of unique motor vehicles from cruising or racing. The Detroit professional sports teams will have displays and some of the top Detroit sports legends will also be appearing and signing autographs. Surely you'll want to get some face paint and show off your glamorous side, or maybe enjoy the simple pleasures of balloon art as you take advantage of the craft areas. The Meijer Fan Zone is a key element that makes the Chevrolet Detroit Belle Isle Grand Prix feel less like a few races, and more of a holiday celebrating the jewel that is Belle Isle Park.
7. The Leinenkugel Biergarten
It's hard to start your summer without considering refreshments… much less that picturesque condensation dripping off an ice cold bottle of your favorite drink. Don't worry, The Grand Prix team partnered up with Leinenkugel to give our 21 and over fans what they deserve: The Leinenkugel Biergarten (and yes that is "beer garden"). Strategically placed between the Meijer Fan Zone,
FirstMerit Bank Bridge
and a relevant first-aid center, you won't have issues finding something to quench your thirst or satiate your hunger.
6. Pirelli World Challenge Series
One of the four major racing series held at the Chevrolet Detroit Belle Isle Grand Prix is the Pirelli World Challenge Series. The goal of this series is to gather a host of manufacturers, teams, and aftermarket suppliers to show off what's under the hood. Enjoy these beautiful, powerful metal stallions on the road. Where else can you go to see a Bentley and a Ford racing alongside a Ferrari and a Honda? Better yet, there will be two races…with one on Saturday and one on Sunday so you can't make up excuses to miss out. Go to
World-Challenge.com
to check out the different classes, and get more information on the series!
5. Concerts
On a race track one can expect the powerful roar of an engine, the enticing squeal of tires on pavement and the fizzes and hums of the vehicles bolting by. What you probably don't expect is for some truly epic musical entertainment. The Chevrolet Detroit Belle Isle Grand Prix is taking it to the next level as the MotorCity Casino Hotel Entertainment Stage will rock Saturday night with 3 Doors Down and Sunday with Smash Mouth. Top local bands will also perform during the course of the weekend as well. Check out the full lineup of entertainment at
DetroitGP.com
.
4. SPEED Energy Formula Off-Road presented by TRAXXAS
Legend speaks of magical flying crafts, soaring through the air in constant battle with each other, in the shape of human trucks. Okay so maybe that's just slightly over the top, but not by much. Enter SPEED Energy Formula Off-Road Presented by TRAXXAS. The idea here is to take a select group of high-class drivers and put them in some super powered trucks to race. My guess is that one of them figured, "hey why not add some massive jumps to send us a solid two stories high?" This event is something you have to see to believe!
3. TUDOR United SportsCar Championship
Last year, two major races decided to get together and spawn one coolest racing series on the planet. Again things can be a bit confusing with the four different classes driving alongside each other at the same time, but understand that these drivers are world-class. Some of the best on the planet, right here in your back yard. A few of the races in this series go for 12 and even 24 hours straight! Can you believe that? But Detroit is a bustling city, so we decided to give the crowd a couple of super intensive, shorter races instead. Don't miss it! Check out
IMSA.com
for more information.
2. Autograph Session
Muster up some courage and get an autograph from your favorite driver! Throughout the weekend, there will be occasions where drivers from each series will come out and relax to hang, shoot the breeze, and sign some goodies. Not often do opportunities come by where professional athletes take the time to get to know their admirers, so be sure to take advantage of the autograph sessions. This is a true, "for the fans" moment and selfies are not frowned upon.
1. Verizon IndyCar Series
So you come to the Chevrolet Detroit Belle Isle Grand Prix, and you have that craving. You're not really sure what it is… You already stopped by The Leinenkugel Biergarten so your stomach is satisfied. You heard some awesome performances by some legendary musicians, so you have a good vibe. But something is missing. Here at the Grand Prix, we cater to every need. We will personally deliver two heaping portions of pure, unadulterated, furious speed. The Chevrolet Dual in Detroit presented by Quicken Loans is back, and it's going to be exactly what you waited for. Experienced IndyCar fans know that this is some of the fastest, most intense racing in the world with IndyCar legends and can be a lot to handle. But I say indulge. Dig in. It's race time. Shoot over to
indycar.com
to keep up with your favorite IndyCar racer or receive all other relevant IndyCar needs.
GIVEAWAY:
Do you want to score a pair of tickets to this year's Grand Prix? Simply tell us what events you would attend by commenting below! We'll then select two lucky winners at random to win a pair of tickets to the race. To be eligible, simply submit your comments (along with your email address) by Thursday, May 28 at 2:00 p.m. EST. We'll contact the winners Friday morning using the email address provided (we won't share it or sell it to anybody).
UPDATE: This contest has ended and the winners have been contacted via email. Thank you to all those who participated!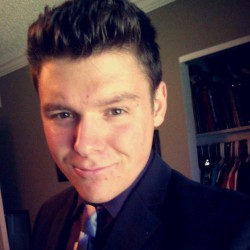 Tyler Hoornstra, 23, is currently a public relations intern for the Chevrolet Detroit Belle Isle Grand Prix. He graduated in 2014 from Michigan State University and James Madison College.