Annual "Fort Fright" Blends History and Horror in Mackinaw City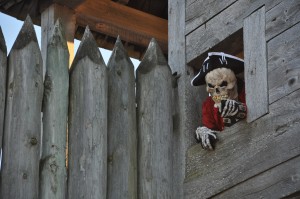 An 18th century fort and fur-trading village in Mackinaw City will be transformed into a haunted hot spot October 11th and 12th for the annual Fort Fright. Guest blogger Kelsey Schnell gives an inside look at what visitors can expect from this year's event.
As visitors venture inside the gate, British Redcoats of a different order patrol the wooden fort. A closer look reveals they're not ordinary men, but skeleton soldiers with bony fingers curled tight around their muskets.
More campfires crackle inside the fort, but are surrounded by friendly faces. French fur traders and voyageurs are telling more tales, singing songs and playing traditional instruments of the 1700s. One campfire boasts a large, black, cast-iron pot of apple cider simmering over the flames as a colonial woman ladles it into cups for visitors warming themselves. The fire offers a respite from the mythical creatures that prefer other places, like the upper stories of the wooden buildings where they throw open shutters and cackle, howl or prowl around the palisade. "The majority of the activities at Fort Fright will be suitable for the entire family," said Steve Brisson,
Mackinac State Historic Parks
' deputy director. "But we'll also have a number of interesting and scary activities designed to appeal to older children and adults."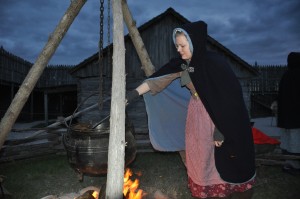 A tour of the haunted rowhouse, a custom designed exhibit for this occasion, will not be easily forgotten. New for this year, "The Demon Walk" provides an additional scary element. In other wooden buildings within the fort and fur trading village, colonial ladies serve warm autumn treats like homemade molasses cookies and toffee, and others play music on instruments from the time period. Guests can learn about death and burial in the 1700s, and the various traditions and ceremonies for the dead from over 250 years ago in the church. In addition to creatures, colonial men and women with friendly faces roam the village, following the lantern-lit paths that wind throughout the fort, a unique nighttime atmosphere available only on these two nights.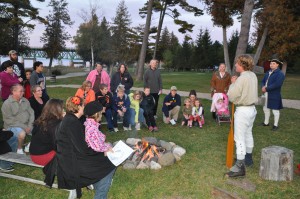 "The event is not just held to scare folks," said Katie Mallory, Mackinac State Historic Parks curator of education. "There's an eerie but real background to the event, which stems from French-Canadian tales that were passed on from person-to-person as voyageurs and other people traveled, and so there's a strong history of oral tradition behind Fort Fright." That oral history is shared around campfires much in the same way it was shared over two-and-a-half centuries ago.
The characters that roam Fort Fright, such as were-wolves, lutins, and Le Dame Blanche, meaning White Lady (Ghost), are drawn from a book called
Were-Wolves and Will-o-the-Wisps: French Tales of Mackinac Retold
by Dirk Gringhuis. The collection of short stores, published by Mackinac State Historic Parks, is based on French-Canadian folktales brought to the Mackinac Straits area by the voyageurs during the height of the French fur trade.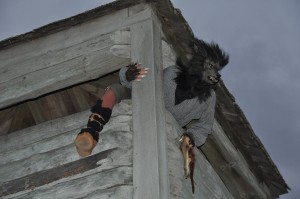 This annual event serves as a type of "kick-off" for the fall. Admission to Fort Fright is $7 for adults, $4 for children age 5-17 or $20 for a family. Children 4 and under and Mackinac Associates Friend Level and above are admitted at no charge. Tickets can be purchased prior to the event beginning October 1 at the Colonial Michilimackinac Visitor's Center in
Mackinaw City
or online at mackinacparks.com. For more information, call 231-436-4100.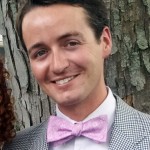 Kelsey serves as the Public Relations and Marketing Officer for
Mackinac State Historic Parks, a family of living history museums and parks in northern Michigan's Straits of Mackinac, an agency within the Michigan Department of Natural Resources.
Have you been to Fort Fright in Mackinaw City? Tell us about it! [wp_geo_map]