Behind-the-Scenes of Bay City's Tall Ship Celebration
Tall Ship Celebration: Bay City
returns this July 11 to 14! Shirley Roberts, formerly the Executive Director of the Bay Area Convention & Visitors Bureau and BaySail (a non-profit organization that owns and operates the tall ship Appledore IV), conceived the idea of Tall Ship Celebration in 1999. She has been the event coordinator and producer since then.
Today Shirley gives us a behind-the-scenes look at what goes into the Tall Ship Celebration.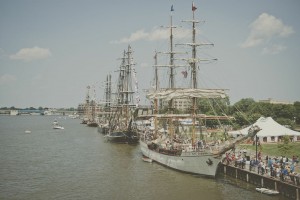 Tall Ships arriving to Bay City. Photo courtesy of Patrick Hadley.
Tall Ship Celebration
is a magnificent beast and it's my job to wrangle her. She's very much like a giant octopus with many arms, each important and each moving in a different direction. The challenge is to get them all moving in unison.
The ships themselves are, of course, a critical part of what we do. The tall ship fleet that visits
Bay City
every three years is organized by Tall Ships America, a non-profit membership organization based in Newport, RI. But while Tall Ships America identifies the vessels that are interested in visiting the Great Lakes every three years, as a host port, we have to negotiate contracts with each of them individually (including such glamorous things as when and how often we will pump-out holding tanks).
In 2013, our major sponsors are Dow Corning, MLive Media Group, St. Mary's of Michigan, Dow Chemical, Consumer's Energy, First Merit Bank, Wildfire Credit Union, Independent Bank and The F. P. Horak Company. Together with these groups, we are letting people know about Tall Ship Celebration, to encourage them to put us on their summer calendars and of course to buy tickets. If you travel certain sections of I-75, I-69 and US-10 in Michigan, I know you've seen one of our billboards. It's hard to miss a 20 ft. tall ship on the side of the highway with canon fire off her port side. Like so many others who want to inform the masses, we've put a lot of time and effort into our website (
www.tallshipcelebration.com
), we regularly post updates on Facebook (find us and like us, please!), and this year we've commissioned our very own mobile app. It's ready now for Android users but we're still waiting for the folks from Apple to release it for i-Phones.
The Pride of Baltimore. Photo courtesy of Patrick Hadley.
Because our marketing is so successful (I say with fingers crossed), we expect lots and lots of tall ship fans to arrive for the weekend. The more people you have congregated in one area, the more steps you put in place to make sure everyone is safe and that they all behave themselves. For TALL SHIP CHALLENGE® ports like Bay City, security and other regulations rise to a whole new level. The CHALLENGE® is a "Marine Event of National Significance" as designated by the Commander of the United States Coast Guard. And the Coast Guard no longer falls under the Department of Transportation; we're talking Homeland Security now. But the USCG is just the beginning of the alphabet soup. We also work with the BCES, BCPD, BCSP, BCSPMP, DNR, FBI, NOAA and others. If you're not a first responder or are not directly involved in providing emergency services, it can be difficult to communicate. But we've figured it out and I think now we work incredibly well together.
We also work incredibly well with a dozen local non-profit organizations that partner with
Tall Ship Celebration
to provide hands-on experiences for our guests. They manage activities ranging from face painting to building mini-tall ships to operating a pirate school. Craft activities compliment world-class musicians who this year will travel not only from other places in the US but from Ireland, Poland, Belgium, and the Netherlands just to be with us.
Add to that a million other things that need to be taken care of: tents, tables, chairs, banners, signs, golf carts, tread tracks, parking passes and badges, wrist bands, food concessions, volunteer orientation sessions, fencing, trash dumpsters, crew games, courtesy vans, parking lots, shuttle buses, VIP receptions, media interviews, paying bills, making deposits, launching new endeavors (looking forward to Ballads & Brews)…the list goes on and on. All of these things, big and small, amount to a grand event that happens three and a half days every three years. It's enough to keep you (or me) up at night.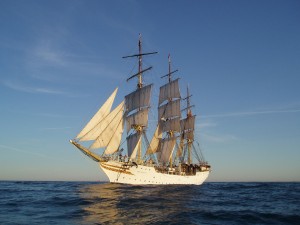 The Sorlandet. Photo courtesy of Patrick Hadley.
I have become a master list maker. My favorite symbol is a check mark. I will stay focused and make check marks on my many lists. I will calm the arms of this magnificent beast and, one by one, I will get them working in unison.
I will declare in a state of sheer exhaustion "I'm too old. I can't do this anymore." And then like childbirth, I'll forget how painful it was and, remembering only the site of the beautiful ships lined up in the river and the rapt faces of the people who are drawn to the ships like magnets, I'll start saying things like "Next time when we do this…"
Will you be at the Tall Ship Celebration this year? Share with us below and visit
michigan.org
to learn more.
Shirley Roberts is a habitual multi-tasker who was the Executive Director of the Bay Area Convention & Visitors Bureau and BaySail (a non-profit organization that owns and operates the tall ship Appledore IV) when she conceived the idea of
Tall Ship Celebration
in 1999. She has been the Event Coordinator/ Producer since then, managing five successful maritime events and proudly welcoming hundreds of thousands of people to Bay City and the Great Lakes State.