Celebrate Fat Tuesday with a Paczki in Pure Michigan
To celebrate Paczki Day (Fat Tuesday) in Pure Michigan, Joanna Dueweke of The Awesome Mitten gives us some history behind the holiday along with a roundup of sweet ways to indulge next Tuesday!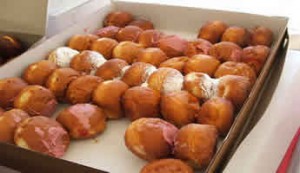 It's that time of year again! Fat Tuesday, or as it is lovingly called in many areas in Michigan,
Paczki Day.
Pronounced POONCH-KEE, paczki are deep-fried pieces of dough stuffed with sweet fillers of numerous variations. Fat Tuesday is the day before the Christian holiday of Lent where folks traditionally refrain from indulgent treats, but Michiganders (and much of the US) have adopted the Polish tradition of indulging in these treats and adding festivities to the mix. In Hamtramck, a city near
Detroit
which has been heralded as Michigan's 'Poletown' since Polish immigrants started flooded the area in 1914, celebrations start at 7am and consumers line up around the block from their favorite bakeries to get their hands on paczki.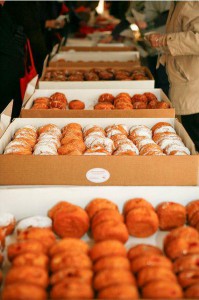 Photo courtesy of Carrie Acosta
Traditionally, paczki were made to use up the remaining lard, sugar, eggs and fruit that were in households before Lent began; Catholic customs forbid those indulgences during the Lenten holiday. Polish immigrants brought those traditions with them to the United States, so places with strong Polish roots hold on to those important celebrations. No one is really complaining; Fat Tuesday is a day full of fun and delicious treats!
We know that not everyone can travel to
Hamtramck
or devote a day to revelry. With that in mind, we've discovered several spots throughout Michigan that are rumored to have especially delicious paczki. It is often advised to get to these spots early or order in advance because they're a hot commodity!
Suggestions in no particular order:
Will you be having a paczki on Fat Tuesday? Let us know where you get one from!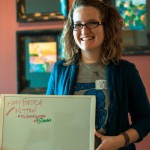 Joanna Dueweke writes for the Awesome Mitten and is the Interactive Marketing Coordinator for the Detroit Regional Chamber. Born and raised in Traverse City, she is enjoying new adventures in the Detroit area, but also values her roots in Northern Michigan. Exploring the outdoors, sailing, travel, and enjoying the Mitten's beer industry consume her time when she is not pursuing her Master's in Library and Information Science at Wayne State University.