Discover Holland During the 2013 Tulip Time Festival
More than 500,000 people from 40 countries travel to the Holland Tulip Time Festival each year. This year's festival is happening May 4-11, 2013 and there will be plenty to experience – from parades and traditional Dutch Dance performances to concerts, theatre, food and more. And outside of the festival, there's no shortage of sights to see and things to explore around the Holland area. If you're looking for things to do while you're in town, see our Q&A with Sally Laukitis of the Holland CVB below for inspiration.
Q: Can you tell us a little bit about yourself and your position at the Holland Convention and Visitors Bureau
A:
I grew up in Holland, went away to college, and lived out of state for a few years…I've always loved Holland and wanted to get "back home", so when the opportunity to move back presented itself, I jumped on it! I've
been with the
Holland CVB
for 20 years, serving as Executive Director for 18.
I truly feel like I have the best job in the world!
(I also currently serve on the Michigan Travel Commission.)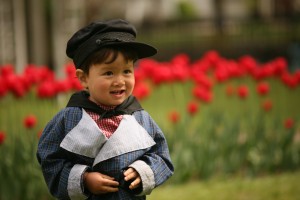 Credit: Wei Xue Yuan

Q: What do you think makes Holland the perfect place to host the Tulip Time Festival?
A: Holland is a natural for Tulip Time! For starters we have over five million tulips; a 250 year-old authentic Dutch windmill that was brought over from the Netherlands, a Dutch-certified master miller working the mill; and a city that was founded by Dutch settlers in 1847. Our Dutch heritage runs deep, including many residents with ties to the Netherlands and visits by Dutch royalty nearly every decade since World War II. We have the only production blue-and-white Delftware factory in the US, and a community that loves to throw a party! Tulip Time boasts over 800 volunteers community-wide!

Q: What other fun events are happening in Holland this spring?
A: In addition to Tulip Time, we host a "GrooveWalk" April 20 with thirteen bands performing live in thirteen different restaurants, pubs, and other establishments throughout Downtown; Fiesta! - a celebration of our Latino heritage is May 3 & 4 with a lowrider show, great Mexican food and ethnic music; the Holland Farmer's Market opens May 13 with all sorts of fresh produce, flowers, yard art, artisan baked goods, and in the summer special kids' activities Wednesday mornings at 10 and the Chef Series Saturday mornings at 10; the Critter Barn offers a delightful family experience where folks of all ages can get "up close and personal" with ducks, goats, cows, and even a pot-bellied pig; and of course our Dutch attractions – Windmill Island Gardens, DeKlomp Wooden Shoe & Delft Factory and Veldheer Gardens are fun for all.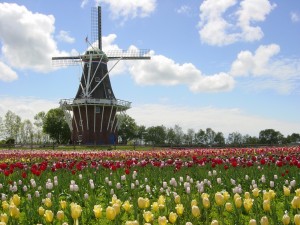 Windmill Island Gardens. Credit: Sara Simmons

Q: Can visitors experience Holland's Dutch culture year-round?
A: The Dutch experience is alive and well all year! At the Holland Museum you can immerse yourself in over 150 years of our Dutch history, including the devastating fire of 1871 that destroyed most of the town, as well as the history of Tulip Time; Dutch architecture is evident throughout our award-winning downtown and in our historic district, and in late November/early December folks can enjoy Dutch WinterFest and the Holidays in Downtown Holland, including a European open-air Christmas market and the appearance of Sinterklaas, the Dutch St Nicholas arriving in Holland on his white horse, accompanied by his Zwarte Piet helpers. For year-round treasures and Dutch chocolates, the import shops at Dutch Village are the place to be!

Q: What are some of your favorite restaurants in the area?
A: There are lots of wonderful locally-owned restaurants in Holland! If you're craving authentic Dutch food, the 4th generation DeBoer's Dutch Brothers Café and Bakkerij is sure to please; for family fun, try Crazy Horse Steak House for the best beef in town; if you want a romantic dinner overlooking the water, Piper is an excellent choice; for outdoor waterfront dining, Boatwerks, with its spacious deck is a great choice. And don't forget Pereddies for a cozy Italian dinner.

Q: What's your favorite way to spend a day off in Holland?
A: No matter what the weather, nothing beats a walk on the beach! The two-mile walk along the water's edge between Holland State Park and Tunnel Park is fabulous any time of year! In the fall, I particularly like to climb to the top of Mt. Pisgah, a 157 foot sand dune that towers above Lake Michigan. It's 230 steps to the top, with a panoramic view of Lake Michigan and Lake Macatawa that is second to none. Once you reach the top, there's a boardwalk that connects to the State Park ridge trails. And of course there is nothing more magnificent than a Lake Michigan sunset!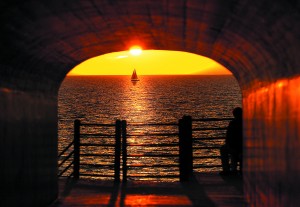 Tunnel Park Sunset. Credit: Dennis Geppert

Q: Where can people go for more information about things to do in the Holland area?
A: If folks are in town, they can stop by the Holland Visitors Bureau at 78 East 8th Street in downtown Holland. Our mascot, Lucy the Pug, will be waiting to greet them! Online they can find us at www.holland.org, also accessible via their mobile device, or they can call us toll-free at 800.506.1299. No matter how people contact us, a warm Dutch "Welkom" awaits!

Will you be at Tulip Time in Holland? Let us know what you're looking forward to seeing while in town!

Sally Laukitis is Executive Director of the Holland Area Visitors Bureau. She loves "everything Holland", especially hanging out at the beach on a hot summer day.