Family Fun at Cheeseburger in Caseville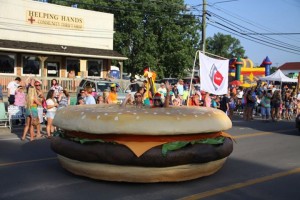 Michigan is home to a ton of festivals year-round, but one of the most unique may just the Cheeseburger in Caseville Festival! Held every August as a tribute to Jimmy Buffett and delicious cheeseburgers, the festival is all about having fun in the sun whether you're 8 years old or 88! This year's event is happening now through next Sunday, August 18.Below, festival chairman Steve Lowers answers on our questions on the annual event.Q. Can you tell us more about your role in Cheeseburger in Caseville?A.
I have been president of the Caseville Chamber of Commerce for 10 years and am also Chairman of the Cheeseburger Festival. I am just one of the many volunteers that help to put the festival together and am involved in the overall planning of the event including scheduling the bands and details of events throughout the festival.
Q.
The festival is now in its 15th year; are there any new additions?A.
Some of the new events this year include a larger kid's day and a book signing by "Michigan Killers" author Jonathan Rand. Throughout the festival we have several new kids' events. We also are bringing back the popular laser light show and have some new bands that will be taking the stages.
Q. Since the festival's start, it has definitely grown throughout the years. Can you tell us more about the history of the festival?
A.
The festival has grown a lot since it all started in 1999. The first year it was only a three day festival and now lasts 10 days. When I took over as Chairman 10 years ago we decided to expand and because three days just wasn't enough time. The attendance has also jumped each year; the first year of the festival we sold 300 buttons for $3.00 and last year we sold over 10,000 buttons for $10 apiece. Each year thousands descend on our small town for 10 days of fun.
Q. Cheeseburger has won several "Michigan Fun Awards," what makes the festival so deserving of these awards?A.
We are a really creative bunch! We really enjoy planning the festival and take a lot of pride in the community and the festival. I believe that a group of decision makers is better than one and it shows in the festival.
Q. What other activities can festivalgoers do in Caseville outside of the festival?A.
Caseville has beautiful
beaches
, great
golf courses
, lots of
campgrounds
and some really great shops.
Q. Just for fun, can you tell us what would be on your perfect burger?A.
I really like blue cheese so for me it would have to be one of the black and blue burgers that some of the vendors sell. A black and blue burger is a cajun seasoned burger loaded with blue cheese.
Q. What's the most surprising thing you have learned or seen working in this event?A.
I've learned that there is a fine line between a festival and a party. A festival involves ages 1-100 and a party is for adults, through the years we have prided ourselves on remaining a great festival. Our festival is one of the best and biggest in Michigan because it is so family oriented. That's why I do it!
Q. Where can you go to learn more about the festival?A.
Visit
www.casevillechamber.net
, the Caseville Area Chamber of Commerce
Facebook page
or take a listen to the radio show below!
Steve Lowers is the President and Chairman of Caseville Area Chamber of Commerce and Chairman of the Cheeseburger in Caseville Festival. For more information about events going on across Pure Michigan visit michigan.org/events.