Help Set Guinness World Record at Grand Rapids' Laughfest 2013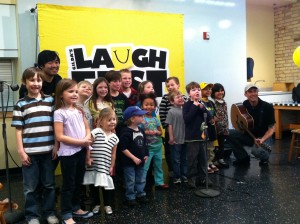 Get ready to laugh as Gilda's LaughFest returns to Grand Rapids March 7 – 17, 2013. LaughFest is a festival of laughs that celebrates laughter for the health of it. From performances, film and the chance to break a Guinness World Record, there's plenty of funny stuff happening throughout the fest.To prepare for the 2013 LaughFest, we spoke with Joanne Roehm, LaughFest Festival Director. See her answers to our questions below and learn more at michigan.org. Q: What is LaughFest?A:
Gilda's LaughFest
is fast becoming one of the nation's "must attend" festivals, celebrating laughter for the
health of it
! This major 10-day Midwest Festival is located in Grand Rapids, Michigan. Now in its third year,
LaughFest
features laughter in all forms including: comedy, live performance, improv, film, and a variety of other
seriously funny
stuff.
All proceeds of
LaughFest
support the free cancer and grief support programs offered through Gilda's Club Grand Rapids and 100% of those funds remain local.
LaughFest
is named for Gilda Radner, an original cast member of Saturday Night Live, who died of ovarian cancer in 1989. In her book,
It's Always Something,
Gilda said, "My job was to find what was funny about whatever was going on. So I began to think that I should do the same thing with cancer." Since Gilda's gift to cancer was permission to laugh, we wanted to pass that permission along through
Gilda's LaughFest.
Gilda's Club Grand Rapids is a local, independent non-profit that is the busiest club in a network of 52 organizations is North America. We operate our free emotional support program for children and families living with cancer and grief in two Clubhouse locations (NW Grand Rapids and Lowell), in 5 inner city community centers and in a dozen schools on an annual basis. We serve over 10,000 people annually from 33 counties in Michigan. We rely entirely on charitable gifts to deliver our programs.
Q: How many attendees are expected this year?A:
Similar to the first two years of the festival, we anticipate upwards of 55,000 individuals will attend during the 10 days of the festival – March 7 to 17, 2013. Last year
LaughFest
attracted individuals from 25 States and Canada.
Q: How can people of all ages enjoy LaughFest?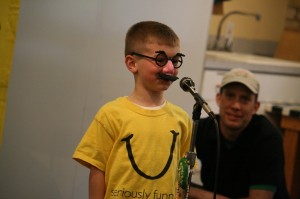 A:
LaughFes
t is uniquely designed to offer something for everyone. We know that laughter is good for our emotional health, regardless of our age.
LaughFest
events are designed for both children and adults and while we don't all laugh at the same things, we all laugh. There are more than 200 events offered, from stand-up comedy, film, music, events for our pets and family friendly programs. We have listened to attendee's and the community's feedback from each of the previous festivals to ensure that we have a wide variety of accessible events that are both free and ticketed.
A sampling of this year's family friendly programming includes our headlining kids show Strawberry Shortcake: Follow Your Berry Own Beat with special guests The Doodlebops, kids hip hop music artist Secret Agent 23 Skidoo, Super Saturday Kids Zone, and Saturday Night Teen Zone. Other family friendly events include People & Pets, the Seriously Funny Adventure Challenge, Kids Joke Night, various student art and writing competitions, to name a few.
Q: What comedians will be at LaughFest this year?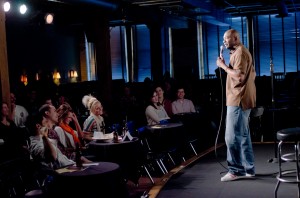 A:
LaughFest 2013 will include more than 200 free and ticketed shows including this year's Signature Event, starring multi-talented entertainer Wayne Brady. Brady currently appears as the host of
Let's Make a Deal
and previously won an Emmy for his role on the improv comedy show,
Whose Line Is It Anyway?
This year's festival will also feature: Grammy award winning comedian, Lewis Black;
Saturday Night Live
alum, Jim Breuer;
Breaking Bad
actor and comedian, Bill Burr; E! network host and actor on NBC's comedy series
Community
, Joel McHale; and one of the country's premier comedians, Brian Regan. Other acts include: Los Angeles – based comedy duo, Garfunkel and Oates; actor and comedian, Gary Valentine; and Food Network host and magician, Justin Willman, and others.
Q: For returning attendees, what's new this year?A:
Every year we strive to create a festival that is fresh, fun, and filled with events that provide something for everyone.
This year we have increased the
LaughteRX
series, which highlights the importance of laughter in our emotional health. We increased the number of acts we call "Clean Adult," and scheduled more family friendly activities. A new component of this year's festival is our "
LaughFest's Best
" shows; these midnight shows take place twice during the festival with a top secret lineup for each comedy show. You never know who's going to show up and perform, so you won't want to miss it. We are honored that Alan Zweibel, one of Saturday Night Live's original writers, and a friend of Radner, is offering an Adult Writers Workshop this year.
Additional venues this year include the Haworth-Interphase showroom at MoDiv and Compass College of Cinematic Arts.
Q: How is Laughfest different from other comedy events?A:
LaughFest
is different from other comedy festivals because it celebrates "laughter for the health of it." We seek to offer events that highlight laughter in all its forms, not just through stand-up comedy, although stand-up comedy is indeed some seriously funny stuff. We believe we are the only festival in that nation focused on opening a dialogue about emotional health and the role that laughter plays in our lives. Our inspiration is Gilda Radner and the journey she went through to find her smile and share her laughter after she was diagnosed with cancer.
Q: What are 3 reasons someone who has never been to LaughFest should come this year? A:
#1. It's good for your health to laugh out loud, so consider this an exercise to promote good emotional health, and yes, it's fun too. #2. It's a great way to break the winter blues – bring some friends and enjoy a city brightly lit up with "yellow smiles." #3. There really is something for everyone and know that you'll be supporting a great cause. All proceeds from LaughFest support a program that brings smiles and laughter to those on a cancer or grief journey.
Q: What makes Grand Rapids a great host city for the event?A:
Grand Rapids has a vibrant and happening downtown area, which is easily accessible and walkable.
LaughFest
goers can easily stay downtown and walk to shops, restaurants, take in a show, and take in the city's nightlife later on. The city embraces
LaughFest and
visitors, including
LaughFest
artists, have commented on how there's "
LaughFest
" energy all around the city. Grand Rapids is a very warm and friendly and the 1,400 volunteers who help run the Festival will help you get to where you need to go.
In 2011,
Business Review
honored
LaughFest
with the "Michigan Innovation Award." In 2012 the festival received the "Downtown Inspiration Award" from both the Grand Rapids Downtown Development Authority and the Downtown Alliance.
All of this brings local, regional, and national attention to Grand Rapids and West Michigan as a distinctly unique place to live, work, and play.
Q: There were World Records set at LaughFest the past two years. Do you plan to try to break another this year?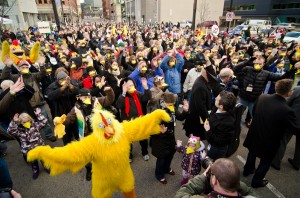 A:
In both 2011 and 2012 the opening night of the festival started with a community kickoff event. In both years, attendees helped achieve Guinness World Records, first, for a Rubber Chicken Toss, and, second, for wearing Chicken Beaks. These records gave
LaughFest international
exposure with stories placed in more than 150 newspapers.
For the 2013 festival,
LaughFest
will attempt to break the Guinness World Record for the largest gathering of people who are wearing false mustaches. The largest gathering of people wearing false moustaches was achieved by 648 participants at an event organized by the St. Louis Rams in September 2012. Individuals wishing to help break this existing record at the
LaughFest
2013 opening night will be provided with an official
LaughFest
mustache.
Q: Where can people go to learn more?A:
Visit our website at
laughfestgr.org
for a full schedule of events and to learn more about the festival and specific shows. You can also learn more about Gilda's Club Grand Rapids at
gcgr.org
.
In Grand Rapids, you can visit us at LaughFest Central to get more info, purchase tickets, and purchase merchandise – open now through the festival at the Grand Rapids Art Museum at 101 Monroe Center Ave, Grand Rapids MI 49503.
To purchase tickets online go to Ticketmaster.com and search LaughFest.
Finally,
LaughFes
t is on Facebook, Twitter, Instagram and Pinterest.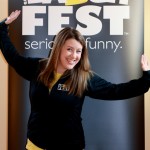 Joanne Roehm serves as Festival Director for Gilda's LaughFest and has been with the festival for three years. She is a two-time graduate of Western Michigan University with a bachelor's degree in music and a Master's degree in Public Administration with a concentration in Non-Profit Leadership.
Let us know if you'll be attending Gilda's LaughFest in Grand Rapids this year!