Treasure Hunting for Michigan-themed Antiques
Summer is the perfect time of year to find hidden gems at Michigan's many antique shops and markets. Today, Dianna Stampfler of Promote Michigan fills us in on the treasures she's found at the Allegan Antiques Market.
Do you have a favorite flea market or antique shop in Michigan? Share with us in the comments section below!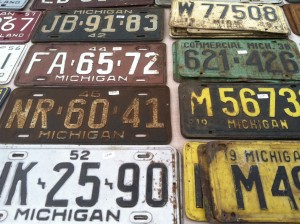 For many, summer in Michigan is meant for beachcombing, boating, biking, golfing and enjoying the
great outdoors of Pure Michigan
. It's also a prime season for exploring the area's flea markets, antique shops and yard sales.
One of my favorite places for treasure hunting is the
Allegan Antiques Market
, held the last Sunday of each month (April through September) at the
Allegan County Fairgrounds
. Touted as one of the largest markets in the Midwest, more than 400 vendors (both inside and out) spread around the fairgrounds selling everything from large scale furniture to glassware to postcards.
Over the years, I've established quite a routine when it comes to this event. Sometimes my visits are short and sweet, but often I find myself getting lost in the variety of booths for three or four hours. Despite repeated requests from family and friends to join in the adventure, it's something I (selfishly) prefer to do solo. I like going at my own pace, without worrying about a guest who is bored 10 minutes into the day, and getting lost in the nostalgia of it all.
While I rarely have something specific I'm looking for, I always seem to find "just the right thing" to add to my collection. Items featuring Michigan receive top attention of course – especially travel brochures and magazines, food and agriculture focused pieces, unique license plates and slightly-rusted signs. I'm also drawn to cottage- and beach-themed décor, garden art and things that are red (the primary accent color in my home).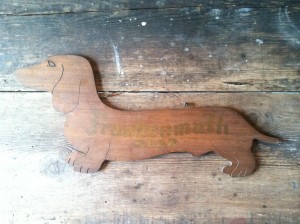 This past April, a couple treasures found their way into my heart (and ultimately into my bag). A wooden dachshund with "Frankenmuth Beer" in faded paint was a steal at just $5 (even with its chipped tail – which to me, adds to its character). I also scored 5 juice-size glasses adorned with red roosters – perfect for sampling my favorite made-in-Michigan spirits – for $7.
Over the years, my visits to Allegan have yielded some of my most treasured finds. A 5-foot red bench now serves as a coffee table in my living room; a red and black hinged checkerboard hangs on the diagonal on the dining room wall (next to my family's original Michigan-made Carrom board); an eight-sided jar holds a collection of marbles purchased at my grandmother's estate auction; a red wooden stool stands proudly in my kitchen.
I've also amassed a large number of postcards – highlighting travel destinations around the state of Michigan, from the early 1900s. Despite their small size, these can be quite expensive. Typically, I limit myself to $5 per card, but I've been known to drop $25 for a rare find.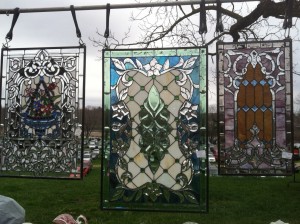 Another highlight of the market is the opportunity to indulge on fair fare – and even here, habits are hard to break. Midway through my shopping, I stop for a steak sandwich with onions (and A1 sauce), fries and a Dr. Pepper. Then, before heading back to my car – it's a stop at the elephant ear booth for dessert to go.
The Allegan Antiques Market runs on the last Sunday of each month (April through September) from 8am to 4pm at the Allegan County Fairgrounds. Admission is $4 per person; parking is free.
Tips for shopping at the Allegan Antiques Market


Wear comfortable shoes, there is lot of walking both on paved pathways and grass (where roots, acorns and other items gather).


Bring a tote or wheeled-bag to carry your treasures.


Bring cash. There is no ATM and most vendors are not able to process credit cards.


Don't be afraid to barter on price – many vendors are willing to negotiate (especially later in the season).


Make sure you have room in your car – in case you find something "big" to haul home.


Dianna Stampfler of Promote Michigan inherited her love of history, collecting and antiques from her father (a local historian and genealogist) and grandparents. She lives in Plainwell, just blocks from the family home where she was raised.