Unusual Michigan Festivals to Put on Your Summer Bucket List
Michigan is home to a number of "off the beaten path" festivals you won't find anywhere else. From Elvisfest to Cheeseburger fest, and everything in-between, there truly is something for everyone to enjoy. Here are just a few of the most unique Michigan festivals to add to your summer bucket list. For more, visit michigan.org/events.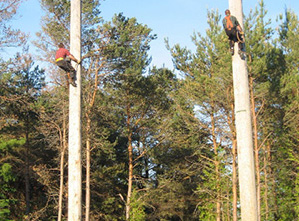 Jack Pine Lumberjack Show
May 16 - September 1, Mackinaw City
Come cheer the Lumberjacks in this fast paced competition of chopping, chain-sawing, pole climbing, logrolling and more. You'll see turn of the century skills of the lumberjack in action!
Train Expo 2014
June 20-22, Owosso
See the very best in steam locomotives from all over the U.S. as well as vintage WWII airplanes and some of the finest in automobiles from across the generations, all in Owosso! A giant midway, an auto race and the history of transportation will be available for the family to see, ride, and experience for this unforgettable weekend.
Marquette Mountain Mud
June 21, Marquette
Enjoy natural river showers via snow guns, river crossings, a huge mound of snow to climb, a giant slippery slide, plenty of other challenging obstacles, and fresh mud to run and crawl through. Enjoy a scenic chairlift ride to the top of Marquette Mountain, then complete your chosen 4-mile or 2-mile race to the finish line at the chalet. The courses will lead you through a set of switchbacks and various obstacles along your 550 foot descent to the finish!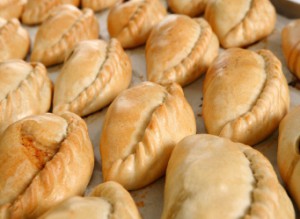 Michigan Pasty Fest
June 28, Calumet
Celebrate the Keweenaw's "Pasty" history with a parade, children's games, a pasty sale, live music and dancing with the Pasty Bake-Off for the coveted Copper Pasty Award. Event held at Agassiz Park.
Cedar Polka Fest
July 3-6, Cedar
Held yearly in Cedar, Michigan, under the big tent on the tennis courts. Highlights include a parade on Saturday at noon, softball tournament, a polka mass and polka under the big, big tent with the big names of polka.
Michigan ElvisFest
July 11-12, Ypsilanti
The Annual Michigan ElvisFest brings the best of Michigan's Elvis impersonators together! It's just around the corner – Friday, July 11 and Saturday, July 12.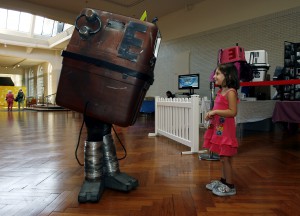 Photo courtesy of The Henry Ford
Maker Faire Detroit
July 26-27, The Henry Ford
Tinker, hack and mingle with over 400 makers during the ultimate festival of invention and creativity at the world's original Maker mecca. You won't believe your eyes!
Fish Sandwich Festival
August 1 -3, Bay Port, MI

Fresh fish sandwiches are the stars of the show during this festival! Free entertainment, parade, classic car show, bingo, kid's games, raffles. Check out website link for full event schedule.
Michigan Pirate Festival
August 4-10, Grand Haven
Michigan Pirate Festival's 8th year in western Michigan is this August 4-10, 2014, in Grand Haven. This year's event will include pirate hunters, re-enactors, literary and fantasy characters, encampments, and pirates from more eras than ever before. Come out and see for yourself what the excitement is all about!
Rubber Ducky Festival
August 16, Bellaire
See two-thousand rubber ducks race down the Intermediate River! Also, visit the Arts and Craft show at Duckling Park on Broad Street with kids games, sidewalk sales and parade.
The US-127 National Yard Sale
August 7-10, Hudson, MI
Dubbed the "World's Largest Yard Sale", this unique festival spans across five states! Starting in Gadsden, Alabama and ending just north of Hudson, this national event is something bargain hunters can't afford to miss (pun intended).
Cheeseburger in Caseville
August 8-17, Caseville, MI
This family-oriented, 10-day event offers daily music, homemade boat races, parades, classic car shows, and more! Not to mention the many different varieties of cheeseburgers you can enjoy as you spend time on the shore of picturesque Lake Huron. Purchase your Cheeseburger Button to get into all of the events for the entire 10 days!
If you're a cheeseburger fanatic, this festival is the one for you. If you're more of a barbecue lover, be sure to check out Caseville's
Country Rib Stock Festival
happening June 27 - 29th!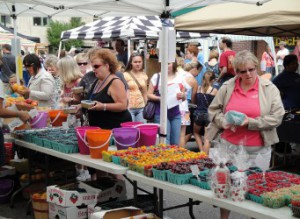 Montrose Blueberry Festival
August 14-17, Montrose, MI
The Montrose Blueberry Festival is a weekend full of fun for the whole family! Come enjoy delicious blueberry pancakes and pies while you sit back, relax, and watch the parade go by. This annual festival includes a flea market, carnival, 5k/8k road race, and much more. Make your way to Montrose for a weekend you won't forget!
For more celebrations dedicated to the blueberry, head out to
Marquette's Blueberry Festival
on July 25th or the
National Blueberry Festival
in South Haven August 7th-10th!
Edmore Potato Festival
August 22-24, Edmore, MI
Celebrate all things 'potato' with a farmer's market, parade, rodeo, fireworks and more!
If you're looking for more quirky and unique Michigan festivals throughout the year, be sure to keep the
Trenary Outhouse Races
or
Potterville's Gizzardfest
on your radar!
Do you know of any other unique festivals happening around the state this summer?