You're Invited: LIVE Google+ Hangout on LaughFest 2013 in Grand Rapids
UPDATE: Thanks to everyone who tuned in to our live Google+ Hangout! Here's a replay of the chat.


Mark your calendars! This Tuesday, February 26 at 12:00 noon ET, we'll be chatting live with some of the stars behind Gilda's
LaughFest in Grand Rapids
.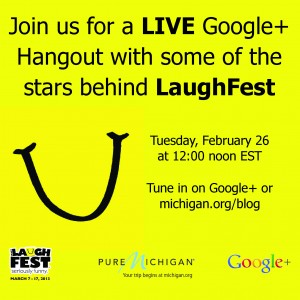 LaughFest
– happening in March 7 - 17, 2013 in Grand Rapids – is fast becoming one of the nation's "must attend" festivals, celebrating laughter for the health of it. Now in its third year,
LaughFest
features laughter in all forms including: comedy, live performance, improv, film, and a variety of other seriously funny
stuff. Plus, there's a chance for attendees to help set a
Guinness World Record
! We'll be covering all the details in this 30 minute live Hangout!
To submit questions for the chat, leave them in the comments section below, on our
Google+
or
Facebook
pages, or by using the hashtag #PureMichigan on
Twitter
. Then, tune in on Tuesday on
Google+
, our YouTube page or right here on the blog! You're also welcome to submit questions on these channels as the chat is happening.
Participants will include:


Justin Willman, host of Food Network's Cupcake Wars and Last Cake Standing


Dylan Gadino, founder and editor of Laughspin.com


Stu McCallister, comedian


Joanne Roehm, festival director of LaughFest


Andrea Robyns, interactive web and design manager at Experience Grand Rapids


We're looking forward to chatting with these stars of LaughFest during our LIVE Google+ Hangout! If you aren't able to join us live, we'll be posting a full replay of the chat right here on the blog later this week.
Start sending in your questions today!