Family Fun at the Corn Maze
Looking for something fun to do with your family this season? Bestmaze Corn Maze provides fun for the whole family! Today, Mark Benjamin of Bestmaze fills us in on this fall attraction.
Mark is a full time farmer along with his father, John. They raise corn, wheat, and soybeans in Ingham County.
For more on Bestmaze and other corn mazes in Michigan, visit michigan.org.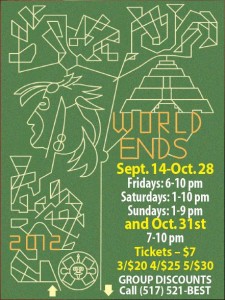 Q: For those unfamiliar with Bestmaze, can you provide an overview of what visitors can expect?A:
Visitors to Bestmaze can expect a great all-around experience – from maze flow, groomed trails, and security towers in a large maze. Those who have been coming here for years now know that if the kids want to go away from "mom and dad" during the day, our four security towers can keep the kids in sight while parents can explore at their own pace with a break from the kids. Our towers make it great for large youth groups; adult leaders know we can find Billy in a matter of minutes for them and send him out the exit trail when the bus needs to leave for home. Want help? Just raise your hand or ask a tower. Of course, if you do not ask for help the security towers will watch you walk in circles until you figure that section out. Optional exits are about every 15 minutes and the whole maze could take over an hour. Even on a rainy day our trails are not a mud bog as our trails are so well groomed and a complete drainage system was installed.
Nothing scary is in the corn maze. But if you want scary, there is a separate Trail of Terror on the other side of the field. Coming to our field this year is the main prop of national haunters convention that was filmed as it was being made and then at the convention for the Travel Channel. Most people think a farmer's corn field cannot be as good as the big haunts known around the country...but we are and we even trade props every year with these other haunts.
There is also a special laser tag arena that becomes a zombie shoot after dark.
Q: What's the history behind Bestmaze?A:
I am the 6th generation farming in this township. We started the maze 12 years ago and called ourselves Maze & Market, selling pumpkins and sweet corn. We were being told by customers to change our name to Best Corn Maze. So after hearing that over and over, we settled on Bestmaze Corn Maze.
People asked us from year one to add a haunt as well. Our first haunting year was like several haunted farms you go to – there were kids hiding in the corn yelling "boo." It just wasn't on par with the corn maze. So with our reputation we had to bring the haunted trail up to the standards people were familiar with about our maze. Now, Trail of Terror is a full-blown sensory overload with animatronics that people would only expect to see at a major theme park like Universal Studios. People are blown away after experiencing Trail of Terror and the $10 admission after being accustomed to handing over $20 and more at other haunts. They feel like they have found a hidden gem.
Q: Are there new attractions this year for visitors?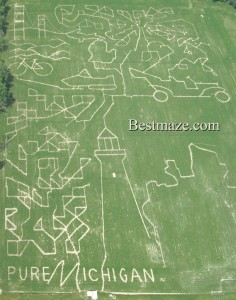 A:
We have a laser tag arena carved into the corn field. At night it becomes a zombie shoot, but...the zombies shoot back! You are armed with a semi-auto laser tag outfit (a good quality one) and the zombies get single shot equipment. Problem is they get more lives than you do of course, but one zombie cannot take you out by himself. Several hits need to be made on you.
Every year the look of Trail of Terror changes! We never do the same show two years in a row. We learned early on hearing from customers who got tired of the same thing at their local haunt year after year after year. The maze theme changes every year. In 2008 we did a special "Pure Michigan" theme. This year is a Mayan theme with Hun Hun Ahpu the Mayan Corn God, the Pyramid of the Sun, and the Mayan Calendar.
Q: What's your favorite part Bestmaze, or corn mazes in general?A:
Two things: seeing people who have come for years who say things like we have been coming here since your first year back before you had to expand the parking lot and watching people go through the maze from the towers. It is amazing how we are able to predict how people will react to trail choices as they come across them. I could go up on one of our towers and film people navigating the maze, and tell you what 90% of the people will do at key spots in the maze. And it is almost mind boggling how many people choose the correct path after exhausting all other options. But the laughs and smiles as they navigate through is why they keep coming back year after year.
Q: What would people be surprised to learn about corn production in Michigan?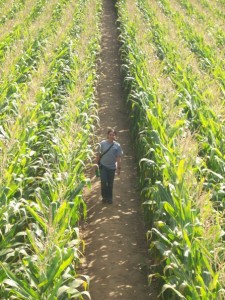 A:
Well, this year they would be surprised how tall our corn is compared to corn all over the state and nation. Carving the Mayan Corn God in May must have had something to do with us getting rain is worst drought in 50 years. The local news came out last week doing a story on just that.
Biggest surprise would probably be just how far production has advanced in recent years. In 1984 when I graduated, a yield of 120 bushels an acre was a decent yield. Today, 120 bushels would be a disappointment after hitting 200 bushel level the last few years. And what really surprises them is we are doing it with less chemicals and fertilizers put into the environment at the same time. Science and technology advances in agriculture have been huge.
Q: Where can people go for more information about Bestmaze? A:
Our website (
www.bestmaze.com
) is the best place to go. It has our hours, prices and more. It also has pictures of every year's maze. It is really easy to get to as well since an interchange off of I-96 is just one mile away. We are an hour's drive from Grand Rapids, Detroit, or Kalamazoo. If you "like us" on the
Bestmaze Facebook page
, you will get updates during the season.
Mark Benjamin is a full time farmer along with his father, John. They raise corn, wheat, and soybeans in Ingham County. For more on corn mazes and other fun fall attractions, visit michigan.org.