How the Grand Rapids Ballet Put a New Spin on The Nutcracker
Is The Nutcracker one of your yearly holiday traditions? This December, see it live at the Grand Rapids Ballet! Today, our guest blogger from Experience Grand Rapids shares how Michigan-born writer and illustrator Chris Van Allsburg and team put a new spin on an old favorite.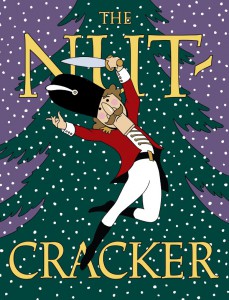 Chris Van Allsburg, the East Grand Rapids native known for writing and illustrating books including
The Polar Express
and
Jumanji
,
can add another credit to his impressive list. He, along with Tony and Emmy award winning set designer
Eugene Lee
and renowned choreographer
Val Caniparoli
, are giving new life to the
Grand Rapids Ballet
version of
The Nutcracker
under the direction of Grand Rapids Ballet (GRB) Artistic Director
Patricia Barker
.
Barker is quite fond of traditions. She was a principal dancer in the
Pacific Northwest Ballet
(PNB) production of
The Nutcracker
with set designs by children's author
Maurice Sendak
. The lavish production became a holiday tradition in Seattle, and upon her arrival in Grand Rapids, she knew she wanted to create a similar tradition here.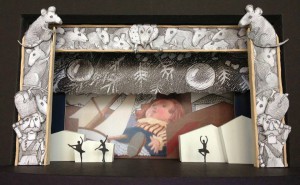 Photo courtesy of The Grand Rapids Ballet
It was Barker's dream for a new Grand Rapids tradition that set the ball rolling. The Grand Rapids Ballet asked Van Allsburg to design
The Nutcracker
with his own vision two years ago. Although his daughter Sophia has danced the role of Clara with Festival Ballet Providence in Rhode Island, he still needed some "encouragement" from his wife Lisa along with friend and co-designer Eugene Lee to take on the project.
While Van Allsburg is not in Grand Rapids currently, Barker said he was an integral part in creating the aesthetic for this re-imagined production and is still involved. "I have been in conversation with Chris weekly, sometimes daily," said Barker.
With the help of Barker's German speaking husband, Barker and Caniparoli spent more than a year going over the
E.T.A Hoffman
story
that
The Nutcracker
is based upon in its original German. And although the set design, production and costumes are all new, the heart of
The Nutcracker
remains the same.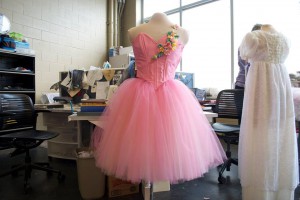 Photo courtesy of the Grand Rapids Ballet
Van Allsburg and Caniparoli were steadfast in their determination to focus on the original story of
The Nutcracker
. Eugene Lee also played a large role in ensuring from beginning to end the audience sees the complete story line of Clara coming of age and going through a wonderful adventure for all ages.
"We uncovered interesting nuances that have been lost over multiple translations such as architecture, clothing, embellishments, etc.," said Barker. "But with that being said, there will still be recognizable plot lines from modern renditions of
The Nutcracker
."
The spirit of
The Nutcracker
isn't limited to Grand Rapids Ballet
.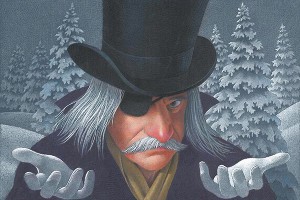 Opening Curtain - Photo courtesy of Grand Rapids Ballet
Hotels will be offering
Nutcracker Season packages
along with special
"Land of Sweets" desserts
and a Nutcracker Cocktail contest at participating restaurants and bars.
For a more behind the scenes look, from November 20-January 15 the
Grand Rapids Art Museum
will have original artwork on display illustrating the process of this amazing production, along with costumes and set models that will give insight on how a production goes from conception to stage.
So
get your tickets
and plan a trip to Grand Rapids to the world premiere performance of the largest production in Grand Rapids Ballet history starting December 12. You won't be disappointed.
Have you ever seen a performance at the Grand Rapids Ballet? Tell us about it!