Lighting the Pure Michigan Christmas Tree at Silver Bells in the City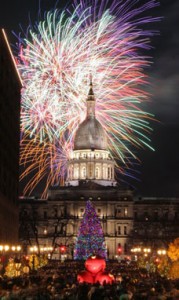 Photo by Valerie Hoffman
One doesn't typically equate fireworks with fall or winter, but they're a special part of Michigan's "official" holiday season kick-off. Tonight, the 27th Annual "
Silver Bells in the City
" will take place in downtown Lansing, with more than enough good cheer and bright light for the thousands who flock from all over Michigan to attend.
This year, the celebrations kick off at 5:00 pm with a "Silver Bell Fun Run" to the Capitol steps, where members of Radio Disney's Road Crew will lead singing and dancing. At 7:15, Michigan's official holiday tree, which is from the Haughton Lake area, will be lit at the Capitol, with a firework show set to begin over its dome at 7:30.
Immediately following the fireworks, Radio Disney will present
Cody Simpson
live in concert.
While the tree lighting and fireworks show are the main attractions of Silver Bells in the City, there's fun to be had throughout downtown
Lansing
. The Michigan Library and Historical Center will provide live holiday music from 5 to 8 pm, with St. Paul's Episcopal Church presenting its Handbell Choir from 7:30 – 8 pm.
The Riverwalk Theatre will host the Irish Dance Company of Greater Lansing and "The Surprising Story of the Three Little Pigs" from 7:45 – 8:45 pm, while "Around the Town Clowns" will pop up at various locations on Washington street throughout the festivities.
For more information on Silver Bells in the City, download this brochure, which includes a detailed schedule and maps of all the evening's events.