Manistee's 24th Annual Victorian Sleighbell Parade and Old Christmas Weekend
Holiday spirit is in the air across Michigan, with many festive events on the horizon – including the Victorian Sleigh Bell Parade & Old Christmas Weekend in Manistee. Today, the Manistee County Convention & Visitors Bureau fills us in on this family-friendly event, which is coming up next weekend.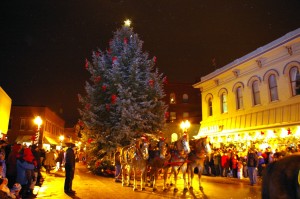 Chestnuts Roasting On An Open Fire, I'm Dreaming Of A White Christmas, Yuletide Carols, One-Horse Open Sleigh, Jingle Bells, Pipers Piping . . .
The images from our favorite Christmas holiday lyrics will be joyfully brought to life at the 24th Annual Victorian Sleighbell Parade and Old Christmas Weekend, December 6 to 9 in the
City of Manistee
in northwest Lower Michigan. There are dozens of events, some beginning the previous weekend, some are daily and some are ongoing. Here's a sample of what you can expect during that Happy Holidays week.
The highlight of the festival is the Victorian Sleighbell Parade at 5:30 p.m., Saturday December 8. Authentic, true-to-period with Victorian costumes, horse-drawn floats, turn-of-the-century characters and two community Christmas trees, pulled by horse teams down River Street. Follow the Community Christmas Tree to the end of the parade route for the Tree Lighting Ceremony and Holiday Carol Sing-a-Long.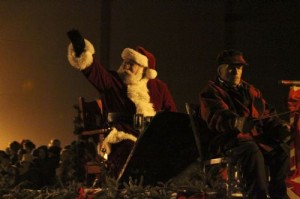 The parade follows a days-long schedule of events that begin Friday Nov. 30 with the opening of Irving Berlin's "White Christmas" at the Ramsdell Theatre. Other events include visits with Santa; carriage rides; the Historic River Street Merchant Open House with holiday food and drinks; a Storefront Gingerbread House Competition; Jingle Bell Jog 5k run/walk; Downtown Soup Cook Off; Sleighbell Prince and Princess Pageant; Festival of Trees; Victorian Dessert Concert by the Manistee Choral Society and a special Christmas During Wartime exhibit at the
Manistee County Historical Museum
.
Don't miss the "Sled Dog Express" which more than makes up for the absence of Dasher and Dancer and Donner and Blitzen; Cookie Fun; craft show and bazaar; Michigan Audubon Chickadee Christmas at Lake Bluff Bird Sanctuary; Sleighbell Chocolate Shop; guided tours of Manistee's architectural beauties; Manistee Community Band Christmas Concert; Kiwanis Kops; Muskegon Regional Police Pipes & Drums; Annual Jingle Mingle at the Ramsdell Inn; Victorian church services; "Visions of Sugar Plums" art exhibit from Manistee County's K-12 students and the Guardian Angels Bell Tower Concert.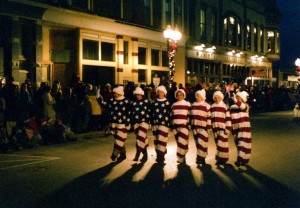 And that's not all! While you may not associate Opera with Christmastime, a generous donor has provided the where-with-all for the Ramsdell Theatre to simulcast live in HD Metropolitan Opera Theatre productions with shows Dec. 1, 8 and 15. There are also special events in our charming small towns around the county, like Bear Lake's Sparkle in the Park, which creates a Holiday Light Show at Waterfront Park. So you can make your list and check it twice, information and the schedule for all of these events can easily be found at
visitmanistee.com
.
While our architecture and history bring to mind the olden days of this Victorian Port City on the shores of the Great Lake Michigan, there's nothing formal or stodgy about the fun and festivities ahead or the warmth and hospitality from our citizens and shopkeepers. Come join us. We do small town festivals in a big way. And dress warmly. Most likely, Jack Frost will be nipping at our noses.
Will you be heading to Manistee for their Victorian Sleighbell Parade and Old Christmas Weekend celebration? Share with us below! For more holiday-related events in your community, visit michigan.org.