See What's on Tap for Kalamazoo Beer Week
Now in its fifth year, Kalamazoo Beer Week supports the craft beer experience in the Kalamazoo area through special tastings, dinners and interactive events. As we get ready for the event to kick off Saturday, January 10th, take a look at what's on tap and make your plans to attend.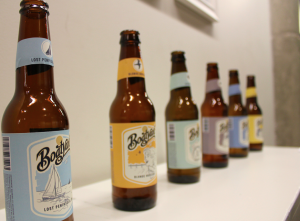 Boatyard Brewing Co.'s label artwork was on display during Art Hops at the Epic Center.
Kalamazoo Beer Week
, initiated and organized by Kalamazoo-based Imperial Beverage and tourism entity
Discover Kalamazoo
, will return for its fifth year tomorrow, January 10, and last until the 17th. Dubbed KBW by repeat participants, the weeklong series of events features
more than 200 events
and nearly 50 Michigan and out-of-state breweries, craft beer activities and educational events at bars, restaurants, and gourmet retail locations.
A couple of breweries will host beer dinner's, and one of last year's favorites, the Dark Horse "Anti-Beer Dinner" will be back again. The "Anti-Beer Dinner" is a spoof on the idea of a fancy beer dinner. For $15 a person, Dark Horse will serve a flight of Dark Horse Beer and a pint of Dark Horse beer, as well as food to pair with each beer. Don't miss out on Hot Pockets, Ramen Noodles, Pop Tarts and this year, they've hinted at a Jello-O mold!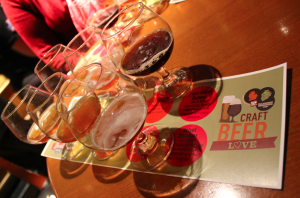 Arbor Brewing Co. offered a sour tasting in downtown Kalamazoo.
A new event this year, Kalamazoo's Boatyard Brewing and PEDAL (Bike Shop) are celebrating the relationship between craft beer and cycling with Fat Tire Bike Drag Racing! Pedal will have fat bikes on hand for you to ride. Bring your helmet or your cheering voice as the races should be fun to watch.
A few other things
new to KBW
this year:
Rails to Ales
On Amtrak's Wolverine or Blue lines, Kalamazoo Beer Week goers can travel between Chicago and Kalamazoo for 20% off.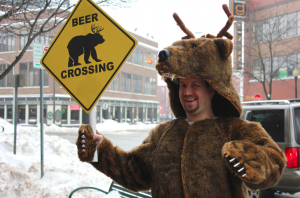 The Kalamazoo Beer: A cross between a bear and deer…so you get a "beer!"
Untappd Badge
If you are already a craft beer lover, you know about the great social media site "Untappd". Unlock your KBW Badge by checking into two or more KBW locations.
Hotel Packages
Local hoteliers have put together
packages for visitors
. Most include late check out, gift bags, or entries to events.
Stay up-to-date on KBW events throughout the week by following @KzooBeerWeek on Twitter! For a full list of events, visit the
KBW website.
Have you attended Kalamazoo Beer Week in the past? What was your favorite event?