Six Places to Catch a Drive-In Movie in Michigan
With summertime blockbuster films getting ready to hit the big screens in the coming months, a trip to the movies is a perfect way to spend an evening with the family. Some of us may remember the summer nights when a typical pastime involved pulling up to the local drive-in theater and curling up in the driver's seat to enjoy a silver screen show. Relive those memories and make some new ones by visiting a local drive-in movie theater near you.

Here are six places you can go to catch a drive-in movie in Pure Michigan.

Capri Drive-In - Coldwater, MI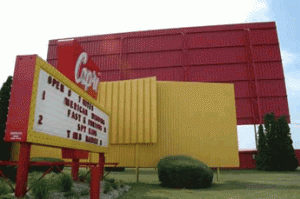 Listed as one of the "10 Best Drive-In's in America" by USA Today back in 2001, the Capri is a 1,000 car, twin-screen drive-in open seven nights a week from early spring until late October.

The Capri Drive-In opens for the season this Friday, April 4th with Captain America and Frozen playing on the big screen. The box office opens at 7:30. Movies start at dusk. Admission is $8.00 for adults, age 5 thru 11 is $4.00 and kids under 5 are free.

Danny Boy's Drive-In Movie Theater - Ionia, MI
Danny Boy's Drive-In Movie Theater in Ionia is a unique experience in a number of ways. Instead of a traditional screen, Danny Boy's uses a high-tech inflatable water-resistant version that is 70 feet wide and 35 feet high.

Danny Boy's also offers a "snack permit" for those who choose to bring their own movie treats. At a cost of $5 per carload, the permit allows those in the vehicle to bring all the goodies they want. Also, enjoy twice the entertainment with pre-movie activities that vary from week to week including a bounce house, petting zoo, and celebrity appearances. Ticket prices for those age 15 and over will be $7. Those under age 15 will pay $5, and kids age 3 and under are free.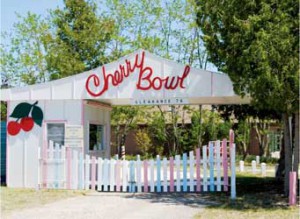 Cherry Bowl Drive-In Theater - Honor, MI
The Cherry Bowl Drive-In has provided fine films, food and family entertainment since 1954. Complete with playground, volleyball net, vintage movie memorabilia, 50's style putt putt golf, home run derby and popcorn popped fresh in their original 1953 popcorn popper, a trip to the Cherry Bowl is like stepping back in time to simpler summer nights.

Getty 4 Drive-In Theater - Muskegon, MI
At the Getty-4, tune in your movie on your car radio to enjoy your movie in stereo sound, or use the nostalgic drive-in speakers! The box office gates open nightly at 7:45, and the first features hit the screen around dusk or 9:00. The drive-in has a large playground and arcade room for all the kids, and a self-serve concession that has all your movie favorites.

Hi-Way Drive-In Theater - Carsonville, MI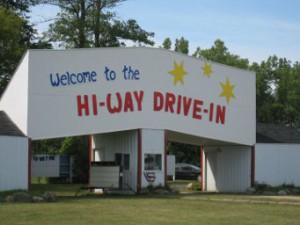 Opened in 1947, Hi-Way Drive-In is Michigan's oldest remaining drive-in movie theater. The box office opens at 7:30 and the movies start at dusk. Sound is available through you FM car radio. Prices are $7.00 for adults (12 and over), $2.00 for kids (4-11), and kids 3 and under are free. If you're near Carsonville on the way to or from your next Michigan camping trip, be sure to pull in and make the Hi-Way Drive-In your rest stop - Campers are always welcome!

Ford Drive-In - Dearborn, MI
The Ford Drive-In located in Dearborn, MI is America's largest drive-in-theater with 9 screens and parking for 2,500 cars that is open for viewing year round. In-car heaters are now available for the winter months. Gates open at 8 pm during the summer.

Have you been to a Drive-in movie theater in Michigan? What did you see?