The Bells of Beaumont Tower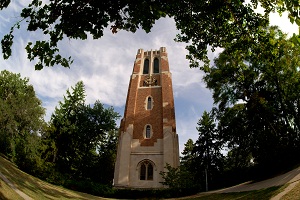 Michigan State University's Beaumont Tower
Looking for something a little unique to do this summer? East Lansing offers a Summer Carillon Series on the MSU campus through August 3rd. What's a Carillon Series? Keep reading!
The
Muelder Summer Carillon Series
began June 29
th
, and runs through August 3
rd
, with weekly Wednesday evening carillon concerts at
Beaumont Tower
on the beautiful
Michigan State University
campus. You can bring a blanket or chair and sit beneath this picturesque 104 foot tall MSU icon and listen to a concert of bells. Why not pack a picnic supper, situate yourself in the shadow of the tower, and then sit back and enjoy the music? After the performance, visitors are welcome to a tour of the bell tower. It's a special treat that you don't want to miss.
So what makes this a "carillon" series? According to Wikipedia, a carillon is a musical instrument that is usually housed in a free-standing bell tower, or the belfry of a church, or other municipal building.
• Bell tower = Beaumont Tower. Check.
The instrument consists of at least 23 cast bronze cup-shaped bells, which are played serially to create a melody, or sounded together to play a chord. A carillon is played by striking a keyboard called a "baton" with the fists, and by pressing the keys of a pedal keyboard with the feet.
• At least 23 bronze cup-shaped bells=MSU (read: overachiever) has 49. Check again.
The keys mechanically activate levers and wires that connect to metal clappers that strike the bells, allowing the performer, the carillonneur, to vary the intensity of the note according to the force applied to the key.
• Carillonneur = Ray McLellan. Check once more.
I was fortunate enough to get a tour of Beaumont Tower by the university carillonneur, Ray McLellan, a couple of years ago. He was charming and accommodating. I was so excited to climb the 73 steps to the performance chamber which is located right up there where the clock face is. There's also a vertical ladder from that level that accesses all the bells at the top of the tower. It's very cool.
Did you know? One of MSU's traditions is that if you kiss either in the shadow of the tower during the day, or at midnight in the Beaumont courtyard, it will prove that you are a "True Spartan?"
It is also said that a Spartan is destined to marry their sweetheart if they kiss under Beaumont Tower.
Have I convinced you to check out the Muelder Summer Carillon Series? If so, here are the remaining upcoming dates:
• Wednesday, July 13, 6pm – with carillonneurs Eddy Mariën of Belgium, and Tom Lee of the United States
• Wednesday, July 20, 6pm – with carillonneur Ray McLellan - Michigan State University Carillonneur
• Wednesday, July 27, 6pm – with carillonneur Stefano Colletti of France
• Wednesday, August 3, 6pm – with carillonneur Sally Harwood of Michigan State University
The Summer Carillon Series was established in 1996 through the generosity of Dr. Milton Muelder, who for more than 55 years served Michigan State University as a faculty member, administrator, and benefactor. Muelder died in May 2010, at the age of 101.
Lori Lanspeary is the leisure marketing manager at the Greater Lansing Convention & Visitors Bureau and loves to share inside stories about the Lansing area that she's learned because of her job. She can be contacted through her email or the Greater Lansing Twitter page.
[wp_geo_map]