Transforming the Grand Rapids Downtown Market for ArtPrize 2014
The first round of votes are in and the top 20 entries at ArtPrize 2014 have been revealed! As we head into the final week of the art competition in Downtown Grand Rapids, guest blogger Claire Duthler tells us how one of this year's first-time venues, the Grand Rapids Downtown Market, was transformed into a public art gallery for ArtPrize.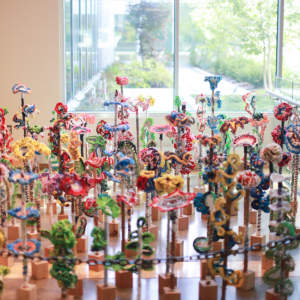 The
Grand Rapids Downtown Market
celebrated its one-year anniversary on Labor Day weekend, with several exciting updates such as becoming
LEED Gold certified
, the opening of a new sushi bar and Creperie
,
and announcement of
Food A'Faire
, a fundraiser to benefit the Market's Education Foundation. And what better way to continue that celebration through September and into fall than being a first-time venue in the sixth annual ArtPrize?
Downtown Market businesses are excited to be part of the action, welcoming ArtPrize crowds to "
See our art. Taste our food.
" Six pieces of art are exhibited at the Downtown Market, with installations located on both levels indoors as well as outdoors in the Market Shed.
ArtPrize is an excellent way to invite more community members in the doors to see how the artists have transformed the public spaces, as well as experience what else the market has to offer: 20 artisan food vendors, a picturesque greenhouse, beautiful patio to sit and enjoy a meal and an outdoor farmer's market on Saturdays through November.
The Downtown Market's mission includes engaging with the community in multiple ways and increasing accessibility to healthy food and nutrition education. In addition to welcoming guests in for public events such as
ArtPrize
, the Market works with local organizations on job training and programs such as the Healthy Eating for All scholarship program.
Healthy Eating for All
provides class scholarships to those with low-income to ensure they can learn about healthy eating and have the resources to purchase fresh produce at the Market
The Downtown Market's education department even got in on the ArtPrize fun, hosting classes that combine our love of food with the season's Art theme, such as "Play with your food", "Artful Food Photography" And "Artful Dishes for ArtPrize." While those classes are over now, the
October schedule
is full of upcoming classes filled with fresh local food themes, such as canning, cooking with seasonal produce, preserving root vegetables, homemade pasta, and more!
See our Art: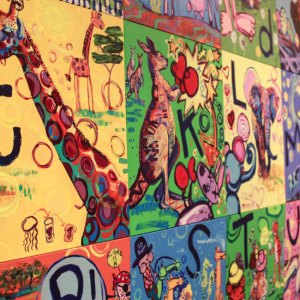 Entering the Market, guests are greeted by "Bloom Bloom," Dana Lynn Harper's overhead creation made of construction flagging tape and chicken wire. This beautifully bright piece is suspended from the ceiling of the Market Shed, blowing in the breeze, inviting onlookers to stop for a moment and look up.
Under the stairs to the second floor, Emily Moore's "Ornamental Invasion" utilizes materials, ornamentation, location, and size as a means of processing Western society's role in the degradation of nature and historical disparagement of anything understood as "feminine."
Suspended from the ceiling and visible from both the downstairs and upstairs, "Mississippi Flyway: Alive in the Sky," by mother-daughter duo Joan and Catherine Game, illustrates the path of migratory birds who use the Mississipppi River flight path to travel north and south. Thirty-four birds are represented as painted paper kites, with information below about each species.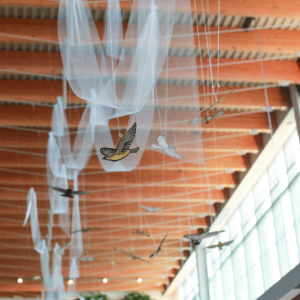 In the second floor atrium, "Oil Flowers," a group of brightly colored, cartoonish flowers take on a more somber character when you read that they are created from plastic bags, which are made with substances derived from oil. This installation by Jerry Bleem addresses the ecological concerns associated with the material.
In the second floor hallway, two sets of paintings complete
s
the ArtPrize art at the market. "A B See?" by Joel Schoon-Tanis is composed of 26 alphabetically themed canvases, approaching painting through a child's lens. "Dinner Party," by Christy De Hoog Johnson is a series of three abstract narrative paintings, each representing one piece of a story: The first is Cocktails; the second, Conversation; and the third, Charades.
An ArtPrize popup shop is also located in the Market Hall for art browsers to purchase ArtPrize gear. And a kids coloring area in the open seating area lets little ones get in on the action too by creating their own masterpieces for the refrigerator at home!
See more of the art featured across downtown Grand Rapids in the video below! Be sure to vote for your favorite piece by
October 9th at midnight.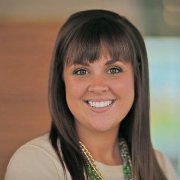 Claire Duthler is the special events and leasing manager at the Grand Rapids Downtown Market, handling inquiries about being a Market tenant and coordinating special community events hosted by the Market.