Wacky Fun at the 20th Annual Trenary Outhouse Classic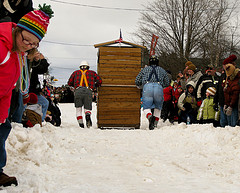 The world-famous Trenary Outhouse Classic celebrates its 20th year on February 23, 2013 in Trenary, Michigan. This annual wacky race takes place between dozens of cleverly and colorfully decorated outhouses equipped with skis for speed. To learn more about this unique event, we spoke with Dianne Peterson, who helps put on the Outhouse Classic each year.Q: For those unfamiliar, what is the Trenary Outhouse Classic?A:
An outhouse race is something you really need to experience to understand. And once you enjoy an outhouse race, you'll have memories that you just can't erase!
The homemade outhouses are placed on skis and pushed by two racers. Each year the theme of the race varies.
Some outhouses are very simple and some are so elaborate you may not mind having them in your own backyard. The outhouses are pushed, one-by-one, down Trenary's main street. The team with the best time wins cash prizes for 1
st
, 2
nd
and 3
rd
places. Depending on age, there are seven different categories, and more prizes to be won outside of how fast one goes.
The race is held the last Saturday of February each year and races begin at 2:00 p.m. Kids race first, with the adults, "bring'in up the rear."
Q: What are the outhouses made out of?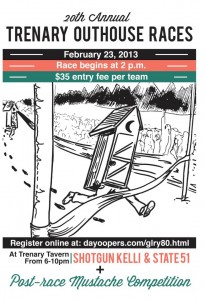 A:
Homemade outhouses are made of wood, cardboard, plastic, tape, old foreign cars, grand piano crates, you name it.
Q: Who can participate?A:
Anyone can participate! The youngest racer we have had was two years old and the oldest was seventy four.
Q: How did the Trenary Outhouse Classic get started?A:
A man by the name of Toivo Aho is the founder of the Trenary Outhouse Classic. Years ago, he was sitting in the Silver Dollar Bar talking about this outhouse race that was held in Washington state and wanted to bring something like that to Trenary. He wanted to do something that would help beat the winter blues and thought this would be something fun and different to do in the late winter.
Q: How many people are you expecting at this year's event?A:
We normally have about 2,500 spectators and the number of racers varies from year to year.
Q: What's the craziest thing you've seen happen during a race?A:
One year, an outhouse was being pulled down the track by mules! Of course, that "team" was disqualified!
Q: What can visitors to Trenary do while in town outside of the race?A:
Trenary
is small but we have street vendors offering food and drinks for sale all day. There is also an after party at the
Trenary Tavern
starting at 6:00 p.m. with music and lots of fun!
Q: Where can people go for more information?A:
For more information, please visit
trenaryouthouse.com
or find us on Facebook. You can also call 906-446-3210 or 906-446-8305 to speak with someone directly.
Hope to see you at the Races!
Dianne Peterson is part of the team that puts on the the Trenary Outhouse Classic each year. To learn more about the race, visit michigan.org.