You're Invited: Pure Michigan Weddings Live Web Chat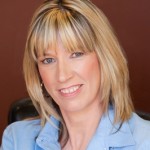 It's wedding planning season in Pure Michigan, and we're excited to speak with local weddings expert Megan Swoyer as brides-to-be plan their special days.
Megan will be joining us for a live chat on Wednesday, February 27 at 7:00 p.m. right here at the box below. Learn more from Megan below and get your questions ready for the chat!

Michigan is the proverbial oyster for brides and grooms when it comes to great places to marry.
Although I followed a traditional path, marrying in a church and hosting a reception at a nearby established country club, attendees still were able to bask in a bit of Michigan's beauty.
A mid-June affair with temperatures hovering in the low 80s and a golden sun popping from cerulean-blue skies, the event of my life took place on a perfect Michigan late-afternoon and evening.
Touches of the Great Lakes State peppered my day, from the glaciated rolling golf-course fairways and greens just off the reception patio to the
Gayle's chocolate
desserts, straight from Royal Oak's sweetest kitchen (Gayle uses Michigan cherries and syrup in many of her treats!) to the Michigan wines that filled our glasses. Nothing could have made it more special.
But for the next wedding in our family, I'd love it to be a 100 percent
Pure Michigan experience
. I'd say there's a good chance my two sons and their many cousins will, in the not-too-distant future, make that very decision.
But where? I've interviewed enough brides, grooms and wedding planners as part of my magazine- and newspaper-writing career to know about a lot of tantalizing locations. Not to mention the weddings I've attended. One of the more vivid and intimate affairs I recall took place on the lawns and in the gazebo of a Northwest Michigan hotel (that bride sure didn't need anything 'blue' —
Lake Michigan
was just steps away).
From Upper Peninsula log-style facilities a Petoskey stone's throw from the shores of
Lake Superior
to a country road leading into a covered bridge to the grounds of an historic lighthouse to a vineyard path to a cherry farm (are you tired yet?), there's a lot of ground to cover when selecting a romantic site that suits you.
As a bride and groom — or someone looking for a romantic site to celebrate an occasion (hey, I'm celebrating 20 years of marriage this June!) — your only dilemma will be narrowing it down to one special location.
There truly are almost as many options as there are grains of sand on
Sleeping Bear Dunes National Lakeshore
(and
yes
, you
can
marry there, but you'll need a permit).
Check in with me during Pure Michigan's live chat at 7:00 p.m. on Feb. 27. We'll gallivant in vineyards, stick our toes in lakeshore sands and glimpse a stunning panoramic view from the top of a lighthouse tower, all in the name of love … and discovering the best spots in Michigan to say "I do!"
Megan Swoyer is a freelance editor and writer based in Michigan. She covers topics ranging from travel, food and interior design to gardens, fashion, the arts, bridal and entertainment.