Brick Loads of LEGO Fun Come to Michigan [Plus a Giveaway!]
LEGO KidsFest, a giant traveling LEGO expo, is coming to Michigan for the first time this weekend, October 12 – 14. Today, Aaron Wartner, part of the
LEGO KidsFest national tour
's production team, fills us in on this fun event.
Read about it below and be sure to see how you can win tickets to
LEGO KidsFest
in Novi at the bottom of the post.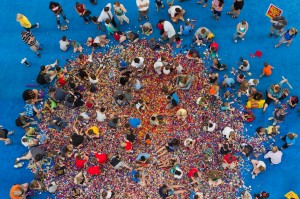 Ready your building skills! The LEGO® KidsFest national tour is stopping for the very first time in Michigan, October 12 – 14, 2012, at the
Suburban Collection Showplace in Novi
. This event brings all of the creative hands-on, minds-on fun of LEGO building and experiences together in this three acre activity- and entertainment-packed family event for children of all ages and builders of all skills and interests.
The LEGO KidsFest is a highly interactive experience covering over 150,000 square feet of space. The event includes LEGO product-based activities as well as activities that can only be had at the LEGO KidsFest. Here are some highlights:


LEGO Model Gallery: dozens of life-sized models made entirely from LEGO bricks


LEGO Master Builders: live demonstrations and activities from the crew who get paid to play


Creation Nation: build your own creation to add to a custom map of the U.S.


Race Ramps: build your own custom car, then race it down the ramp against friends and family


LEGO Games Arena: roll the dice to play LEGO board games


Construction Zones: creative free build, play and display areas


LEGO DUPLO®: younger visitors can explore imagination through building


Brick Pile: a gigantic pile full of LEGO bricks for creative play and enjoyment


Monochromatic Builds: bricks of a single color to foster group creativity


Brickscapes: fantastic displays that combine lots of LEGO and DUPLO sets


Any family who likes to be inspired, get hands-on and have fun together won't want to miss LEGO KidsFest. We're bringing so many activities for Michigan families to test and showcase their creativity and building skills in what is sure to be a family event to remember.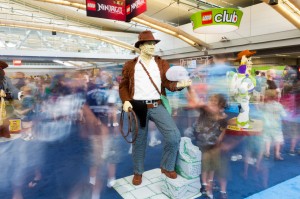 The event began in 2009 in Connecticut, the North American headquarters for LEGO Systems. The initial idea was to offer a unique LEGO experience for those who live nearby. We expected 5,000 attendees; 25,000 showed up. The enthusiasm for the event brought us to the idea of a national tour. There are a limited number of tour stops each year, and it is rare for us to repeat a market in a consecutive year; Michigan will be our 14
th
show since we got started four years ago.
Each LEGO KidsFest tour stop is a massive undertaking: all the bricks and models need to be shipped in and set up; partnerships with various local organizations are established; about twenty representatives of LEGO Systems and the LEGO KidsFest come in to town; and local staff is hired to ensure an excellent visitor experience.
In Michigan, the LEGO KidsFest is pleased to be working with several local organizations, including The Robot Garage, Michigan Science Center, Visit Detroit, Pure Michigan, The Henry Ford, City of Novi, and the LEGO Store at Somerset Collection.
More information on the event is available at
www.LEGOkidsfest.com
.
Fun LEGO facts:





LEGO is the contraction of two Danish words, "leg godt" which means "play well"


There are 915 million ways to combine six eight-stud LEGO bricks


More than 400 billion LEGO® bricks have been produced since 1949


The LEGO minifigure represents the world's largest population of people!


With a production of about 306 million tires produced a year, the LEGO group is the largest producer of tires in the world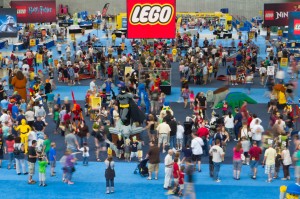 Discover more at LEGO KidsFest this weekend! Tickets are selling out fast, so we're excited to give you the chance to win two family four packs of tickets to LEGO KidsFest to two lucky fans who tell us in the comments below why their family wants to go to this event. Submit your comments (along with your email address) by tomorrow, Tuesday, October 9th at 11:59 p.m. EST. At that time, we'll randomly select two winners and send each their prize. We'll contact you using the email address you provide (we won't share it or sell it to anybody). Only one submission per person, please. Also, please note that these tickets will be good for the Friday, October 12th session only.
Aaron Wartner is with the LEGO KidsFest national tour. He has been building with LEGO bricks for over 30 years.