A Couple, Dog and Eco-Friendly RV Touring the Great Lakes Shoreline
Today, guest blogger Mike Wendland from Roadtreking.com shares his RV journey across Michigan's endless coastline.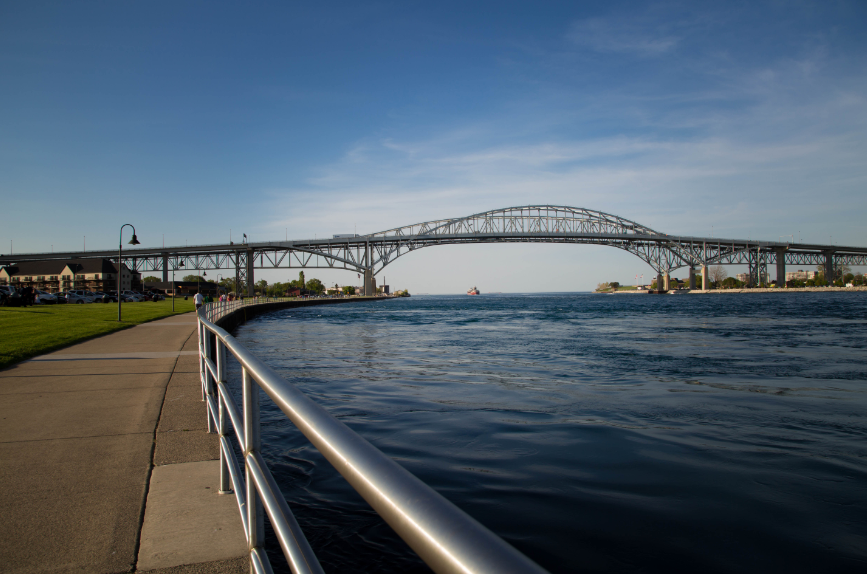 Photo courtesy of Mike Wendland - Blue Water Bridge
When Michigan says it's the Great Lakes State, it isn't kidding. All you have to do is start driving the shoreline of the Great Lakes to see that Michigan is the heart and soul of the area.
With the exception only of Lake Ontario, Michigan is encircled by the other four. And when you look at the shoreline, Michigan's 2,147 miles of mainland shoreline dwarfs the other seven states surrounding the five lakes. Plus, Michigan has another 905 miles of island shoreline. That puts the total at more than 3,000 miles. Next closest is Wisconsin with 802.
With my wife, Jennifer, and our Norwegian Elkhound, Tai, I'm now deep into the
Verizon Great Lakes Roadtreking Tour
, which will eventually be a 3,500 mile trip along the U.S. shoreline of the Great Lakes. I'll be documenting the interesting people and places we encounter. We're driving an eco-friendly Roadtrek E-Trek motorhome, which is 24 feet long and boasts solar power that runs the appliances.
We started under cloudy skies last week in upstate New York and made our way around Ontario, picking up Lake Erie in Pennsylvania, following through Ohio and ending our first leg at the mouth of Lake Erie, where the Detroit River flows into it at the
Lake Erie Metropark
in Gibraltar Township.
Now we're on to Lake Huron, starting at Port Huron and making our way up the "Sunrise Side" to the
Mighty Mackinac Bridge
and over to the eastern UP.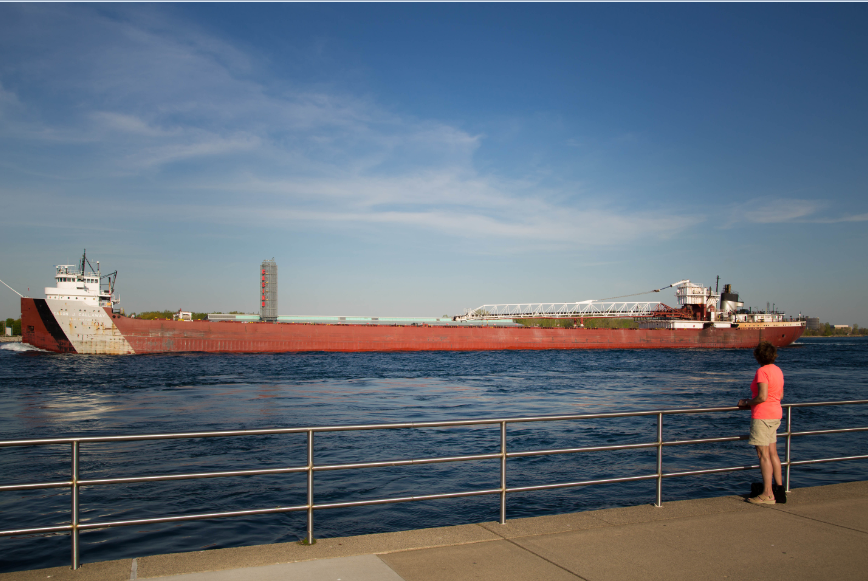 Photo courtesy of Mike Wendland - Port Huron
I love
Port Huron
. Parked right under the Blue Water Bridge, which leads to the Ontario, Canada city of Sarnia, I marveled at the swift-moving St. Clair River flowing out of Lake Huron.
The river is one of the busiest water routes in the Great Lakes, connecting Lake Huron just north of the
Blue Water Bridge
to Lake St. Clair, a couple dozen miles downstream. Port Huron's Riverfront is a mecca for big boat watchers. From Lake St. Clair, the big freighters and ocean going vessels make their way into the Detroit River, which in turn connects to Lake Erie.
But it is also a great fishing river. The fish of choice is walleye, and the river serves as a travel corridor for walleye moving between Lake Erie and their spawning grounds in Saginaw Bay, 100 miles up Lake Huron.
Fish biologists believe walleye treat the whole Lake Huron/Erie waters as one system. Walleye can cruise from one body of water to another in days. The St. Clair River is deep and cold, which also helps in holding walleye.
In all, Port Huron has 17 waterfront areas containing 102 acres and 3.5 miles of water frontage. This includes two public beaches and six parks with picnic facilities. The city has nine scenic turnout sites containing more than 250 parking spaces.
If you can't get in, make your way north following the signs to Lighthouse Park, right at the mouth of the river. This park has 900 feet of waterfront and beach, and the water is clean for good swimming. But be warned, if you venture out very far, the current is swift, as the river starts flowing right from there.
While at Lighthouse Park, walk a few hundred yards south and tour the historic Fort Gratiot Lighthouse. In 1814, military Fort Gratiot was established to guard the juncture of Lake Huron and the St. Clair River. With a surge of vessel traffic on Lake Huron in the early 1800s, the need for a light station to guide vessels into the river became very important.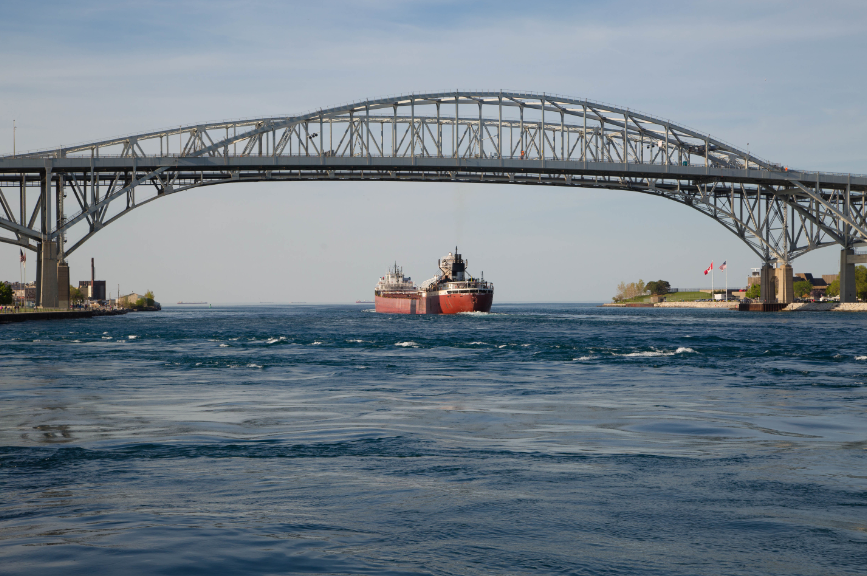 Photo courtesy of Mike Wendland - Blue Water Bridge
For food, the outdoor patio of Freighter's Restaurant offers up great river and bridge views. It's part of the Doubletree Inn Hotel complex and is right in the heart of the riverfront action, a few hundred yards south of the bridge.
One more attraction:
The Thomas Edison Depot
Museum is down there, too. The famed inventor lived in Port Huron and worked on a railroad car for his first job from 1859-1863. The museum includes a restored baggage car resting on a short spur of railroad track and has some exhibits about Edison and his early beginnings.
You can easily spend three or four hours in Port Huron. After lunch and looking around, I found the day half over and hundreds more miles for us to cover. So off we set along M-25 up toward the Michigan thumb, hugging the shoreline all the way.
My Great Lakes shoreline tour will continue throughout the next month. Check out the first video of our visits to Lakes Ontario and Erie.
Send me your tips on what we should stop and see! I'm reachable at
[email protected]
, on Twitter at
@roadtreking
, and I'll be tweeting with the #VZGreatLakes, #vzwmidwest and #roadtreking hashtags.
Have you ever taken a long Michigan road trip? Tell us about it.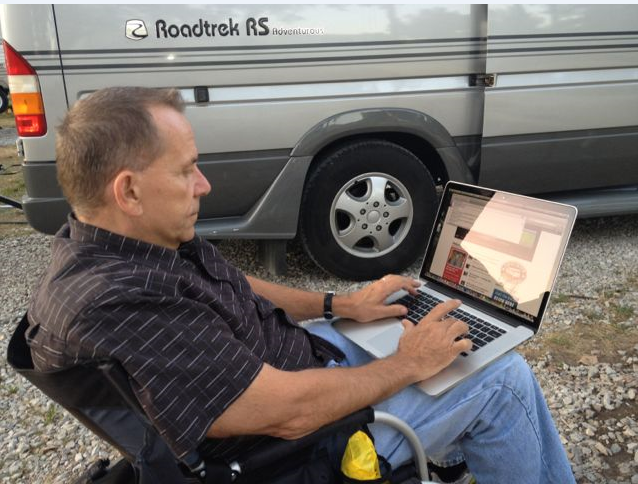 Mike Wendland is a veteran journalist who travels North America in a Type B motorhome and blogs at Roadtreking.com. Currently on the road for the Verizon Wireless Midwest Area Great Lakes Tour in a Roadtrek E-Trek motorhome, Mike is driving much of the U.S. shorelines that touch the five Great Lakes.