A "Frenchie" Takes on Life in Detroit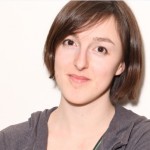 Nora Mandray is a "Frenchie in the D" behind the Detroit je t'aime project. She moved to the Motor City in 2011 to shine light on what makes Detroit unique.
Today, she answers some of our questions about what life in Detroit has been like for her.
Q: What made you move to Detroit and how long have you been here?A:
I moved to Detroit in August 2011, with one goal in mind: make a documentary about the city.
Q: What makes Detroit different from other places you've lived?A:
Before living in Detroit I had been living all over Europe (Paris, London, Krakow,
Berlin...) and I had been studying for 2 years at UCLA, in Los Angeles, right before I came here. I've always had a thing for "post-industrial" cities but Detroit was nothing like what I had ever seen. The ruins, of course, is the first thing that strikes you when you come here -- even though they're a sign of blight, they're beautiful old buildings with a fascinating history. But the reason I stayed in Detroit for a year is really because of the people. Detroiters are truly welcoming, heart-warming and generous; I wanted to be a part of that community.
Q: Where are some of your favorite places in the city?A:
Whenever I want to relax I take walks by the Detroit River and hang out with the occasional fishermen, whom I always ask whether their fish is American or Canadian! It always triggers interesting conversations! What I love in Detroit are those strips of paradise that exist within the city, and the people who find themselves there: urban farms and community gardens are such places. Feedom Freedom, in the Eastside, as well as the Brightmoor Farmway, are beautiful in the Summer, and definitely worth a visit! And the
Eastern Market
, and
Belle Isle
, and the Fender Bender bike shop, and the
DIA
, ... the list goes on and on!
Q: Where have you been in Michigan outside of Detroit?A:
I've been to
Lansing
and Traverse City. I'm going to go back to "TC" next week actually, for the
Traverse City Film Festival
! Michigan has so much to offer, I feel lucky I was able to spend a whole year here. After spending two years in L.A. where the weather is almost steadily the same all the time, I was happy to feel the cycle of the seasons in Michigan. Fall is, I think, my favorite, with the trees that turn orange and red.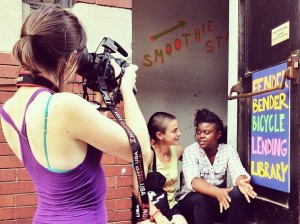 Q: Do you think people from different parts of the country (and world) would enjoy visiting Michigan?A:
I can't speak for all foreigners, but I can tell you this: French people LOVE Detroit. I've met a large number of 'Frenchies' who'd come visit and wouldn't want to go back! It's partly due to the history of the city, which was founded by a Frenchman (Antoine de la Mothe Cadillac!) on July 24th, 1701! French people do feel connected to "Détroit" (which means "strait" in French, by the way.) As a tourist you can find lots of attractions here, it's a great and rich place to learn about American history and culture, from the Tigers games to the Henry Ford and the Motown museums... Plus a brewer friend of mine recently told me that "two of the
best breweries
in the world" are both located in Warren, MI... yet another reason to visit!
Q: What advice would you give someone visiting Detroit for the first time from another country?A:
Talk to everybody! Detroiters from all walks of life are eager to tell you about their city. Sometimes it even feels like Detroit is a person, the way people talk about it!
Q: What has surprised you about Detroit and Michigan in general?A:
The sense of resilience and of ingenuity that Detroiters show is amazing to me. I didn't expect to witness such a strong "DIY spirit!" This has been a very inspiring, life-changing experience.
Q: Where can people go to learn more about your experience here?A:
I've been writing a blog since I arrived; it's called "Detroit je t'aime", French for "Detroit I love you" : www.detroitjetaime.com, where you can also watch some of the videos I've shot so far.
Nora is a Fulbright scholar and UCLA filmschool MFA. In Summer 2011, Nora escaped Hollywood to move to Detroit and has been working on several film and journalistic projects.
If you're looking for things to do in Detroit, visit michigan.org.