A Grand Romantic Getaway (Part 2)
Our
Pin to Win: Michigan in Love
contest was launched in February when we asked fans to create a Pinterest board that represented what an ideal romantic getaway looked like to them. We received a ton of great submissions, but ultimately selected Megan Battaglia of Buffalo, New York randomly as the winner. Megan immediately began
planning a romantic getaway
for her and her husband to take to Mackinac Island (and beyond!), which they enjoyed last month.
Today Megan tells us about their magical voyage around the state, their favorite stops along the way and even mentions needing to make some return trips to the state in the future!
Read from her below and visit michigan.org to learn more about Michigan vacation destinations.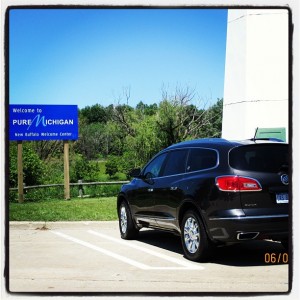 My husband and I have just returned from our Pure Michigan Romantic Getaway - 2 days in Mackinac Island at
Grand Hotel
, round trip air from American Airlines, and a Buick rental car. We did the best we could to explore as much of western and northern Michigan as we could and here is how we did:
Day 1
Our first stop in our luxurious Buick Enclave was the Pure Michigan information center in
New Buffalo
where we grabbed maps and guides for all the beach towns we planned to visit as we drove up the west coast of Michigan.
Next stop,
Holland
. Beautiful town, plenty of shops and restaurants. We decided to have lunch at the
New Holland Brewing Co
. and sample some of their craft beers. We then visited the Windmill Island Gardens and toured DeZwann - the only authentic working Dutch windmill in the US! Next, onto
Grand Haven
where we visited the lighthouse and pier and walked the 2 ½ mile boardwalk which was lined with shops, restaurants, marinas, and shady benches to sit and enjoy the view.
After driving through other beautiful beach towns like
Muskegon
and
Ludington
, we finally arrived in
Mackinaw City
just in time for the sunset and to see the lights on the bridge. We stayed at a beautiful little motel "American Boutique Inn" right next to a waterfront park with a view of the bridge.
Day 2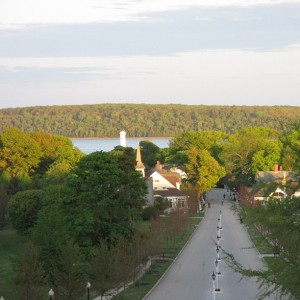 Megan's view from her room at Grand Hotel
Finally, onto
Mackinac Island
and
Grand Hotel
! The town is like a scene from a movie set. Right away you notice the pace slows, people riding bikes, horse drawn carriages clop by, fudge shops offering free samples outside (it is ALL about the fudge here so we decided it was our "duty" to taste as many as we could). After shopping in town, we took Grand Hotel's carriage up to the hotel to check in. Our driver was a year round resident of the island and shared some fascinating stories about life on the island. As we pulled up to the hotel it was as grand and welcoming as all the pictures you see! We were greeted with smiles and given a quick orientation to all Grand Hotel has to offer. Our room was breathtaking – blue and green with beautiful antiques and a patio looking out over the lake. We were welcomed with a basket of champagne, roses, cheese, fruit and of course, fudge!
We then decided to tour the grounds of the hotel to learn as much as we could about this amazing place. We had ice cream at the new Sadie's Ice Cream Parlor, visited the shops at the hotel, toured the flower gardens and the Esther Williams pool, walked the labyrinth, checked out the golf course, the Jockey Club and the Gate House restaurants, stopped in at Grand Hotel Outlet Store where they sell discontinued items from the hotel (the manager of the store is a wealth of knowledge about the hotel and the island!) Finally, we settled on the porch (the longest front porch in the US and is as amazing as you would expect with magnificent views of the lake and gardens) for cocktails and then headed in for a wonderful dinner.
Day 3
The next day, we thought we would like to see more of the island and learn more of its history so the concierge at Grand Hotel set us up with our own private horse and carriage tour. Our tour guide took us along the shore up into the state park, to Arch Rock and
Fort Mackinac
– it was all beautiful and fascinating!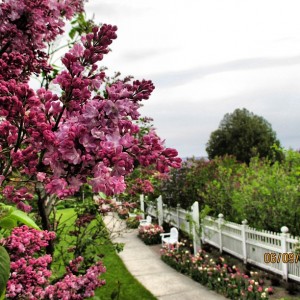 That night, as another part of our prize package, we enjoyed dinner at the
Woods Restaurant
which is a short horse-drawn carriage ride into the wooded interior of Mackinac Island. The restaurant is in a beautiful, warm, and cozy Tudor mansion and serving Bavarian style food. After dinner we enjoyed drinks in the Audubon Wine Room back at Grand Hotel.
I have to admit we were sad to leave the next day! We did the best we could to take advantage of all Grand Hotel has to offer but we definitely need to come back to spend some more time here! I am already perusing the fall specials!
Day 4
We were back in our beautiful Buick and onto another road trip day! We headed straight down from Mackinaw City to Route 119 and the
Tunnel of Trees
, a 20 mile one lane road under a canopy of trees along Lake Michigan. It was everything I dreamt it would be! Along the way we stopped at the 70 year-old
Good Hart General Store
with absolutely amazing homemade baked goods, deli items and famous chicken pot pies.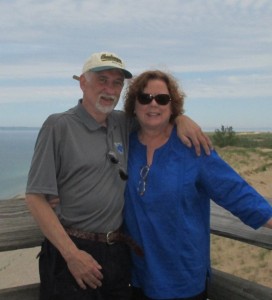 Megan and her husband stopping for a photo during one of their stops
From there we drove through Harbor Springs,
Petoskey
and
Bay Harbor
on our way to our final stop -
Traverse City
and the Leelanau Peninsula.
Day 5
Today we toured the Leelanau Peninsula by the way of scenic highway, M22. Our stops included:
Day 6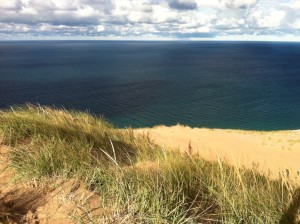 For our last day, we saved the awe inspiring
Sleeping Bear Dunes
. This area has fascinated me since I learned a few years back that it had been voted the most beautiful place in America and it truly lives up to its name. Sleeping Bear Dunes is a 35-mile stretch of Lake Michigan shoreline with immense sand dunes sculpted by years of wind and water.
Our trip has come to an end and here are some of the things we learned:


Everyone we met in Michigan was kind to us


Everyone we met also dreamed of staying at Grand Hotel


Lake Michigan is a vast, pure, and beautiful lake. The colors of the lake in some spots look like the Caribbean (turquoise, teal and navy blue) Now, I understand the T-shirt slogan "Lake Michigan Unsalted" – it looks like an ocean!


Northern Michigan's wines are delicious and rival those of any other state


The beaches of western and northern Michigan are some of the most beautiful beaches we have ever seen


We need MANY trips back to discover more. I don't think we even scratched the surface of all there is to see and do.


I have become a "Pure Michigan Ambassador" and thanks to this wonderful prize trip, I have peaked the interest of so many people who have never thought of Michigan as a vacation spot – and many of them are already planning their trips to Michigan!


Thank you
Pure Michigan
,
Grand Hotel
, American Airlines and Buick for the trip of a lifetime – and we will be back!
Congrats again to Megan on being the winner of our Pinterest contest! We are thrilled that she and her husband enjoyed their trip to Michigan.
What would your perfect Pure Michigan trip entail? Tell us in the comments below.