A Grand Romantic Getaway to Pure Michigan
Earlier this year, we launched a contest titled Pin to Win: Michigan in Love where we asked fans to create a Pinterest board that represented what an ideal romantic getaway looked like to them. We were blown away by the response and truly enjoyed looking through the submitted boards.
In early March, Megan Battaglia of Buffalo, NY was randomly selected as the winner and began planning a romantic getaway for her and her husband to take to Mackinac Island this month. Today, she tells us what they're most looking forward to doing during their visit to Pure Michigan.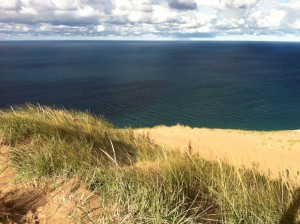 Photo taken during Megan's trip to Sleeping Bear Dunes in 2012
I have always loved road trips! From the moment I got my driver's license I would get in my car and drive aimlessly for hours discovering new places and areas I hadn't seen before. Living in Buffalo, NY, I explored all I could in New York State and Ontario, Canada and eventually New England and the northeast coast.
Back in 2012, an article caught my eye. It said that ABC Good Morning America's viewers had chosen Sleeping Bear Dunes in Northern Michigan as
the most beautiful place in America
. Why had I never heard of this place? Now I was intrigued! After all, Michigan is an easy road trip from my home (in my definition, an easy road trip is anything 8 hours or less).
As luck would have it, in fall 2012, I was scheduled to go to a conference in
Ann Arbor
. This was my chance to take a side trip and see these Sleeping Bear Dunes. I found the
Pure Michigan website
which provided me with all the information I needed to plan my trip. As soon as I arrived at the National Lakeshore Park, I was enthralled! The dunes were everything I hoped they would be. I took dozens of pictures, climbed the dunes, and discovered as much of Northern Michigan as I could in a day.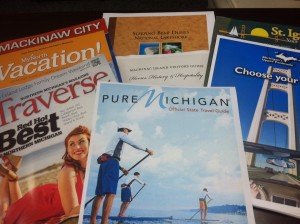 There was so much more in Michigan I wanted to see. So I followed
Pure Michigan on Facebook
,
Instagram
and
Pinterest
to learn more and see what other places there were to discover. Then this past winter, I saw a contest on Pinterest for "Pin to Win: Michigan in Love". The prize was described as a Pure Michigan Romantic Getaway - two days on
Mackinac Island
at
Grand Hotel
, dinner at the Woods restaurant, round trip air, and a Buick rental car. Since my husband and I had just celebrated our 25
th
anniversary, I couldn't have imagined a better trip for us! Mackinac Island was definitely on my list of must see places – seemingly untouched by time, no cars allowed, surrounded by the deepest of the great lakes, beautiful homes and deep history.
So – here I am – the grand prize winner of the
Pin to Win: Michigan in Love
contest! My husband and I are scheduled to leave for our anniversary trip on Friday, June 7. But I couldn't help but think that 2 days was not enough. So, we have decided to extend the trip and see as much as we can of Western and Northern Michigan.
Here's our itinerary so far.
Friday: Head up the coast of Lake Michigan from Chicago stopping along the way at places such as
Holland
,
Grand Haven
, the Tunnel of Trees,
Mackinaw City
.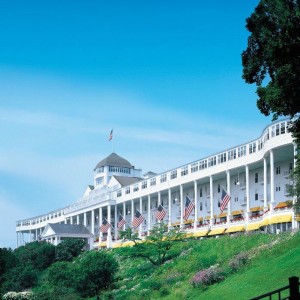 Grand Hotel on Mackinac Island - where Megan and her husband will spend two nights as part of their prize package
Saturday: Catch the first ferry to Mackinac Island, spend two nights at Grand Hotel, enjoy the
Lilac Festival
and see as much as we can of the island.
Monday: Take
The Mackinac Bridge
over to the Upper Peninsula and see where our Buick leads us (maybe St. Ignace, Sault St. Marie, Pictured Rocks, DeTour Village – I would love to see Lake Superior!).
Tuesday and Wednesday: Explore Sleeping Bear Dunes,
Traverse City
, the wineries and anywhere else along Leelanau Peninsula our Buick may lead us!
Stay tuned – Michigan here we come!
Are there any other must-sees that you'd recommend to Megan while she's in town? Share your suggestions below!