A Pure Michigan Spring Fishing Preview
Today, Elyse Walter from the Michigan Department of Natural Resources previews the spring fishing season ahead in Pure Michigan.
It's been a long, hard winter this year – there's no denying that! But in just a few short weeks we'll hopefully start to see glimpses of spring. As the snow and ice start to melt, many anglers will be readying their boats, rods and tackle as they itch to get out on the water. Here's what they'll be looking for this coming April and May.
Panfish (Bluegill/Crappie/Yellow Perch)
Inland lakes will provide ideal locations to target these species. For lakes that have a darker stained color (from dissolved organic material) they'll warm up quicker and see earlier fish feeding activity. When on these waters anglers should pay attention to areas of the lake where the sun is beating the most as these areas will warm more quickly. At this time of year fish will gravitate to these warmer areas.
Muskellunge/Northern Pike/Walleye
These predatory species can't be fished until the season opens on Saturday, April 26. Both muskie and pike can be tough to catch when temperatures are very cool, anglers should use smaller baits and fish with a slower retrieve until things warm up.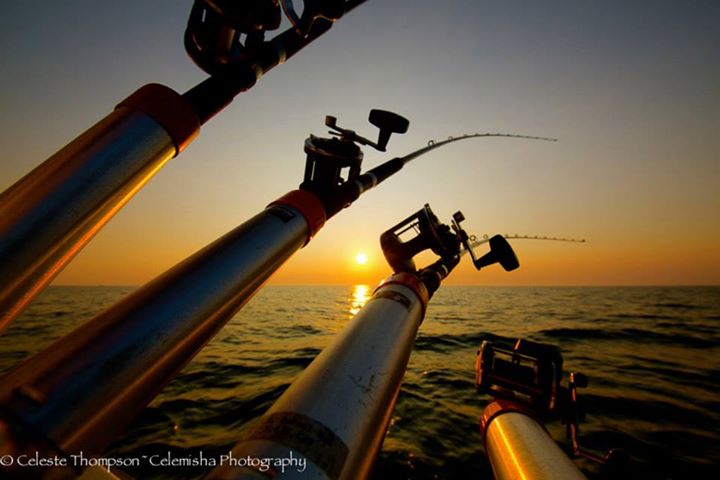 Photo by Celeste Thompson near Grand Haven, MI
For predatory fish, pay close attention to drop offs in inland lakes. Often times these species will hang out in deeper water and come in to feed on the bait fish swimming in shallower areas.
Anglers will flock to the
Detroit
River starting in mid-April to target walleye. They'll make a run through this body of water as they head upstream from Lake Erie looking for a place to spawn. Lake Erie walleye will travel throughout the Lake St. Clair and St. Clair River system with some traveling as far as Saginaw Bay.
Trout/Salmon
In April, steelhead will start to move through the lower tributaries of Lake Michigan. Visit any pier (such as the
St. Joseph
River) and you'll have a good chance of landing one of these popular sport fish!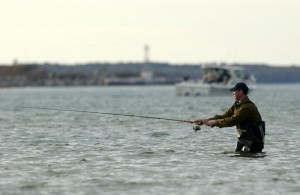 Photo courtesy of Michigan Department of Natural Resources
Coho salmon will be one of the first to arrive on the scene as the temperatures warm up as well. Anglers will often troll near shore or high in the water column off shore to find these salmon.
Keep in mind the excessive snow and ice experienced this year could cause high or cloudy water in many parts of the state this spring – particularly if the thaw comes fast. Stream fishing is not very productive when flows are fast, water levels are high and waters are cloudy.
Don't forget to purchase your license before you head out! The 2014 Michigan Fishing License went on sale March 1, 2014. You can buy your 2014 Fishing License
here
.
Don't miss your chance to experience the endless spring fishing opportunities in Michigan.
The next
Free Fishing Weekend is June 7th-8th
! Start planning your next fishing trip at
www.michigan.gov/fishing
or visit
michigan.org
for mor information.
Do you plan to do some fishing in Michigan this spring? Where are you headed?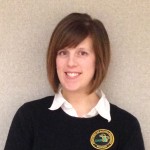 Elyse Walter is a communication specialist for the Michigan Department of Natural Resources. She specifically works with the DNR's Fisheries Division to help educate and promote the state's fishing opportunities and aquatic resources.