Wendy Klein shares her "Pure Michigan Moment," a surprise anniversary and Michigan getaway to the Springbrook Inn in Prudenville.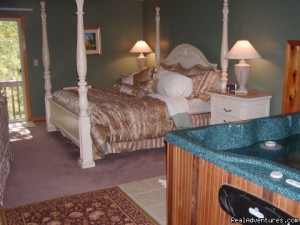 This year for our anniversary, my husband pulled off a surprise….and it was wonderful! He made reservations at
the Springbrook Inn
, a couples-only bed-and-breakfast at the south end of
Houghton Lake
. A large hot tub and private balcony (or porch) is standard in all eight rooms, each with a different theme. Our North Woods-themed room overlooked beautiful perennials, a koi pond, and a waterfall. Every morning a hot breakfast was delivered to our door, perfect for enjoying in bed. The inn has some of the best food I have ever had.
We poured over the in-room journals, reading the entries from people who just needed a getaway, to those celebrating a special occasion or recovering from the loss of a loved one. Some lucky guests even received the accommodation as a gift. Matt, the chef/owner, and his wife, Kathy, made our stay memorable—the hospitality and world-class meals make the 90-minute drive to
Prudenville
worthwhile. We're already planning another getaway. Congratulations to my husband for successfully pulling off this surprise and making our anniversary special.
Wendy from St. Charles wrote about her "Pure Michigan Moment" for
Michigan Travel Ideas
.