Celebrate the Ford Mustang's 50th Anniversary at The Henry Ford
Did you know that the Ford Mustang celebrates its 50th Anniversary this month? Today, guest blogger Lish Dorset tells us how to join in on the celebration at The Henry Ford Museum.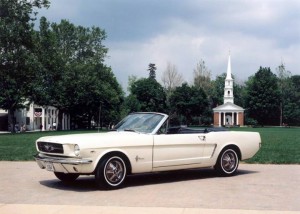 Photo courtesy of The Henry Ford
This year, it's all about the Mustang at The Henry Ford. If you're a fan of classic cars, there's a lot to be excited about this year as the Ford Mustang turns 50. Launched in April 1964, the Mustang was the first of the American pony cars and instantly became an American icon, creating a loyal fan base right from the beginning.
If you've been to Henry Ford Museum, you know that we have two very special Mustangs within our collections. The
1962 Ford Mustang I Roadster Concept Car
and the
1965 Mustang Serial Number One
are visitor favorites within
Driving America
and help tell the story of the early days of this classic car. As part of the year-long celebration of all-things Mustang, we've put these two important vehicles on the road as part of our THF OnWheels Tour so that car lovers across the country can see these two classics up close.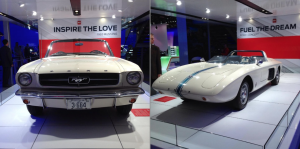 Photo courtesy of The Henry Ford
Our Mustangs first went out on the road this past January at the
2014 North American International Auto Show
in Detroit. As part of Ford's presence at the show, guests were greeted by these two icons as the company told the story of the car's history in their exhibit inside Cobo Hall. The cars' next stop was to Las Vegas and North Carolina for the Mustang 50
th
Anniversary Celebration in mid-April.
Where can you see our Mustangs back here in Michigan? At this year's
Motor Muster
at Greenfield Village. We're expecting a great Mustang turnout this summer, so it's definitely an event not to miss.
It's been a lot of fun so far this year helping celebrate the anniversary of this fantastic car. Whether it's downloading a wallpaper for your phone or keeping an eye on our
blog
for updates from our curator of transportation, there's almost always something Mustang-related to share here at The Henry Ford.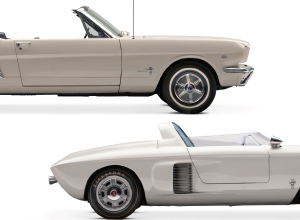 Photo courtesy of The Henry Ford
Our biggest gift to Mustang fans is our THF OnWheels Mustang #1 Fantasy Sweepstakes. Now through September 30 you can enter the sweepstakes for a chance to enjoy a unique, behind-the-scenes experience with our Mustangs as well as a trip to Detroit for the 2015 North American International Auto Show. It's the ultimate in VIP experiences for VIP Mustang fans.
To keep up to date with automotive happenings at The Henry Ford, make sure to subscribe to
THF OnWheels
, our enthusiast channel for car lovers. From feature stories to event information, it's a one-stop-destination for the car news you need. And it's a great resource for fueling your love of Mustang this year.
Lish Dorset is the social media manager for The Henry Ford in Dearborn. She lives in Royal Oak with her family. She learned how to drive in a 1994 Ford Mustang, much to her mother's objection.
For more information on the Mustang's 50th Anniversary Celebration, watch the video below:
[wp_geo_map]