Five Fun Ways to Celebrate "Fall-o-ween" in Pure Michigan
Today, our guest blogger Lyndsay Israel from The Awesome Mitten shares some seasonally-inspired ways to celebrate "Fall-o-ween" in Pure Michigan.
You may have noticed that we have hit the calendar jackpot for 2014! Halloween on a Friday? Does it get any better than that? This year, plan your fall weekend celebrations right, including those leading up to the 31
st
- do, or see something new, take your kids somewhere fun, or win the prize at the Halloween party! Check out these five 'Fall-o-ween' fun plans as you plot out the rest of your autumn months.
Fall Camping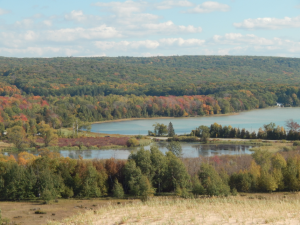 Photo by Lyndsay Israel
Yes, it's already chilly, but you always sleep better when it's cold out, right? A lot of
local campgrounds
have adopted Halloween weekend events for their campers; these can include anything from a campsite decorating contest to a costume parade for the little campers! Because the cold is unpredictable, many have moved this tradition to September, but call your favorite place and check. I can at least point people to Harbor RV Resort in Monroe County, who celebrate Halloween weekly for all of October. Head that way until the weekend of the 26
th
to check out their traditions.
Dress Locally
I always think of cool costumes at the most irrelevant times of the year. If you share that curse, you forget your great ideas by the time you get your costume party invite. What about going as a Michigan native? Tim the Toolman Taylor (or Al, if you're hairier), Kid Rock, Lucille Ball or Madonna all hail from the mitten state…and make for a fun costume.
Take a Drive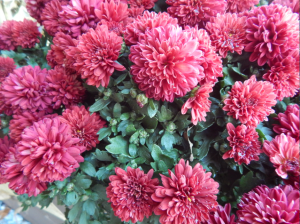 Photo by Lyndsay Israel
Peak color
is happening any minute now but since it started so fast I anticipate a slow disappearance of the leaves...I am not an autumn expert but this is my opinion. Check out the
beautiful Tunnel of Trees
from Harbor Springs to Cross Village (on M-119) if you're close enough, or just find a park near you to appreciate the foliage before it's replaced by frost.
Get Scared!
Tis the season to get lost in a corn maze or chased by a man with a chainsaw. If getting scared is your cup of tea, check out The Haunt in Grand Rapids or ride the Junction Valley Spook Train in Saginaw County! Take a Twilight Walking Tour in Sault St. Marie or take a Marshall Carriage Co. Ghost tour through local cemeteries. There are no shortage of creepy options in Michigan, and for more ghastly ghosts, check out parts one, two and three of haunted places in Michigan from The Awesome Mitten.
Decorate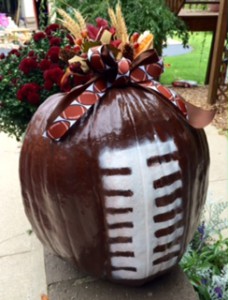 Photo by Lyndsay Israel
Decorating for Halloween can be a lot of work, but consider it a dry run for the winter holidays yet to come. Even if you don't transform your lawn into a spooky cemetery, pumpkins of all shapes and sizes can be transformed to showcase what your house holds dear. For me, this means a giant football, but with a can of gold spray paint or black lacy tights, pumpkins can lend some class to your front porch. Good old fashioned jack-o-lantern carving complete with a big candle to last the month is fun for the family, or decorate enough lanterns to line your driveway. Use the neglected sand box to weigh down your paper bag lanterns, or send the kiddos on a scavenger hunt for rock weights.
For a comprehensive break down of fall fun in Michigan, check out michigan.org for a great list of even more Fall-o-ween to-dos. How are you celebrating "Fall-o-ween" in Pure Michigan this year?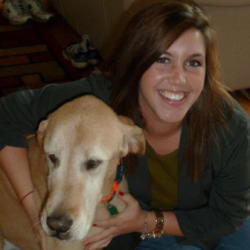 Lyndsay Israel is a life long Michigander currently in Traverse City. She has big ole soft spot for Grand Rapids, where she's been the better part of the last decade. Passions include writing about Michigan and Michigan craft beer. Future goals include making it through this Northern Michigan this winter, finishing her masters in secondary education at Grand Valley, owning a large dog, and reading as many books as she can.