Get Lost in this Pure Michigan Corn Maze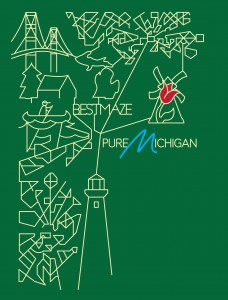 It's the perfect time of year to get lost in a Michigan corn maze! Guest blogger, Mark Benjamin of Bestmaze Corn Maze in Williamston, MI reveals some of the maze's best kept secrets and what visitors can expect from this year's Pure Michigan-themed paths.
The Bestmaze Corn Maze has a Pure Michigan theme for 2013. Visitors can walk the
Mackinac Bridge
, and the coastlines of both peninsulas before exiting the maze guided appropriately by a Great Lakes lighthouse. While in the maze they can also explore the canoe camp and the
Tulip Festival's
windmill & tulip scene. People need not fear exploring the confusing trails and getting lost forever; as there are manned lookout towers that can assist lost walkers who need help. A quick hand signal from a tower gets them through a tough area; but soon they are in another subsection lost again. There are signed optional exits about every 15 minutes as well. The maze is designed to be one with superior maze flow that is very challenging for hard core mazers, but at the same time the optional exits and optional help from above is perfect for small children. Did you miss the Labor Day Bridge Walk…well you can walk the bridge here until Oct. 27
th
.
First time visitors are usually shocked at how well manicured the trails are and how dry they are even after a heavy rain. The owners of the maze hand rake and slightly dome all 3 miles of trails each year, as well as install underground drainage tiles so the experience is a pleasant one. And that is how Bestmaze got it's name. Customers said, "change the name from the original Maze-n-Market to Best Maze." After hearing that several times, the owners took the advice and word spread. The wooden billboard along I-96 near exit 122 has become an icon over the 13 years now. This year with the Mackinac Bridge & Pure Michigan theme, many visitors are heading out for the first time.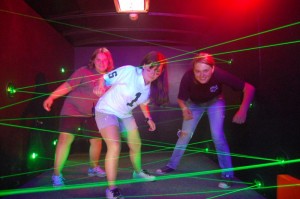 Though the maze is the star attraction, it is just one of several things to do. There is a special laser tag arena cut into part of the corn field. There is an inflatable obstacle course and an inflatable jousting contest on which to challenge your friends. There is also a Vault Laser Challenge, which is a criss crossing laser beam timed obstacle. You may have seen laser beams guarding a bank vault in the movies…now try it yourself. Oh, by the way, your friends are monitoring you on the outside tv screen as you navigate it! For excitement and a great maze, make one of your fall traditions a visit to Bestmaze. Of course, Bestmaze has cider & donuts as well! Did we mention fudge? You can't do the Mackinac Bridge Walk without fudge! Even the trolls "under the bridge" know that.
What is the best kept secret of Bestmaze? They have a separate haunted area that features the best props the haunted house industry has to offer! The Trail of Terror is a 1/3 mile long outdoor haunted trail through the rustling corn. It is a full blown sensory overload filled with a vortex tunnel, special effects, animatronics, actors, sound and even the smells of a rain forest or cotton candy at appropriate scenes. They cooperate with other great haunts in Michigan like Realm of Darkness in
Pontiac
and Jackson Underworld so they can trade props every year so they never produce the same show two years in a row!
Michigan has its yearly season changes, and nestled in between summer beach time,
Mackinaw Island
visits and winter snow is fall - the magical time where leaves turn color and you can laugh at yourself as you find your way through Bestmaze or scream yourself hoarse on the Trail of Terror...And one last chance for fudge before the snow flies.
Bestmaze
operates Fri. 6-10, Sat 1-10 & Sun 1-9. Maze tickets are $8, $7 each for 4-15 people and group rates are available. The haunted trail is $15. Maze & Trail Combo is $20. Call (517) 521-2378 for more information.
To learn more about Michigan corn mazes and other fall activities, visit
michigan.org/events.
Mark Benjamin is a 6th generation farmer in Williamston, Michigan. He is the maze designer and operator of Bestmaze.
Have you found your way through the Bestmaze corn maze? Let us know how you did! [wp_geo_map]