A Taste Tour of the Red Arrow Highway
Emily Tennyson, Michigan Travel Ideas contributing writer, shares her Harbor Country experiences, as she tastes her way along the Red Arrow Highway.
Tucked into Michigan's southwest corner, the tree-lined Red Arrow Highway links eight tiny beachfront towns that make up
Harbor Country
. Along the two-lane road, you'll find clapboard cottages, galleries, antiques shops and plenty of one-of-a-kind restaurants. Wineries flourish in the area, too.
Before I hit the highway, I detour to
Three Oaks
, inland of Harbor Country. Here, three blocks of turn-of-the-century brick buildings are jammed with food shops, cafes and boutiques. Three Oaks thrives culturally, too; it's home to galleries and artist studios. I'm in luck and catch a rehearsal at
The Acorn Theater
, a live performance venue. There's also the
Vickers
, an independent film theater.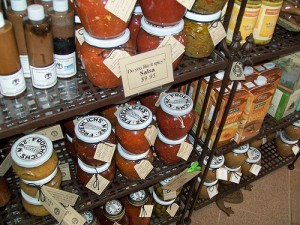 Some of the goodies on display at Froehlich's
Growing hungry,
Froehlich's
, a gourmet shop and cafe, catches my eye. It's love at first taste of the apple mustard, spicy salsa and sunny yellow canned tomatoes. The display case is loaded, but the deviled eggs, which balance mayonnaise and paprika perfectly, grab my taste buds. Sauces and preserves neatly line shelves, while another croissants, muffins, cookies and daily pizza (today—artichoke) fill another wall. There's even more, but I want to continue my journey along the Red Arrow in search of dessert.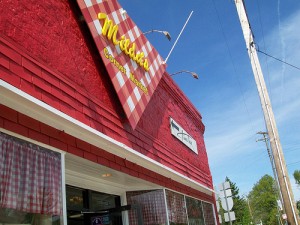 Delicious treats are a sure bet on a trip to Milda's
Ethnic food stars at
Milda's Corner Market
, a tidy red storefront in Union Pier, about 15 minutes northwest. Owner Milda Johnsonas creates native dishes like
kugeli
, a dense creation of potato, bacon and sour cream. The market also sells Eastern European spices and breads. Before leaving, I try a fist-size chocolate-covered strawberry, the perfect dessert.
Satisfied, for now, I veer onto Lakeshore Drive, a mile off the two-lane highway. I'm on my way to the
Pine Garth
, a converted 1920s Tudor inn on a grassy bluff overlooking Lake Michigan. The address is Union Pier, but the location is pure sand and surf.
Pine Garth's beachfront setting resembles a cruise-ship backdrop perfect for a game of croquet or a marathon reading session in an Adirondack chair.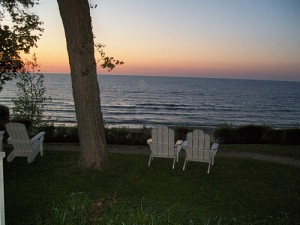 Another beautiful sunset over Lake Michigan
Pre-dinner, lounging on the overstuffed plaid couch by picture windows, I plan my next move. Be forewarned, Union Pier may be tiny (about 900 people), but mighty in the restaurant department. I settle on
Timothy's
in the rustic
Gordon Beach Inn
on Lakeshore. I order crab cakes, which are superb—tiny, perfectly crusted and flaky.
After dinner it's back to the Pine Garth. I snag an empty Adirondack chair just in time to see an award-winning sunset. The pink-and-orange orb sliding into an azure wavy lake draws cheers.
Later that night, I settle into bed thinking,
what's for breakfast?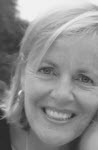 Emily Tennyson, Michigan Travel Ideas contributing writer and fourth-generation Detroiter, could eat her hometown delicacy, Sander's Hot Fudge, at every meal—after, of course, a power stroll along Lake St. Clair.