Ice Fishing 101: Six Simple Rules for Ice Fishing in Michigan
Michigan is a winter wonderland – especially for ice fishing! Today, guest bloggers Elyse Walter and Christian LeSage from the Michigan Department of Natural Resources give us six simple rules for a fun and safe ice fishing experience in Pure Michigan.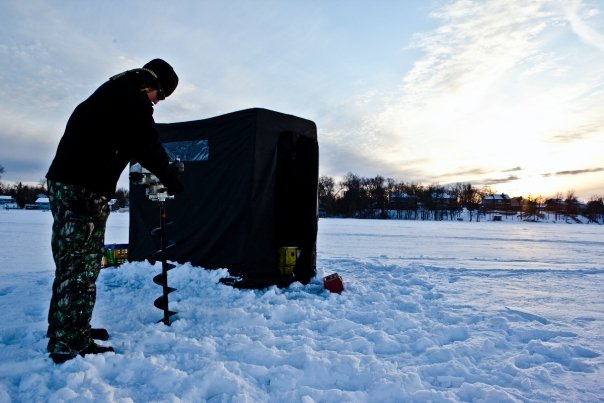 Michigan offers some wonderful outdoor opportunities throughout the year, including world-class fishing. While some anglers head for the indoors when the temperatures dip, others look forward to winter's most popular angling activity – ice fishing.
Many anglers and families look forward to the opportunities ice fishing provides them during these colder months, with some proclaiming this the best time to go fishing! Ice fishing is generally a more social event and many anglers welcome sharing a conversation about how they're doing and what has worked for them. Others prefer the solitude that this wintery sport offers as they battle the elements in their quest to catch fish. Some of the benefits of ice fishing include the fact you can get to just about anywhere on a lake during the season and there are a multitude of species available to target.
If you've never been ice fishing there are a few things to think about so you're prepared to have a fun and safe experience. We often recommend following these six simple rules:
1. Never fish alone.
2. Tell someone where you're going and when you expect to return.
3. Always test the ice with a spud (a long shank with a chisel-like end).
4. Take the appropriate emergency items, such as ice picks and a life jacket.
5. Take a cell phone (enclosed in a plastic bag) with you in case you need to call for help.
6. Lakes tend to be a safer choice during the early winter as streams or rivers have flow which makes them less safe at times.
After you round up your gear (check out this list in our
"Ice Fishing, the Coolest Sport Around" article
) you'll want to think about which species to fish for. Maybe you'd like to look for panfish while hook-and-line fishing, such as bluegill, yellow perch or crappie. Use a tip-up to target larger game fish, like northern pike, walleye and numerous trout species. Or – an opportunity unique to Michigan – consider going spearing for some monster fish like northern pike or muskellunge. Please note there are many restrictions associated with spear fishing (for instance, muskellunge harvest is limited to one per angler per season and a harvest tag is required), anglers should read the
2014 Michigan Fishing Guide
for more information.
No matter what type of ice fishing method you choose remember this simple tip: success is most often seen around dawn until mid-morning or from late afternoon until sundown.
Need additional incentive to drop a line this winter? Try it for free as part of the
2015 Winter Free Fishing Weekend
, coming Saturday, February 14 and Sunday, February 15. This annual weekend provides two days where no fishing license is required for residents or non-residents – although all fishing regulations still apply.
The Department of Natural Resources has coordinated the Winter Free Fishing Weekend every year since 1994 in an effort to showcase the great angling opportunities available in Michigan and to allow residents and visitors alike to try the experience for free.
While many individuals and families will flock to their favorite fishing hole as part of this weekend, others will join official events coordinated throughout the state that will provide hands-on ice fishing experience. An official 2015 Winter Free Fishing Weekend event list will be available at
www.michigan.gov/freefishing
later this winter.
Don't miss your chance to experience Michigan's outstanding winter fishing opportunities and to get your family outdoors. Start planning your next fishing trip at
www.michigan.gov/fishing
!
Elyse Walter is a communication specialist for the Michigan Department of Natural Resources and Christian LeSage is a Senior Fisheries Biologist for the Department. Elyse works specifically with the DNR's Fisheries Division to help educate and promote the state's fishing opportunities and aquatic resources. Christian LeSage's responsibilities include improving angling opportunities for anglers through fish stocking activities as well as development of the annual Michigan Fishing Guide. Elyse and Christian work together to promote Michigan's awesome angling opportunities which are second to none.