Michigan Great Lakes and Changing Seasons
Special thanks to
Lindsay Wyskowski
for sharing with us the things she misses the most about our state. Learn about the Great Lakes, seasonal activities, and more here on Pure Michigan Connect!
Oh, how I wish I was in Michigan!
Of all 50 states, there's no doubt in my mind that if you really want to experience the four seasons throughout the year, Michigan is the place to be. True Michiganders may joke that there are seasons like construction, but winter, spring, summer and fall all have a place in the soul of the
Great Lake
State.
Winter might be some residents' least favorite season, but even with cold temperatures and swirling snow, it is a true winter, with white snowy yards and hills for sledding. Michigan drivers are much better at driving in the snow than we would give each other credit for, that's for sure!
Spring brings warmer weather, and the snow turns to rain. The birds return to their post in the trees and those same trees sprout leaves. A Michigan spring is green, with bright healthy grass and flowers in bloom. My personal favorite part of spring? A giant lilac bush in full bloom in the backyard, with blushing purple flowers against a sunny May sky.
Summer brings a season of adventure. If you head north on US-127, past the crowds at
Houghton Lake
, east of
Grayling
and southeast of the
Mackinac Bridge
, you'll find another diamond in the rough.
Lake Huron
is less explored and less populated than
Lake Michigan
, but the charming
Presque Isle lighthouses
more than make up for it.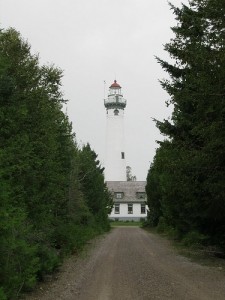 The old lighthouse is small but has tried to keep true to its past with historic relics in the one room building. Probably the most enjoyable aspects of the
Old Presque Isle lighthouse
are outside. You can ring the old bell that was once housed in the
Lansing City Hall
clock tower, or pose for a photo in the stocks. Sure, there may be opportunities for photos on
Mackinac Island
, but nestled in the trees on the coast of
Lake Huron
, things are a little calmer, a little slower.
The new lighthouse is just down the road from its older counterpart and was built in 1870. To this day it is the tallest lighthouse tower accessible to the public on the
Great Lakes
, and if you don't believe me, try climbing the 130 steps yourself! There's a fantastic museum if staying on the ground is more your style, and a quaint gift shop, if, like me, you can't stand visiting one of the
Great Lakes
without a souvenir (be sure to say hello to Sue!). You can even walk out to the lake and watch the waves crash against the rocks.
The only part of summer better than boats or swimming in a lake might be the smell of mint, a summer staple for
St. Johns
, Michigan. Be sure to check out the Mint Festival in mid-August.
Fall in Michigan is cool and crisp, like the apples you'd find if you stopped at a true Michigan cider mill. It could be easy to drive past
Uncle John's Cider Mill
in
St. Johns
, unless you are fully aware of those sweet donuts and cider waiting for you on the inside. Sometimes there are craft fairs or hay rides through the orchard, or a haunted house in October, but you've never tasted apple cider until you've visited
Uncle Johns
– nothing can compare to it.
There is a long list of places I enjoy visiting when I am able to make the trip back to Michigan, but when the seasons change and I am in Colorado, I realize - there is no better way to spend the year than in the wonder of Pure Michigan.
Lindsay Wyskowski is a Michigander living in Colorado. She graduated from
Central Michigan University
and is currently the content coordinator at USA Triathlon. Lindsay travels to Michigan as often as she can, and has a special spot in her heart for the
Great Lakes
, fall colors, cider mills and lighthouses.