Q&A With Travelocity's Roaming Gnome
We recently had the pleasure of sitting down with Travelocity's Roaming Gnome for a Q&A on all things Michigan.
Check out his answers below, and be sure to visit
Travelocity.com
to find special deals for your next Pure Michigan vacation.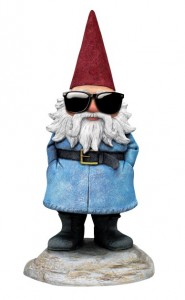 Q: As we know, you're quite the world traveler. What would you say makes Michigan a unique destination?A:
You know that feeling you get when you find money in your pocket? That's how Michigan is. It's this secret gem of goody goodness just waiting to be found. The lake is quite splendid, the people are marvelous and the activities you could do are endless!
Q: What do you think are some of Michigan's must-see attractions?A:
Mackinac Island
! It's a perfect little getaway for families. It's a wonderful place for bike riding, horseback riding or even piggy back riding! OH, and one more thing…carriage riding! It is a very sophisticated city and I like it.
Traverse City
! It's such a charming and quaint town I feel like I fit right in! (Because I'm charming and quaint myself, of course!) There are a bunch of hiking trails and the longest span of shoreline in Michigan. In fact, when are we going?
Finally….
Ann Arbor
! (Sorry, could I have more than one? I got a bit carried away there.)This is a quaint little town as well but it boasts sidewalk cafes and local artist galleries. I tend to eat a lot when I visit Ann Arbor…after all, there are more than 200
restaurants
! Which…leads me to my next point about Ann Arbor…there's great shopping for when your pants get a bit snug. (Guilty.)
Q: Do you think there's a particular time of year that's best for visiting Michigan?A:
Summer is quite nice considering I can do my "Walk like an Egyptian" dance while jumping into the water. Also, bloody mary's taste better in the summer, or is that just me? Either way…summer, summer, summer!
Q: What are of your general top traveling tips?A:
Shoes are best packed at the bottom of your suitcase, sunglasses are important for airports (VIP status), and always bring your phone charger thingamajig!
Oh, and save money on hotels so there's more left over for the mini bar!
Q: How do you choose where your next trip will be?A:
Often times I like to listen to my Facebook fans or Twitter followers to see what's the bustle about each month. Other times it's just where the dart lands! Why, is this invitation of some sort?
Q: What are some of your packing essentials? In particular, what should someone pack when traveling to Michigan?A:
I like to pack a nice beard conditioner in case I end up dining at a fancy pants restaurant. Speaking of pants, I'd advise bringing some…I can't in my case since they are plastered on.
I'd also recommend bringing sun block. The Michigan sun can get quite toasty! And I'd rather have my cheeks red from laughter.
Q: If you could pick just one thing you love about Michigan the most, what would it be?A:
The lakes. There's this special something about
Lake Michigan
, in particular. No need to worry about the salt in your hair, and you still get to see the little fishes squiggle around. There's this calmness to the lake which lends itself to floating along in a raft quite easily. Which can be easily disrupted by a…CANNON BALL!!!!!!!!
Who's ready to go?