Spring Wine Pairings from the Wineries of Old Mission Peninsula
In celebration of April as Michigan Wine Month, and the long awaited spring season, we asked the folks at the eight distinct Wineries of Old Mission Peninsula to share some wine tips along with suggested wine and food pairings to celebrate the season.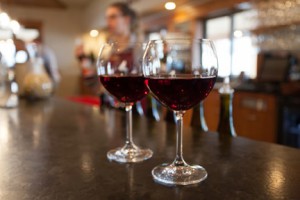 Photo Courtesy of Wineries of Old Mission Peninsula
Pairing food and wine can sometimes seem difficult or complicated. Just remember, dry white wines go very well with delicate or simple foods. A great rule of thumb is – if you would squeeze lemon on any particular dish, a dry white wine would be a very suitable match. Keeping this in mind, Chateau Grand Traverse 2014 Dry Riesling offers a classic steely-dry style, mineral qualities with fruit forward flavors, bold acidity and fresh aroma. This wine pairs well with Great Lakes grilled whitefish, most seafood or shellfish. In addition, Caesar salad or rich cheeses and assorted fruit also work well with this wine. Dry wines may taste tart to some, however, when paired with foods the delicate flavors shine through.
Spring is a great time to break out the bubbly. Chateau Chantal suggests their Tonight Blanc de Blanc. A dry Riesling-Chardonnay blend bubbly is delightfully easy to drink and will make tonight, or any night, special.
The dry nature and good acidity of this sparkling wine cleanse the palate after bites of rich and creamy cheeses, fried appetizers, cream-based seafood pastas and other dishes. Serve well chilled for the perfect pairing with this recipe:
Caramelized Onion Tarts with Apples, paired with Chateau Chantal's Tonight
Makes 2 tarts
Ingredients


2 tablespoons olive oil


2 medium onions, sliced


2 red apples (such as Braeburn or Gala), cut into small pieces


Kosher salt and black pepper


2 sheets frozen puff pastry (from a 17.3-ounce package), thawed


½ cup crème fraiche or sour cream


Directions
Heat the oven to 400°. Heat the oil in a large skillet over medium heat. Add the onions and cook, stirring occasionally, until soft and golden brown, 12 to 15 minutes. Stir in the apples, ½ teaspoon salt, and ¼ teaspoon pepper and cook until just tender, 2 minutes.
Place each sheet of pastry on a parchment-lined baking sheet and prick all over with a fork. Spread with the crème fraîche, leaving a ½-inch border. Top with the onion mixture and bake until the pastry is crisp and browned, 30 to 35 minutes. Cut into pieces before serving.
In the kitchen at Brys Estate Vineyard & Winer
y
they are wrapping up a fresh way to present chicken, combined with bright spring flavors of asparagus, lemon and thyme, paired with the Brys Estate Vineyard & Winery 2013 Pinot Grigio. The Pinot Grigio is a clean and fresh wine, with well-balanced fruit flavors of lemon, orange peel and tangerine and compliments this light, healthy and refreshing springtime dish.
Watch Patrick Brys create Spring Chicken in Parchment
here
!
Spring also means the start of grilling season, and the folks at
2 Lads Winer
y
have a suggestion on something to throw on the grill as well as what to enjoy drinking with it.
The marbling and intense flavor of ribeye steaks stands up to the more powerful bold red wines, like the newly released
2013 Cabernet Franc
. The spices, herbs and bright fruit expressed in this wine match the fresh herbs and black pepper of a grilled ribeye. 2 Lads Wine Club Member, Jennifer Lawson, shared this winning recipe:
2 Lads Ribeye Steak with 2 Lads' Cabernet Franc Ingredients


¼ cup olive oil


¼ cup red wine vinegar


1 garlic clove, minced


2 Tbs chopped flat-leaf parsley


1 tsp kosher salt


½ tsp black pepper


1 10 oz ribeye steak


2 bunches of spring onions


Directions
Lay onions and steak in a large baking dish. Mix remaining ingredients in a small bowl and pour over onions and steak, turning ingredients to coat.
Let marinade anywhere from 1 hour to as long as overnight.
Heat grill to high (450° to 550°). Grill steak, covered, turning once and moving it from flame as needed to prevent charring until done the way you like, about 8 minutes for medium-rare. In the last few minutes, add onions to grill, laying them perpendicular to the grates. Cook, turning as needed, until the onions start to soften and grill marks appear.
In celebration of the arrival of the spring season, Peninsula Cellars recommends one of the most celebrated and sought after wines of the Old Mission region, with their 2013 SemiDry Riesling. This perfectly balanced wine, wrapped in a delicious sweetness, pairs beautifully with grilled chicken and fish, or bold flavored cheeses such as blue cheese or brie.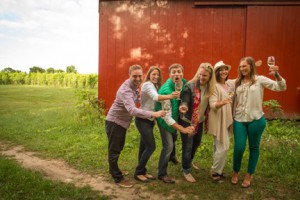 Photo Courtesy of Wineries of Old Mission Peninsula
At Black Star Farms the winemaking team and culinary staff are continuously looking for the perfect union between wine and farmstead cuisine. A favorite at the winery is the 2013 Arcturos Gerwurztraminer with a Carrot Ginger Bisque with Coconut Milk and Candied Walnuts.
The 2013 Arcturos Gerwurztraminer compliments this dish perfectly. This vintage is dry, fruit forward and shows the classic floral and spice components found in this varietal. The aromatic quality of this wine, along with its ripe citrus flavors makes for a perfect pairing with the Carrot Ginger Bisque. The dish is a perfect balance of spice, from the ginger, and sweetness from the carrots. The coconut milk adds a nice creaminess, without making it too rich, and the candied walnuts finish it off by adding a nice texture.
Carrot Ginger Bisque with Coconut Milk and Candied Walnuts with Black Star Farms' Arcturos Gerwurztraminer Soup


12 cups vegetable stock or chicken stock


1 Tbs sesame oil


1 chopped onion


1 garlic clove, minced


1 tsp minced peeled fresh ginger


8 chopped carrots


1 cup coconut milk


½ tsp white pepper


Cook broth in a large saucepan, reducing it by half to concentrate flavors. Heat oil in a medium sauté pan, add onion and garlic and sauté 3 to 5 minutes. Add ginger and carrot, cover and cook 5 minutes, stirring occasionally. Add coconut milk, cover and cook 5 more minutes. Add reduced broth to vegetable mixture and season with white pepper. Cover and cook until all carrots are tender. In a food processor, puree soup until smooth. Adjust seasonings to taste.
Candied walnuts


1 cup walnut halves/pieces


¼ cup granulated sugar


1 Tbs butter


In a pan over medium heat, add 1 cup walnuts, ¼ cup granulated sugar and 1 Tbs butter. Cook for 5-8 minutes, stirring frequently. When the sugar mixture starts melting, stir constantly until all sugar is melted and nuts are coated. Transfer to a sheet pan with parchment paper and separate the nuts from one another. Leave at room temperature to dry. Crumble if desired for garnish.
Block II Vineyard is the oldest and most recognized Riesling Block at Bowers Harbor Vineyard. Year after year, the Riesling grapes from Block II continue to exceed expectations by producing globally recognized, award-winning wine including the 2012 Riesling, Block II. This dry wine emanates lychee and anise aromas, followed by bright apple flavors with a thread of floral spice, and finishes clean. This wine pairs well with many flavors of the spring season including scallops, sushi and Cajun grilled shrimp.
The lighter more aromatic wines are perfect for the spring season. Another must-try spring wine is Hawthorne Vineyard's 2012 Pinot Grigio
.
With hints of mandarin orange and peach, this wine is a complement for pastas with cream or lemon sauces, delicate fish, and even hummus.
Pasta with Lemon Cream and Prosciutto with Hawthorn Vineyard's Pinot Grigio Ingredients


2 Tbs butter


3 large shallots, minced


¾ cup low-salt chicken broth


1 cup whipping cream


2 tsp grated lemon peel


1 tsp grated orange peel


¼ tsp cayenne pepper


2 cups frozen green peas, thawed


2 Tbs thinly sliced fresh mint leaves


1 Tbs fresh lemon juice


12 ounces penne pasta


12 thin slices prosciutto


Freshly grated Parmesan cheese


Directions
Melt butter in large nonstick skillet over medium heat. Add shallots and sauté until translucent, about 2 minutes. Add broth. Simmer over medium-high heat until mixture is reduced to ¼ cup, about 2 minutes. Add cream, lemon peel, orange peel, and cayenne. Simmer until sauce thickens slightly, about 3 minutes. Add peas; simmer just until heated through, about 2 minutes. Stir in mint and lemon juice. Season sauce to taste with salt and pepper.
Photo Courtesy of Wineries of Old Mission Peninsula
Meanwhile, cook pasta in large pot of boiling salted water until tender but still firm to bite, stirring occasionally. Drain; return pasta to pot. Toss pasta with sauce to coat. Divide pasta among plates or bowls. Drape prosciutto slices atop pasta and serve, passing Parmesan separately.
Spring also marks the beginning of wine festival season including the upcoming Blossom Day, May 16, featuring fresh spring fare paired with the season's new releases, and Divas Uncorked, June 12, WOMP's annual Girls' Night Out. Event details can be found
online
.
What are some of your favorite food and wine pairings?