The Search for the Best Burger in Michigan
John "Gonzo" Gonzalez of MLive searched far and wide across the state for Michigan's best burger. After six days of traveling 1,700 miles and visiting 33 restaurants, he found one thing for sure – Michigan is home to a number of great burgers! Read about John's experience below and be sure to check out the list of Michigan's best burgers for more.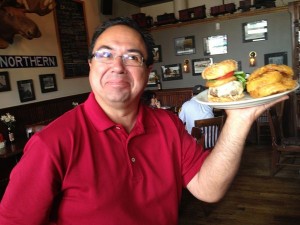 I looked down at the end of the bar at Miller's in Dearborn, where I saw a young man eating his second burger. "Man, you must love this place to eat TWO burgers!" I said. Still chewing, he held up his hand, flashing three fingers. "No," I said. "I only saw TWO burgers in front of you." He gulped down his bite and said, "I order two that I eat immediately, and then I order a third one," he said. "Oh, I see, you order a third one to go?" "Oh no," he said. "I'll eat it here. I just don't want it to get cold, that's why I wait to order the third one."
That's the passion I discovered at every stop on our search for
Michigan's Best Burger 2013
. Whether it was patrons, chefs, owners, managers or employees, there is a Michigan passion for a good, old fashioned burger with cheese and your favorite toppings.
We have done these searches before:
Michigan's Best Coney Dog (American Coney in Detroit),
Best BBQ (West Texas BBQ in Jackson),
Best Ice Cream Parlor (MOO-ville Creamery in Nashville),
Best Haunted House (Erebus in Pontiac), and
Best Breakfast (Anna's House in Grand Rapids).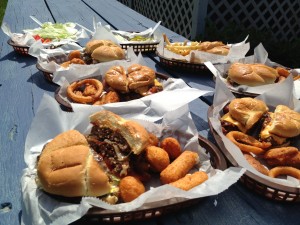 But our search for Michigan's Best Burger was by far our most extensive one. After a nomination process that involves our readers, we put up polls in all of our markets to determine the readers' favorites. Once we have that list, I hit the road.
This time we traveled 1,700 miles, visited 33 restaurants and did it over a period of six days. We visited burger joints from
Sault Ste. Marie
to
Detroit
,
Bay City
to
Kalamazoo
and
Ann Arbor
to
Muskegon
. On some days we visited 7 restaurants in one day.
If any of you have followed our other searches, I often take along an expert or companion who helps me out. It's not easy eating all this food. On our search for Michigan's Best Coney Dog, I was joined by Joe Grimm (co-author of "Coney Detroit"). On BBQ, it was the president of the Great Lakes Barbecue Association, Mike Terry of Flushing. And for our breakfast search it was Mike Jensen, a retired prison cook from Saranac.
For burgers, we were joined by
David Kutzko
, a Western Michigan University professor of Classics (Greek and Latin) who has a huge appetite and spends a lot of time checking out
Michigan restaurants
. Also, we were joined by
Fritz Klug
, a statewide reporter for MLive and David's former student whose intention was to tag along on our trip to the Upper Peninsula and Northern Michigan. But we couldn't shake him.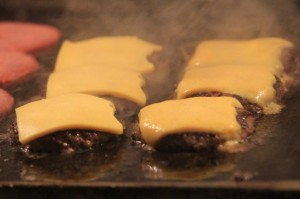 What we discovered: Michigan residents love their burgers!
Most of the burgers on our Top 10 list were cooked on flattop grills and used a blend of 80 percent lean meat, and 20 percent fat. Many used a hand press. All of them are flipped only once.
Each place had a little different method; some used a secret seasoning, others used salt and pepper, and some used no seasoning at all.
The secret was in the meat, and the preparation method. We also took into account creativity, buns and those intangibles that make you want to order a second – or third – burger before you leave!
Here is our Top 10 List:






Michigan burger map. Credit: Ed Riojas/Mlive.com



Laura's Little Burger Joint, 47141 M-51, Decatur


West Pier Drive-In, 601 W. Portage Ave., Sault Ste. Marie


Miller's Bar, 23700 Michigan Ave., Dearborn


Talley's Log Cabin Bar, 2981 County Road 612, Lewiston


Stella's Lounge, 53 Commerce Ave. SW, Grand Rapids


Brown Bear, 147 N. Michigan Ave., Shelby


Schlenker's Sandwich Shop, 1104 E. Ganson St., Jackson


Torch Bar & Grill, 522 Buckham Alley, Flint


Schuberg's Bar & Grill, 109 N. Michigan Ave., Big Rapids


Krazy Jim's Blimpy Burger, 304 S. Ashley St, Ann Arbor


Take a look at our
complete list of 33 finalists
; you won't go wrong at any one of them.
Where's your favorite place to get a burger in Pure Michigan? Share with us in the comments section below!
As the Statewide Entertainment writer for MLive Media Group, which represents eight newspapers throughout the state, as well as MLive.com and AnnArbor.com, John Gonzalez oversees the "Michigan's Best" series. He has led statewide searches for Michigan's Best BBQ, Ice Cream Parlor, Breakfast, Coney Dogs and most recently, Burgers. John is based in Grand Rapids, but has worked in Detroit, Lansing, Mt. Pleasant, Flint, Holland and Bay City. He is originally from Capac, Michigan. You can follow him on Twitter at @MichiganGonzo.