Tips for Photographing the Milky Way in Michigan - and Seven Stunning Starry Night Photos too!
Today, guest blogger Shawn Malone of LakeSuperiorPhoto shares some tips for photographing the night sky to keep in mind for the next time you find yourself stargazing in Michigan. We can't get enough of these spectacular starry skies!
Now that warmer temperatures are upon us, it is a great time to get out and do some stargazing. On clear, moonless nights, the brightest part of the Milky Way can be found in the southern sky, and rises as the night progresses. With advances in DSLR technology in which sensors are now more light sensitive than ever, many are jumping in to night sky photography and coming up with impressive images of the night sky.
Some basic items you'll need to capture the Milky Way are a DSLR camera capable of capturing high iso images with acceptable noise levels, a fast wide angle lens, a cable release and a tripod. You will be taking long exposures, so it is a good idea to use mirror lock up to ensure elimination of any possible camera shake during exposure. There are a lot of astrophotography software options out there that show the night sky in movement by date and location. Landmarks framed by a brilliant Milky Way always make for great images, you need to be aware of the best angles of those landmarks relative to the position of the Milky Way as it rises in the sky. Choose a software that best helps you to plan for optimal shooting times and locations, and composition-much software is free or of minimal charge and demos can be found online with a little bit of searching.
This is an image of the Milky Way as it rises through the trees in Pictured Rocks National Lakeshore. The trees provide a nice framing to the brightest part of the Milky Way, and the dark sky location of this area makes it prime for night sky photography in all directions.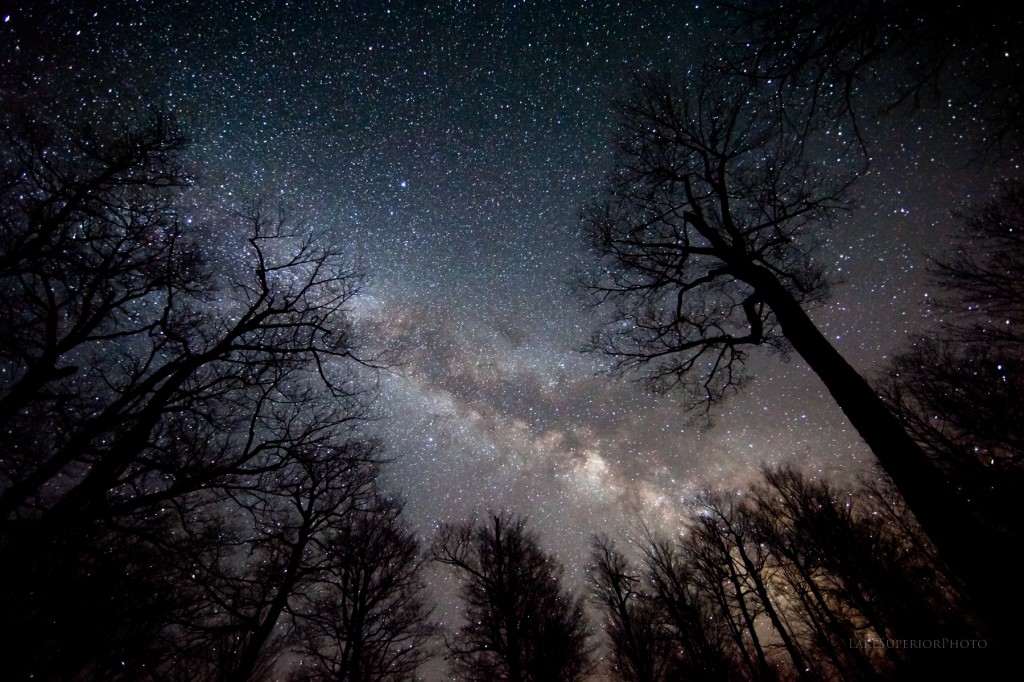 A good all around manual setting I frequently use in Milky Way photography is iso 3200, f2.8, 25-30 second exposures. This captures the Milky Way nicely and also elements in the surrounding frame with enough light in one exposure.
This image was taken seconds later and shows a brilliant outburst of northern lights streaking through the Milky Way. This was an unexpected event, as the auroral activty to that point had been very faint and only low on the horizon. The more you get out, the greater chances you have to capture welcome surprises such as this one and this image remains on of my most intriguing night sky photographs.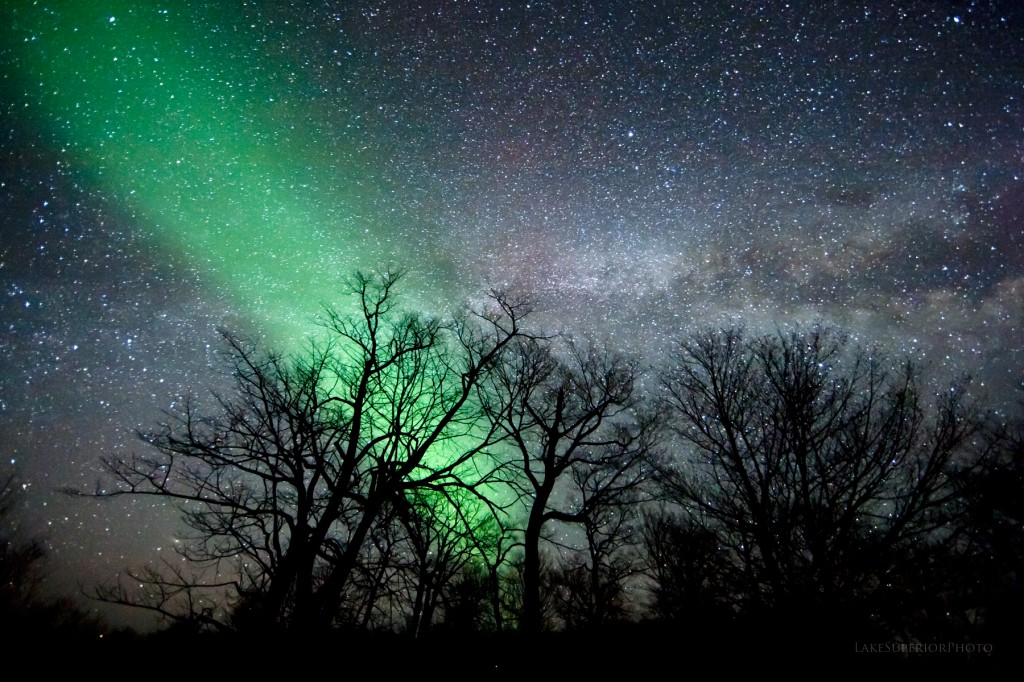 Here, the Milky Way is shown sweeping across Tobin Harbor in the very dark sky location of
Isle Royale
. The darker the skies, the more contrast you will end up in your photos of the details of the Milky Way. A setting of iso 3200, f2.8, with an exposure of 25 seconds was what captured this image. Any longer of a shutter speed and movement in the stars becomes an issue with the 14mm lens I was using here.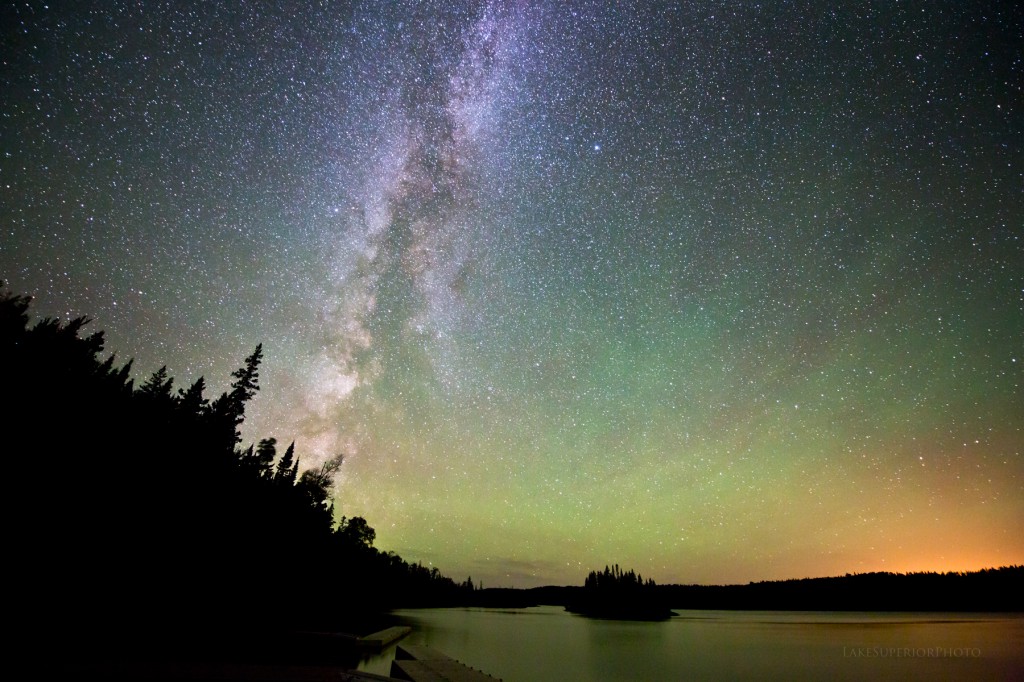 Upper Tahquamenon Falls
is a great location for the Milky Way as it is framed nicely from late Spring through a good portion of the Summer as the Milky Way progresses through the southern sky from east to west. On moonless nights, you will get a fantastic definition in the Milky Way, but light painting is necessary to illuminate the falls. Here I just used a simple headlight and moved it across the falls throughout the 25 second exposure. A 30-40% moon rising in the east would provide a more even lighting, but you will lose some contrast in the Milky Way.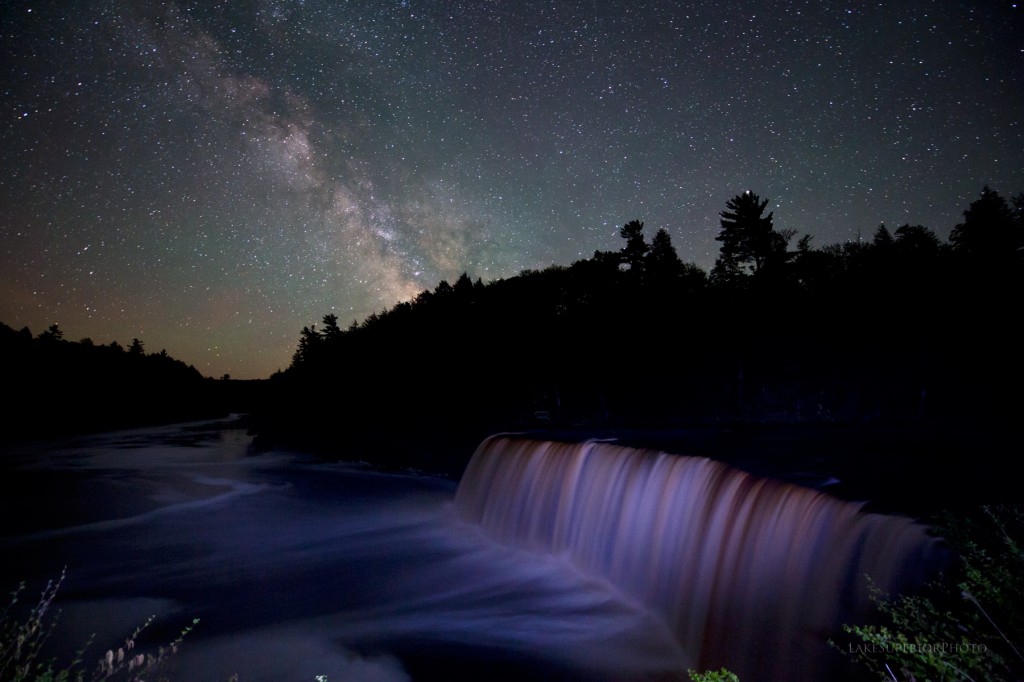 Here you see the entire Milky Way as it stretches from north to south at
Whitefish Point Lightouse
. It was getting near dawn here as you see on the left side, and the Milky Way had risen quite high, I could barely fit it completely in the frame even with a 14mm, however you get a good look at the entire Milky Way. This is another great dark sky location as you see the southern portion of the Milky Way clearly defined, while the lighthouse is framed nicely. This is a composite of 12 images and is stitched together in a post process to create a 180 degree panorama.

AuSable Point Lighthouse
and Milky Way. Again, in Pictured Rocks National Lakeshore- This is another great lighthouse that frames the Milky Way nicely as the Milky Way rises in the south in late Spring and into the Summer. In this picture, light painting again was used to show some detail in the lighthouse, as it was a new moon.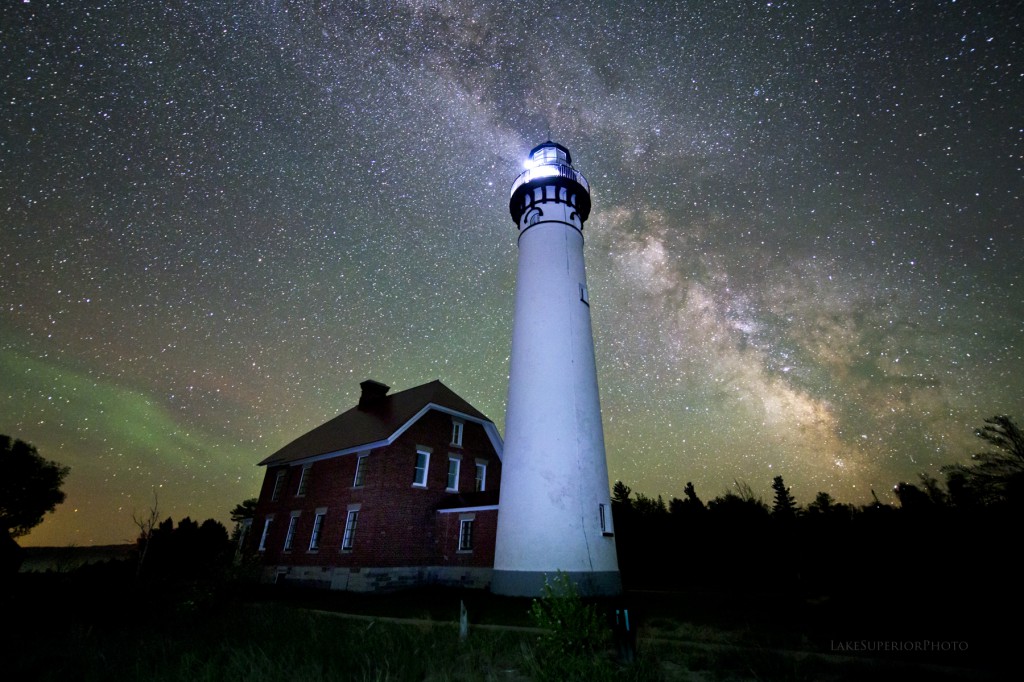 Sometimes you might not be in a position to drive very far. This panorama was taken in my 'backyard' from the turnouts on M-28 east of Marquette. This is a great location for night sky viewing both to the north and south due to dark skies over Lake Superior to the north and relatively little light pollution to the south. In this 270 degree panorama, light pollution of Marquette to the west is visible on left behind the white pines, a subtle aurora arcs to the north, and the Milky Way stretches from North to South. This is also a composite stitched in post and was taken in late Spring before the Milky Way rose too high out of the frame.

So check your calendar for the new moon and when clear skies are in the forecast and get out for a few nights to try your hand at capturing the night sky. That is the magic of digital photography, instant results for quick evaluation and learning, and with some basic equipment and a few simple steps, you are on your way to capturing great images of the night sky.
Do you have any photos of starry nights in Michigan? Tag them with #PureMichigan on Twitter or Instagram and check out our Michigan Milky Way Pinterest board!
Shawn Malone is a photographer out of Marquette Michigan where she runs LakeSuperiorPhoto, an art gallery/studio of her work in downtown Marquette on 211 South Front St. email: [email protected] Malone runs night sky photography workshops out of her studio during the summer and fall months. Visit the website for the latest photography workshop dates and times.