Eight New Year's Resolutions for the Avid Traveler (with a Pure Michigan Twist!)
The beginning of a new year opens the door to new travel possibilities. Today, guest blogger Aaron Cruz from The Awesome Mitten shares some New Year's resolutions for the avid traveler looking to explore new horizons. Great Lakes resort town it up
. Wherever you are in Michigan, you are within 85 miles of a Great Lake. Go for the day in the summer or a long winter weekend at a bed and breakfast in Lexington, on Lake Huron, or in Grand Haven, on Lake Michigan. Regardless of what lake you are on, a beautiful sunrise and sunset is sure to await. The
resort town
possibilities seem to be endless.
Eat and drink local
. Forget the chains: experience something not found around home. Go to the most popular spot in the town you are visiting or discover a hidden gem. If you are in Detroit, stop at Slows BBQ. Visiting Grand Rapids? Forget Starbucks in favor of checking out to Rowster or MadCap Coffee. Don't go to a bar in Holland and grab a beer you can get anywhere; visit New Holland Brewery and experience some of
Michigan's finest craft beer
. If grabbing snacks for the car, go Michigan with some Faygo Rock & Rye and Better Made potato chips.
Set out on a mural walk.
You will find public artwork painted on the walls of buildings in Michigan's biggest cities and smallest towns. It's a great way to get outdoors, to explore off-the-beaten path areas and to learn some history. "The Water Cycle" mural in the Woodbridge neighborhood of
Detroit
and the Community House Mural in small-town Harbor Beach should be on your list to visit.
Go on a trip with no plans
. Take a road trip with no Michigan destination in mind. That means no maps, no GPS and no idea on when you are going to stop. It will be just you and whatever randomly comes up. Live in the moment. Your best travel stories could come from this unplanned adventure.
Spend more time with nature by
visiting a Michigan State Park
. Get away from it all at one of the
97 parks scattered through the state
. Many are along one of the Great Lakes, while others are inland and in the country. You can even hang out on an island at Mackinac Island State Park. Bluffs, sand dunes, long hiking trails, forest, vast beaches and wildlife lie straight ahead.
Collect mementos
from every place you visit. Purchase a postcard, magnet and other souvenirs. Grab a free local magazine, flyer or business card and keep your receipts and event tickets. Put them all in a box at home. Later on, when you go through it, you will remember all the great Michigan and travel experiences you have enjoyed.
Head to a lighthouse
. Michigan has
more lighthouses than any state
with over 115, each with its own history and unique design. Some of them contain museums where people used to live as well as stairs you can climb to see the light up close and get panoramic views. Tawas Point Lighthouse is a beautiful example. Where there is a lighthouse, a shoreline and beach to explore is usually waiting.
Putting many of the other resolutions together and a great way to checkout numerous lighthouses and points of interest at once is to
experience a
Great Lakes Circle Tour
. Each route/tour circles a Great Lake, so water will always be nearby, with much of the route following Michigan roads. You'll find plenty of signage to help you along as you bounce from town to town, country to forest and from the Lower to Upper Peninsula.
What are some of your New Year's travel resolutions?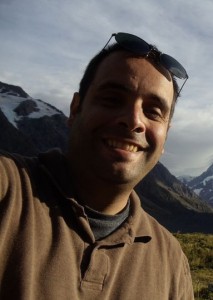 Aaron Cruz is a lover and long time resident of The Mitten. When he is not out on the open road, he's probably drinking coffee in a random indie coffee shop. He loves taking photos and road trips, along with checking out skylines, the seasons, shorelines and hanging around water which makes Michigan the perfect place to live. You can find him on Twitter, Instagram and on his personal travel blog.