Warm Up With Winter Wine Tasting
As winter comes to an end in Michigan, it's the perfect time to enjoy wine tasting on one of the last cold days of the year. Today, Trisha Verma, co-founder of Drink Michigan, shares some tips on winter wine tasting.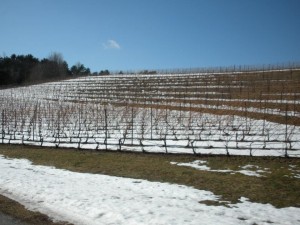 Whether you're
exploring Old Mission peninsula
or hanging out in southwest Michigan, wine tasting is a great way to spend a cold winter afternoon. The tasting rooms are less crowded, there are many labels to choose from, and you often get extra attention from the tasting room manager, allowing you to ask questions and learn more about the wine, winery, and the region.
There are a couple things to keep in mind when you're winter wine tasting:


Make sure your designated driver can handle the snow – the hills and winding roads of Michigan's wine trails are part of what makes the experience so beautiful. But in the winter, they can cause quite a headache as you're trying to make your way from winery to winery. You know you need a designated driver when you wine taste, but be sure that driver is an experienced winter driver. Even if it isn't snowing, the dirt roads can be slick, and getting up those hills (and controlling yourself going down them) can be tricky.


Dress appropriately – be sure to dress for the weather and the environment. Many wineries don't have paved parking and sidewalks, so boots are a good idea. You also want to make sure to bring hats and gloves – you never know when that lake-effect snow machine is going to kick in!


One of the best parts of tasting in the winter is all the variety that's often in stock. This is the time to be adventurous and expand your palate. Talk to the tasting room manager, and let them guide you in experimenting with new varietals. A lot of the wines we've discovered as our favorites over the last few years have been things we never would have tried if we had stuck to what we thought we liked.
Here are a few of our favorite winter wines:





Forty Five North Unwooded Chardonnay – clean, crisp white with great acidity


Black Star Farms Arcturos Cabernet Franc – a bold, full-bodied red wine that heats you up from the inside out.


L. Mawby Blanc de Noir – there's never a wrong time for sparkling wine.


Fenn Valley Capriccio – a softer red, but full of great flavor.


Peninsula Cellars Merlot Reserve – full-bodied, and will age well (if you can wait that long!)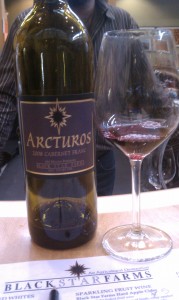 With just a few weeks left before the masses storm the tasting rooms for spring releases, now is the perfect time to strap on your boots and go exploring on the Michigan wine trails. Be adventurous, and make sure you have a little extra money on you to buy a few bottles of your favorites. Many of the wineries don't have state-wide distribution, so the tasting rooms are often the only place to get your hands on a bottle – don't miss out on your chance to take some home!
Have any questions about wine tasting in the winter (or any other season), or want to share your favorite Michigan wines? Leave a comment, and let me know!
Trisha Verma is a passionate Michigander and the co-founder of Drink Michigan – a site dedicated to promoting and celebrating Michigan-made beer, wine, and spirits. Drink Michigan holds events to introduce others to Michigan products, travels across the state to try new and interesting offerings, and is always looking for new ways to incorporate Michigan beer, wine, and liquor into interesting recipes.