Winter Surfing in Pure Michigan
Photo credit: Mike Killion
Since 2005,
Third Coast Surf Shop
has been the premiere source for everything freshwater surfing. Products include surfboards and accessories, wetsuits, swimwear, beach gear, clothing, sandals, and sunglasses. Available services include lessons and rentals (surfboards, stand-up paddleboards, sandboards), kayak tours, and kids' beach day camps. Third Coast Surf Shop has been featured in such national media as
The Today Show, The New York Times,
and
Conde Nast Traveler
.
Ryan Gerard, Proprietor of Third Coast Surf Shop, was kind enough to answer a few of our questions.
Q: How is winter surfing different than any other kind of surfing?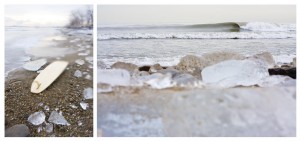 Photo credit: Mike Killion
A:
Surfing in Michigan in the winter takes a dedicated approach; the air and water are both very cold, it is often windy, and it is not easy to find the best waves for surfing. With the right gear and time spent on learning where to go and when to be there, great waves can be found. Dealing with the cold and often brutal weather elements (snow, ice) is well worth it when you are surfing fun waves with a small handful of friends.
Q: Where in Michigan can you surf in the winter? A:
Anywhere there are waves, which would be on any beach exposed to open water on Lakes Michigan, Superior, and Huron. The challenge lies in finding the best spots to surf, which requires time and dedication. You must learn how to forecast when there will be waves, where, and the best time to surf them.
Q: Do you need any special equipment?
Photo credit: Mike Killion
A:
Yes. To surf in Michigan (or anywhere with a cold climate), you must have the proper wetsuit and wetsuit accessories (boots and gloves or mittens). We wear 6/5/4mm hooded wetsuits and 7mm boots and mittens made specifically for cold water surfing. To use improper gear could be dangerous. The surfboards we use are the same as what are used to surf anywhere else in the world. However, many surfers use boards that are a little bigger (longer, wider, and/or thicker) than what might be used on an ocean coast. The surfer's ability and wave conditions have a lot to do with that.
Q: Where can people go to learn more information?A:
Third Coast Surf Shop has been teaching surfing lessons continually longer than anyone else in the Great Lakes region. Since 2005, we have taught thousands of people learn to surf.
Outside Magazine
recognized our shop and southwestern Michigan as one of the best places to learn how to surf in North America. You can visit us at
www.thirdcoastsurfshop.com
for details.