From Our Fans: 18 Favorite Fall Traditions in Pure Michigan
Happy first day of fall! Brisk autumn air and vibrant fall foliage have arrived in Pure Michigan. The changing of the seasons holds a special meaning to everyone, and many Michiganders have created unique traditions to help them welcome and celebrate fall. We asked our fans on Facebook and Twitter to share theirs.
Here's a roundup of just some the fantastic fall traditions our fans hold near and dear.
Making apple butter, eating hot foods like chili, stew, soup again, wearing hoodies, decorating inside and outside with autumn things, smelling and feeling the crisp fall air. - Cathleen Lechowicz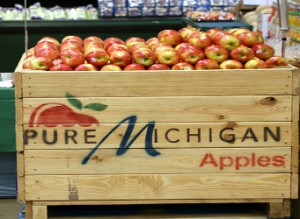 Picking
fresh Michigan apples
, taking one last camping trip and eating hot soup. - Donna M. Tardiff
Going to the cider mill to get cinnamon doughnuts. Yummy! - Deborah Buoncompagno
A trip to the f
armers market
, a stay on Mackinac Island, bonfires with marshmallows and fall color drives on the back roads. - Kerri Tang
Cider and donuts, pumpkins,
fall color tours
, trips up north, bonfires, hikes, farm days at
Greenfield Village
, first pot of chili, apple pie with apples from the orchard. - Shelly Bahr
My husband and I go
camping
with our son, daughter in law and two grandsons. The whole family goes to the cider mill together. Cider, doughnuts, hiking. It's great. I love fall! - Lori Sikora
Pumpkin and apple pies, orange pumpkins and yellow mums on the porch, soups, stews, flannel shirts, down vests, boots, jeans and the smell of fallen leaves in the cool dusky evenings. - Lisa Hadden
Opening duck season
with family. - Kyle Ransom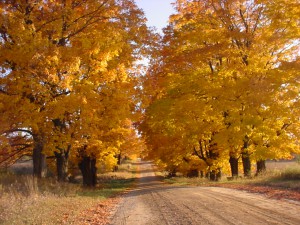 Photo by Dine Clark near Verona Township
Crunching leaves on the
trails.
Thanksgiving with my family - When the turkey is finished, we all watch the Lions vs. Packers game. - CaSondra Maass
Going to
Treetops in Gaylord
and taking in almost 360 degree view of Autumns splendor. - Kathy Brisbin Wagner
Canoeing down the river and fishing while the leaves float by! - Phillip Olt
I can't forget
Historic Bowens Mills
for caramel apples, hot apple dumplings, and other treats. A great place to relax and enjoy a peaceful afternoon. - Ken Blum
Taking a trip down the Dowagiac River to see the fall colors. - Steph Bliss
Apple picking at
Crane Orchards
with my grandchildren, then making applesauce for the freezer. - Cinde Heston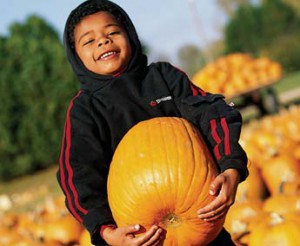 Photo courtesy of Johnson's Giant Pumpkins
Bell's Brewery's Best Brown Ale,
Johnson's Giant Pumpkin Farm
, and Southern Michigan Railroad's Fall Color Tour! - Paul McKellip
Visiting BlakeFarms is a must. #Fall. - Twitter user @DonnaMargara84
Evening walks in the crisp fall air, bonfires, decorating for Halloween, Witches Brew wine from Leelanau cellars. - Twitter user @
JaimieMae1222
Taking friends up to Tahquamenon Falls. Can't wait to be up north! - Twitter user @JandiPrich


What are your favorite ways to celebrate the fall season in Pure Michigan?