How did Michigan Cities Get Their Names? Part 5
We're happy to share with you another post in our ongoing series of how cities in Michigan got their names. Here is the naming history of five more cities, including one city whose founders' clever thinking was able to get their city named as county seat. In case you missed them, here are Part 1, Part 2, Part 3 and Part 4.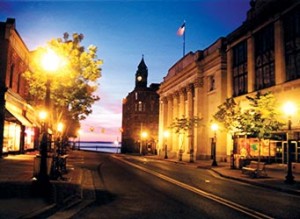 Marquette is surrounded by its past but also by new shops displaying artwork, restaurants serving whitefish, symphonies playing in restored historic structures, and theaters highlighting local and national talent.
Marquette
The city of
Marquette
was founded with a different name. It was first called Worcester by a group of miners from a city by that name in Massachusetts. In 1850, the city was renamed to honor French Jesuit missionary Jaques Marquette, who famously explored the region.
Livonia
The area that is now
Livonia
was known for its rich soil and abundant harvests, attracting pioneers from New England. It's believed they named the area after cities of similar names in New York state, Pennsylvania and, possibly, after a region near the Baltic sea comprising present day Estonia and Latvia.
Saginaw
The Sauk Indians originally lived in the
Saginaw
area before being driven out by the Ojibwe, or Chippewa Indians. The name, however, stuck. Saginaw is believed to mean "where the Sauk were." The first permanent settlement by those other than the Native Americans began in 1815 on the banks of the Saginaw River.
Temperance
Originally named Bedford Center in 1859, "
Temperance
" was suggested by one of the founding land father's wives, who was a member of the Women's Christian Temperance Union. A petition was sent around, and the name was changed to Temperance. As you might imagine, the sale and consumption of alcoholic beverages was prohibited for some time.
Cadillac
The name
Cadillac
comes from Native American language as "Kautawabet" meaning "Broken Tooth," after a Potawatamie chief who signed the Great Peace Treaty of 1825. The city was first organized in 1872 and called Clam Lake Village, but a dispute with the village of Sherman ensued over which city would hold the county seat. A group of politicians thought to change the name to Cadillac, after Antoine de la Mothe Cadillac, an early Michigan explorer and founder of
Detroit
. Changing the name tricked the legislators, and Cadillac became the "new" county seat.