Thanks to
Michigan Travel Ideas
for submitting this great
Cherry Republic
Cherry Chili Recipe - we can't wait to try it! For instructions on how to submit your own recipe to us, check out our Pure Michigan Recipes post.
As the seasons change, so do our taste buds. This is the time when we're ready for comfort foods that are warm and soothing. Yes, we're ready for chili, the classic one-pot wonder that tastes even better as leftovers. Here's a new twist on an old favorite—
Pure Michigan's
own
Cherry Republic's
Cherry Chili. The tangy sweetness of the Michigan cherries add flavor to this hearty white-bean and chicken version. Serve with corn chips or corn bread, recipe follows.
Prep: 25 minutes
Cook: 25 minutes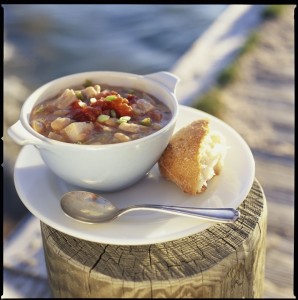 Cherry Republic's Cherry Chili
1½ cups finely chopped celery
1 cup finely chopped onion
1 cup finely chopped green sweet pepper
3 cloves garlic, minced
1 tablespoon butter
2 15- to 16-ounce cans great Northern or cannellini beans, rinsed and drained
2 14-ounce cans chicken broth
1 9-ounce jar Cherry Republic Hot Cherry Salsa
3 cups cubed cooked chicken
2 teaspoons ground cumin
2 bay leaves
½ cup half-and-half, light cream or whipping cream
2 tablespoons cornstarch
Cherry Republic Hot Cherry Salsa or desired purchased salsa (optional)
Corn Bread (recipe follows)
1. In a 4-quart Dutch oven, cook celery, onion, sweet pepper and garlic in hot butter over medium heat until tender. Add beans, broth, 1 cup cherry salsa, chicken, cumin and bay leaves. Bring to boiling; reduce heat. Simmer, uncovered, for 10 minutes.
2. In a screw-top jar, combine cream and cornstarch. Cover and shake well; stir into chili. Cook and stir until slightly thickened and bubbly. Cook and stir for 2 minutes more. Season to taste with salt and black pepper. To serve, remove and discard bay leaves. Ladle chili into bowls and top with more salsa, if you like. Serve with wedges of warm Corn Bread.
Makes 8 servings.
Corn Bread
1 cup all purpose flour
¾ cup cornmeal
2-3 tablespoons sugar
2½ teaspoons baking powder
¾ teaspoon salt
2 eggs, beaten
1 cup milk
¼ cup cooking oil or melted butter
1 tablespoon butter
1. In a medium bowl, stir together all-purpose flour, cornmeal, sugar, baking powder and salt; set the mixture aside.
2. Add 1 tablespoon butter to a 10-inch cast-iron skillet or a 9x1½-inch round baking pan. Place in a 400-degree oven about 3 minutes, or until butter melts. Remove skillet from oven; swirl butter in skillet to coat bottom and sides of pan.
3. Meanwhile, in a small bowl, eggs, milk and cooking oil or melted butter. Add egg mixture all at once to flour mixture. Stir just until moistened. Pour batter into hot skillet or pan. Bake for 15 to 20 minutes, or until a wooden toothpick inserted near center comes out clean. Cut into wedges. Serve warm.
Makes 8 wedges.