Thanks to guest blogger John Nicka for his story on camping in northwest Michigan, and his climb up Sleeping Bear Dunes.
In the summer of 2008 I went
camping
in Northern Michigan to celebrate the end of college.
Suttons Bay
,
Elk Rapids
, Old Mission—uniquely named places beckoned me as I drove my little Nissan up U.S. 131 to my own little paradise. I pitched my tent in
Traverse City
that night and slept soundly.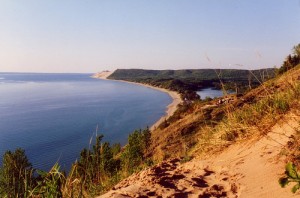 The next morning I rose early and headed west on M-72 through Leelanau county with the intention of climbing the "Big Dune" at
Sleeping Bear Dunes National Lakeshore
, a massive dune complex that snakes for 35 miles along the Leelanau and Benzie county lakeshore.
After forty minutes of driving past cherry orchards, fruit stands and gorgeous countryside, I got to the park, paid my ten bucks and went in. I drove a couple of miles, parked my car, got out, and there it was—the Big dune. Actually, it was freaking ginormous. Over 400 feet high and so steep you can't see the shoreline below, climbing it is no small feat. Beyond the dune was
Lake Michigan
—simply known as "The Lake" to us. This morning it was a stunning sapphire blue. The waves gently moved toward shore as a few boats lingered on the horizon. Nobody was on the dune itself, but several were on the lookout deck a hundred yards away.
With the sun climbing higher, I knew I had to get this done. So I peeled off my shirt and started down the dune. The shore slowly got bigger as I bounded down, and reaching the bottom only took ten minutes. Peering up from the lake, the tourists looked like ants milling about. "Why do guys like me do this stuff?" I asked myself. No matter. Climbing was my only way out of this, so I sucked it up, planted all fours in the sand, and began climbing, almost apelike, up the dune. I fell one foot for every three feet I climbed. Still, I was doing alright until halfway up, when I had to stop and rest. The view was sweet, but I noticed those two boats had parked on shore. Were they watching?
Turning, I noticed some tourists atop the dune. They had migrated from the deck, apparently wanting a closer look at the weirdo down below, so now I had an audience. The pressure was now on, but I still stopped three times, panting and sweating, wondering what on earth I was thinking.
I clawed my way to the summit to the tourists' applause, and tried not to look exhausted as a couple from Detroit came up and asked me about the climb. Sucking wind, I looked back at the lake as I spoke to them, and we all agreed there was no more beautiful spot on earth than Michigan in the summer. And they agreed that they'd never try what I just did.
I returned to my car, dried off, put on my shirt, and moved on to the next town—
Glen Arbor
. But that's for another day.

A native of West Michigan, John has just finished his first year of teaching in North Carolina, where he teaches High School History and English. He still enjoys visiting Michigan and is enthusiastic about promoting his home state as a place to visit and to live. You can share your thoughts with John on
Twitter,
or by leaving a comment below.
[wp_geo_map]