Crazy in Love with Michigan
Circumstances may have moved Jessica from her home in Michigan, but she still remembers all of the things she loves about it, and can't wait to move back!
You know the saying, "You never knew what you've got till it's gone"? Well, I can attest to the truth of this statement wholeheartedly. As a current North Carolina resident and a Michigan native, I've found myself itching to get back to the place I still identify with as home.
After completing my degree at
Michigan State University in East Lansing
, I married my long-time boyfriend (also a Michigan native) and moved to Colorado, where he was employed as an active duty soldier with the Army. My husband was reassigned to North Carolina a year later which is where we remain today.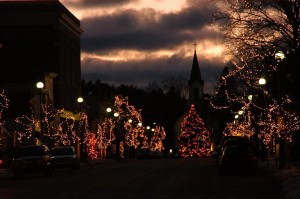 Downtown Harbor Springs at Christmas
Upon leaving Michigan, I was excited to move to another part of the country and experience life outside the bubble I'd always known. I've found that while the mountains in Colorado are beautiful and the Atlantic Ocean coast of North Carolina is striking, I'm still homesick for Michigan's unmatched beauty.
I grew up in the small, picturesque town of
Harbor Springs
. While I always enjoyed living there; I never fully appreciated the beauty and uniqueness of the town, and the brilliant splendor of four distinct seasons and living on
Lake Michigan
.
I miss the friendly small-town atmosphere and the feeling of security you get when walking downtown at night. I always took the low crime rate for granted and never thought twice about going somewhere by myself. It's a safe area where people know their neighbors and watch out for one another.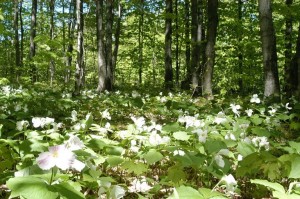 Springtime in Northern Michigan
Michigan's four distinct seasons are another reason I miss the state. Each season in Michigan is vibrant and different. Spring brings the sweet scent of Lily-of-the-Valley and a blanket of Trilliums across the forest floor. Summer's perfect temperatures and sunny days mean time spent up at
Sturgeon Bay
, soaking up the sun with a light breeze blowing through your hair. Autumn brings with it a dizzying array of reds, yellows, oranges and browns that seem to sweep over the hills in bursts of color. Winter's calm stillness with fluffy powder- like snow is perfect for snowshoeing, skiing or (my husband's preference) ice-climbing.
I miss Lake Michigan! I miss the crystal clear, deep blue-green water with a smooth, sandy bottom. I miss being able to take a cool, refreshing swim on a hot August day. I think what I miss most is having the water as a visual background to my life-being able to sit on the beach, watching the water lap up on the shore or simply gazing at the bay while driving to
Petoskey
.
I'm sure my co-workers in North Carolina get tired of me bragging up my home state, but I just can't help it. I think I have a slight love-affair with Michigan and I don't mind letting people know. My husband will be getting out of the Army in two years and following that, we plan to make our home in Michigan. Life is too short not to experience the world's best sunsets, swim in the purest lakes, and enjoy an unmatched quality of life.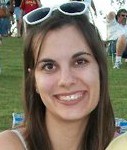 Jessica Evans serves as a Communication Coordinator for a community action agency in Fayetteville, NC. She lives with her husband Cory, dogs Newtin and Layla and cat Binx. She enjoys spending time outdoors taking photos and looks forward to the day when she and her husband can again make their home in beautiful Northern Michigan.