Cast Away the Winter Blues with Pure Michigan Hunting and Fishing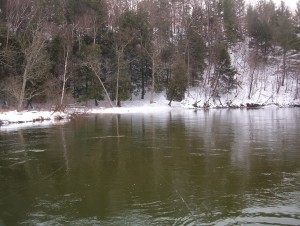 Today, native Michigander Derrek Sigler tells what he loves about winter hunting and fishing in Pure Michigan.

I have to admit, I'm pretty spoiled living in Michigan year-round. I have friends in other states who have to travel to do this or that, whereas I have just about everything right outside my door—world-class fishing, hunting, and other outdoor activities. When winter grips the state, and some think its time to head south, I head outdoors, with fishing rod in hand.

We are blessed with roughly 8 million acres of public land in Michigan. Many rivers and streams wind through these lands and offer great opportunities to those willing to venture out. Come winter, two of my favorite things overlap—steelhead fishing and hunting season.

I spent most of my teenage years living near the Manistee River, near Brethren, Michigan. The river gets a strong run of salmon as summer fades and the clock rolls into fall. Behind that salmon run comes an annual migration, leading to some of the finest steelhead fishing to be found anywhere. These fish, looking to fatten up on salmon eggs, will hold in the river all winter long, awaiting their own time to spawn in the spring.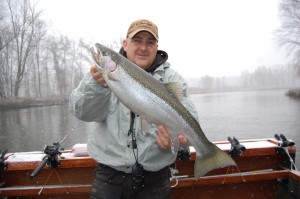 December is one of my favorite times to chase steelies, as the lower temperatures keep the traffic down on the water. There are usually a couple of days left in the month to hunt ducks, my other passion. The same temperatures that keep the fishermen away freeze the ponds and lakes, pushing the ducks to the rivers. This makes for a fun day of hunting ducks and catching fish.

The Manistee River winds through parts of the Huron-Manistee National Forest, which comprises almost a million acres of public land in the Lower Peninsula. There are countless fingers and tributaries along the lower river stretches, the perfect hiding places for ducks and geese. Before it opens into Manistee Lake and Lake Michigan, the final stretches of the river are bordered by state game area lands. It makes the Manistee River a paradise for anglers and hunters alike.

Drifting plugs or spawn in the deep holes and riffles can result in rod-bending action and a fight unlike any other experienced in fishing. During the winter months, leaves and ice can force you to pay close attention to your rods. When adding a little hunting into the mix, it can get a little trickier. A spread of duck decoys can get cluttered up with a few sheets of skim ice that float down on really cold mornings. Still, it is often the only open water around and that can make for hot hunting.

Another species that makes for awesome late season river hunting is Michigan's muzzleloader deer season, which always falls after the November firearm seasons. It's not uncommon to see all kinds of wildlife floating down the river. I have likely seen more bucks from a float than from a treestand, so it makes sense to try the adventure of float hunting with a smoke pole.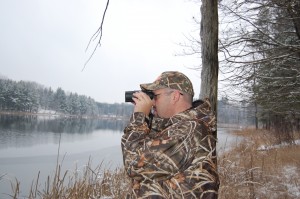 The rules for float hunting in Michigan are pretty simple and follow common sense, too. Never get in the boat with a loaded firearm. If you are going to hunt, don't load the gun until you're at a complete stop with the motor off and anchored. I'll hunt from the boat for waterfowl, but for everything else, get out of the boat.

Finding a big whitetail during the late muzzleloader season on the river is like stepping back in time. It's not just the deer you look for while floating along. Look for fresh tracks, especially if there is a fresh layer of snow. It takes practice, but getting on the track of a buck is an amazing feat.

After the deer and duck seasons close, there are plenty of other opportunities for hunting and fishing along Michigan's rivers during the winter months. Many small game seasons are open and then there's another season for predators. Make sure you have the necessary licenses. During those deep freezes of winter, animals will gather near open water, and that will bring in the predators. Floating along and stopping to set up occasionally will allow you to cover a lot of land, and not wear yourself out trudging through a lot of snow.

When the weather outside is frightful, Michigan's 36,000 miles of rivers and streams make a delightful place to cast away winter blues and have a blast hunting and fishing for those willing to go. The state may be known as the Great Lake State, but the rivers and moving waterways can make for some Pure Michigan winter fun!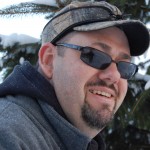 Derrek Sigler is a native Michigander who grew up hunting, fishing, and enjoying the outdoors in the Northwest part of the Lower Peninsula. He writes for Hard Core Brands and OutdoorHub about hunting, fishing, and outdoor sports.