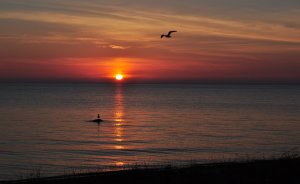 Guest blogger Jennifer Daniel Szymanski shares precious memories of family vacations in Rogers City, and lets us in on one of Michigan's "best kept secrets."
I grew up vacationing in the Michigan woods. My family - my dad, mom, younger brother and myself - spent many summers packing up our car and heading north out of our
Mt. Pleasant
-based home to car-camp throughout the state in its numerous and varied state parks. While I remember many of them, it is
P.H. Hoeft State Park
, just west of
Rogers City
, that stands out in my memory. Maybe it's because it was a meeting place for my family and my extended family; a mini-family reunion that took place the same week every summer. Maybe it was the wooded, quiet campsites, the rolling, sandy beaches or the wide, pine tree-scented hiking trails that wound their way through the park. Maybe it's because it was the last place we camped as a family, our final year being the year I turned 16. I think it's probably a combination of all of those things, and 20 years later, the park still serves as the location for some of my favorite childhood memories.
Rogers City has changed a lot over the past 20 years. In 1990, it was a hot spot for salmon fishing, one of the main attractions for our own family trips. Today, a diminishing salmon count in the Great Lakes has affected summer business in this sleepy northern town. That said, there are still plenty of good reasons to visit both Hoeft State Park and the town of Rogers City. Today, the
Huron-Sunrise Trail
, a paved and mostly flat biking and walking path, winds its way 10 miles along Lake Huron from Hoeft to downtown Rogers City. There is a good-sized, well-kept playground on the beach of
Lake Huron
near the marina in Rogers City that is a perfect play spot for families. If it's summer, there's a classic burger-and-ice cream stand just steps away from the park.
And if it's fall, there is a charming cider mill well worth the 15-minute drive out of downtown Rogers City.
Knaebe's Mmmunchy Krunchy Apple Farm
is a quaint, 13-acre apple farm and cider mill that I believe is one of Michigan's best kept secrets. The name might be kitschy, but the farm is home to a warm and inviting country store, a large outdoor play area for kids, a small petting farm, and truly the best cider and doughnuts this cider-mill-loving city dweller has ever tasted. And I've tasted a lot of them.
Rogers City is no exception to the sad number of struggling small towns in Michigan. It has seen the same hard times that many areas have seen. But P.H. Hoeft State Park, the Rogers City Marina, its classic summer park and ice cream stand, and Knaebe's Mmmunchy Krunchy Apple Farm are certainly reasons to celebrate – and to plan a visit.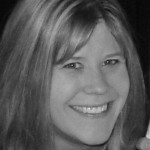 Jennifer Daniel Szymanski was born and raised in Michigan and has lived everywhere from metro Detroit to the Upper Peninsula. She explores the state every chance she gets, preferably on foot. She lives in Brighton with her husband, Craig, and their two daughters.